NFL Dilemma: Replay vs. Slow Play
NFL Week Five
Karl Roser / Pittsburgh Steelers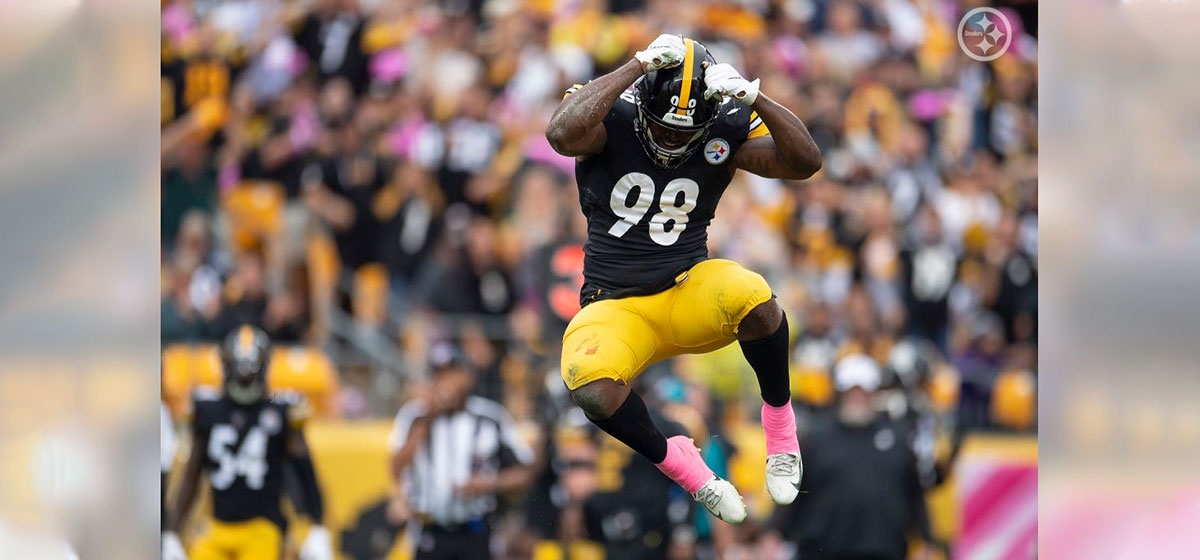 October 8, 2019
The NFL has a unique problem on its hands. While other sports are coming up with clever ways to speed up their games, the NFL has managed to make their product slower. Some of it is for the better; referees should be empowered to make the correct call and replay allows them to get it right.

At the same time, Pandora's box has been opened with regard to reviewing a completely subjective event. It will always make sense to verify somebody got two feet inbounds or that a ball actually crossed a plane. Technology shines when replay can determine a definitive answer.
Rewind back to Sunday and Steelers fans will recall one play that could have been corrected. On Baltimore's final drive of the fourth quarter, QB Lamar Jackson was wrapped up by Steelers LB Ola Adeniyi before he had thrown the ball. A "roughing the passer" call ensued, and the boos rained down.
Egregious? Certainly.
Game altering? Potentially.
Correctable? Absolutely.
We've given referees the ability to get the call correct in some facets of the game (pass interference), but not others (roughing the passer). It's a conundrum the league will have to face going into the offseason: at the risk of slowing down the game even more, is it worth getting more calls correct? As long as final outcomes are affected by determinations that don't get a second chance at review, this question will continue to surface.
Steelers Corner
First and foremost: get well, Mason Rudolph. The second-year QB was hit viciously by safety Earl Thomas in the 26–23 overtime loss to Baltimore. Rudolph was knocked out cold, laid on the ground for minutes, and managed to walk off under his own power (although it should come into question why he was ever allowed to). Early indications are that Thomas will not be suspended. The six-time Pro Bowler is remorseful, and remains steadfast in his assertion he was not trying to hit Rudolph high. The evidence seems to say otherwise—Thomas managed to land his helmet on the chin of a guy who had already left the ground. By any evaluation, he certainly wasn't going low.
In any instance, Thomas should know better. As somebody who begrudgingly played out the final year of his contract only to blow out his knee, he understands first hand that your health is your livelihood in this league.
In comes undrafted Devlin Hodges, the rookie from Samford University. He held his own, including a nifty 21-yard scamper into field goal range in the final minutes. He may very well have played hero had Smith-Schuster held on in overtime. The early reports are that Rudolph is already looking spry walking around the locker room, but it would be shocking to see him back in the next couple weeks. If that holds true, we'll get a good look at Hodges, who overtook Hall of Famer Steve McNair's all time FCS passing record in his senior year at Samford.
Sunday's game was another mixed bag. The defense was done no favors early. After holding the Ravens to a field goal on their first possession, the boys in black were forced right back onto the field one play later after Jaylen Samuels' cringe-worthy wildcat interception. Baltimore finished the job from there; four plays and a measly 18 yards later, it's 10–0 and the crowd is restless.
Despite this, a couple mental lapses and one highly questionable aforementioned call by the officials, the defense did its job for the 4th consecutive week. LB Bud Dupree has now strung together a couple noteworthy performances in his contract year. LB Devin Bush once again staked his claim as a strong defensive rookie of the year candidate. Corralling a pass mid-summersault, his highlight reel interception over tight end Nick Boyle was the undisputed play of the game. A timely one, too—he had jumped offside on a Ravens 4th and six just minutes earlier.
Collectively, this revamped defense showed up on a day we're all likely quick to move on from. A quick recap of the superlatives:
Sacked QB Lamar Jackson five times, second-highest of his young career
Intercepted Jackson three times, the most of his career
Held Jackson under 200 passing yards for the first time this season
Kept a league-leading scoring offense to three field goals in the second half
Stalled out a league-leading rushing attack for a season low
As discussed in weeks prior, an offense should be expected to capitalize on the opportunities the defense gives them. Once more, the offense mostly sputtered. Despite best intentions to simplify things for the young quarterback, offensive coordinator Randy Fichtner's fairytale playbook struck midnight on Sunday. A wildcat formation that saw varying success against the hapless Bengals was sniffed out mightily. The aforementioned disaster of an interception was the result of the first attempt, a loss of five yards on the second. Perhaps more disturbing was Fichtner's decisions when to deploy the unorthodox formation. The Samuels interception was mostly no fault but his own, but to attempt it while backed up on their own 12 yard line in the first quarter is risky business. To run the same craziness on a 2nd & one on the Ravens seven yard line is just plain inexcusable with a Pro Bowl running back on the roster.
You could spend another 10,000 words picking apart the offense on Sunday. There were untimely turnovers, dropped balls, and an offensive line that just cannot generate any push for a run game. The fact of matter is this: the Steel City is going through a bit of an identity crisis. The crowd moaned and groaned all afternoon to take deep shots down the field, and grew increasingly frustrated with each passing short play. And why wouldn't they be? At this time last year, Big Ben had already thrown for over 1,600 yards, Antonio Brown was at 35 catches (Smith-Schuster is currently at 24), while Conner had just notched his second 100-yard game on the ground. Now heading into week six, Fichtner's patchwork offense sits 29th in the league with no end in sight. The Le'Veon Bell comparisons are going to begin to trickle back into the media's collective consciousness, as well as the legitimacy of the Smith-Schuster as a true #1 option after another costly fumble.
We've all set a high bar for this team, but maybe that's the root of the problem. It's time to look in the mirror, Pittsburgh—this is not the same offense it was 365 days ago. For better or for worse, there's no Hall of Fame quarterback under center, no seven-time Pro Bowl wide receiver on the outside. Of the top three pass catchers, the oldest is a 23-year-old James Washington. QBs Devlin Hodges and Mason Rudolph are 23 and 24, respectively. In what era could this group be expected to step in seamlessly and perform to the expectations of the previous regime?
There are still more wins on the horizon—there's too much talent to deny them at least a six-win season. It doesn't get any easier against the Chargers in LA this week, and that's ok. The goal should be to go out, compete, and continue to develop immense promise this roster contains. This may not be a Super Bowl year, but there's still plenty of progress to be had. Keep your heads up, boys.
Around the NFL
It turns out Kansas City isn't invincible after all.
The Colts downed the Chiefs 19–13, which turned into a bit of snoozer compared to the anticipation of the matchup. The rest of the league was certainly taking notes: QB Patrick Mahomes and company were held to a paltry three points in the second half. The loss for Kansas City may simply be a blip on the radar with the return of WR Tyreek Hill all but imminent. The win is far more meaningful for the Colts, who find themselves keeping pace in the division with a Texans team that just put up 52 on Atlanta. As fate would have it, a litmus test awaits in week six: Kansas City will visit Houston this Sunday.
QB Kyle Allen bested Gardner Minshew in the battle of the backups. The Jaguars clawed back to within a score, but could not overcome the Panthers and RB Christian McCaffrey's 237 yards from scrimmage and three touchdowns. These teams are pleasant surprises thus far—both may also be facing legitimate quarterback controversies before long. Panthers' Cam Newton is expected back soon, while Jaguar' Nick Foles should be available before the season ends. Whether their jobs are fully secure is a story for another day.
In the NFC East, QB Dak Prescott and the Cowboys are asleep at the wheel. Despite missing their #1 receiver, the Packers were able to pummel Dallas' front line into submission with a dominant run game. RB Aaron Jones cashed in on a whopping four touchdowns, while Aaron Rodgers completed passes to nine different receivers. Dallas has one game to get right against the Jets before a meeting with the surging Eagles.
This week's battle of the beatens goes to the Cardinals. Kliff Kingsbury's first win as a head coach comes at the Bengal's expense, as Cincinatti falls to an 0–5 record for the first time since 2008. With the trade deadline looming, it's fair to wonder if the Bengals are about to become sellers. WR AJ Green has been at the forefront of those rumors—at 31 years and only a year left on his contract, is he truly part of their future plans? Does he even want to be?
Fantasy Forecasting
Buy
It appears Jaguars' WR D.J. Chark's week one outburst was no fluke. He's got a clear rapport with the rookie QB Minshew, and has garnered a healthy 19 targets over the last two games. Be wary of his week six matchup—New Orleans has been making life extremely difficult for primary receivers this season. The Bengals, Jets, and Texans await thereafter; Chark should be an extremely enticing add this week for that reason.
Sell
Competing teams without solid running backs are likely looking for "name brand" guys right now. Tevin Coleman fits that bill, and now's the time to sell. Coming off of an ankle injury, he steps right back into one of the most unpredictable backfields in the league. Head coach Kyle Shanahan has kept the workload split among three RBs almost every game, and that does not look to change upon Coleman's return.
The Bengals and Titans have now reached extremely volatile territory from a fantasy perspective. Each team has one guy that has been useful to date: Cincinnati's Tyler Boyd and Tennessee's Derrick Henry. They may continue as such, but it may be wise to cash in while they still hold value. Boyd should stay on the radar as long as he's healthy, but this team has some dark days ahead. Henry, on the other hand, has had touchdowns inflate his value. So far, teams haven't quite keyed in on stopping the Titan's run game – whether or not that trend continues remains to be seen.
Hold
While it wasn't a pretty debut for RB Melvin Gordon, the usage is encouraging. The contract year RB tallied 12 carries and six targets on the day, and it's only up from here. Don't fall for any "buy-low" offers if you get any—Gordon is a bona fide top-10 RB down the stretch now.
After racking up 33 carries over the prior two weeks, the Bucs' Ronald Jones turned in another stinker performance. It's hard to tell what head coach Bruce Arians has up his sleeve given the inconsistent usage between Jones and incumbent Peyton Barber. Regardless, Jones is worth the roster spot right now—if he can re-claim double digit touches in an Arians-run offense, he'll almost certainly become flex-worthy in the coming weeks.