McLay, Johnston, King, Maziarz, Gillespie, McGovern, Lau
Professionals new to Pittsburgh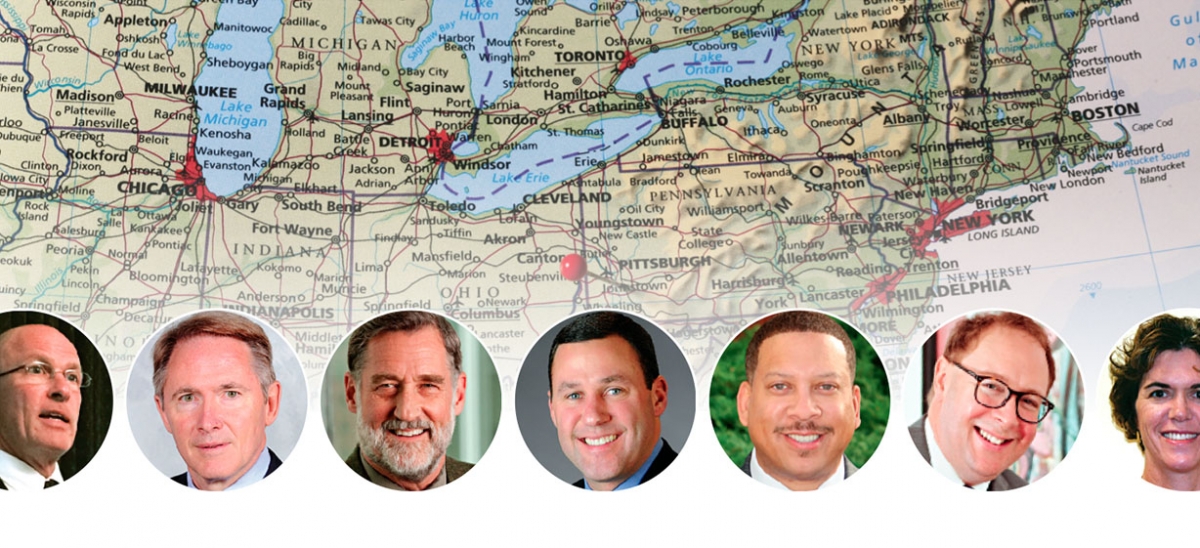 November 21, 2014
Cameron McLay is Pittsburgh's chief of police. He comes to Pittsburgh from Madison, Wis., where he served as a leadership development consultant for the International Association of Chiefs of Police after retiring from his career as a captain of the Madison Police. McLay has a master's degree in organizational leadership from Colorado State University and an undergraduate degree in forensic studies from Indiana University. For McLay, it's a return to Pittsburgh, where he spent three years living in Mt. Lebanon as a boy while his father worked for Alcoa. He and his wife, Debra, have three adult children and plan to live in Squirrel Hill.

Mike Johnston is the head coach of the Pittsburgh Penguins. He comes to Pittsburgh from Portland, Ore., where he was head coach and general manager of the Portland Winterhawks of the Western Hockey League. Previously, he served as assistant coach of the Los Angeles Kings and of the Vancouver Canucks. A native of Dartmouth, Nova Scotia, Johnston played collegiate hockey at Manitoba's Brandon University. He has co-authored two hockey books: "Simply the Best: Insights and Strategies from Great Hockey Coaches" and "Hockey Plays and Strategies." He and his wife, Myrna, have two children.
Maxwell King is president and CEO of The Pittsburgh Foundation. He returns to Pittsburgh from Vermont where he and his wife, Peggy, have lived since 2012. Previously, King served two years as director of the Fred Rogers Center at Saint Vincent College in Latrobe. He is currently finishing a biography of Rogers, which he expects to complete next year. King was also president of The Heinz Endowments for nine years and editor of the Philadelphia Inquirer for nearly eight years. A native of Alliance, Ohio, King is a cum laude graduate of Harvard University.
Tom Maziarz is vice president of PPG Industries, responsible for the Architectural Coatings division's company-owned stores and independent dealer/retail network. A Bethel Park native, he returns to Pittsburgh from Louisville, Ky. Previously, he was PPG's national sales manager for Lowe's and later became director of sales for the insurance and services business. He was promoted to zone sales director for the central zone for architectural coatings, and then general manager of the company stores and independent dealer business. Maziarz has an undergraduate degree in industrial engineering from Penn State and an MBA from Pitt's Katz Graduate School of Business. He and his wife, Kelly, will live in Mars with their four children.
Presley Gillespie is president of Neighborhood Allies (formerly the Pittsburgh Partnership for Neighborhood Development). A native of New York City, Gillespie comes to Pittsburgh from Youngstown, Ohio, where he was the founding executive director of the Youngstown Community Development Corporation. Within five years, he led the organization from a start-up with a $200,000 budget to a $3.1-million operation that executed one of the most comprehensive stabilization efforts in Youngstown's history. Gillespie has an undergraduate degree in organizational communication from Youngstown State University. He and his wife, Nora, and their two children will live in Pittsburgh.
Declan McGovern is vice president of orchestra operations and general manager of the Pittsburgh Symphony Orchestra. He comes to Pittsburgh from Culdaff, County Donegal, Ireland. He has led the RTÉ National Symphony Orchestra in Dublin and the Ulster Orchestra in Belfast, Northern Ireland. He began his career as a producer and editor for Classic FM in London and the BBC in Belfast and London. A native of Rathdowney, County Laois, Ireland, he has a bachelor of music degree from University College, Cork, a performance grade VIII from the Royal Irish Academy of Music, and a certificate in fundraising management from Indiana University. He and his partner, Angela McLaughlin, expect to live Downtown.
Sophie Lau is assistant head and dean of faculty at Shady Side Academy Senior School. She comes to Pittsburgh from Providence, R.I., where she was head of the history department and helped lead technology integration programs at the Wheeler School. Previously, Lau has worked at the Pingry School, Tabor Academy and Groton School. She has an undergraduate degree in history from Princeton University, where she was captain of the women's crew team, and a master's in history from the University of Massachusetts Amherst. Lau is living in Fox Chapel with her husband, Peter, and their two children.