Looking for Belonging Underscores Kothari's "I Brake for Moose and Other Stories"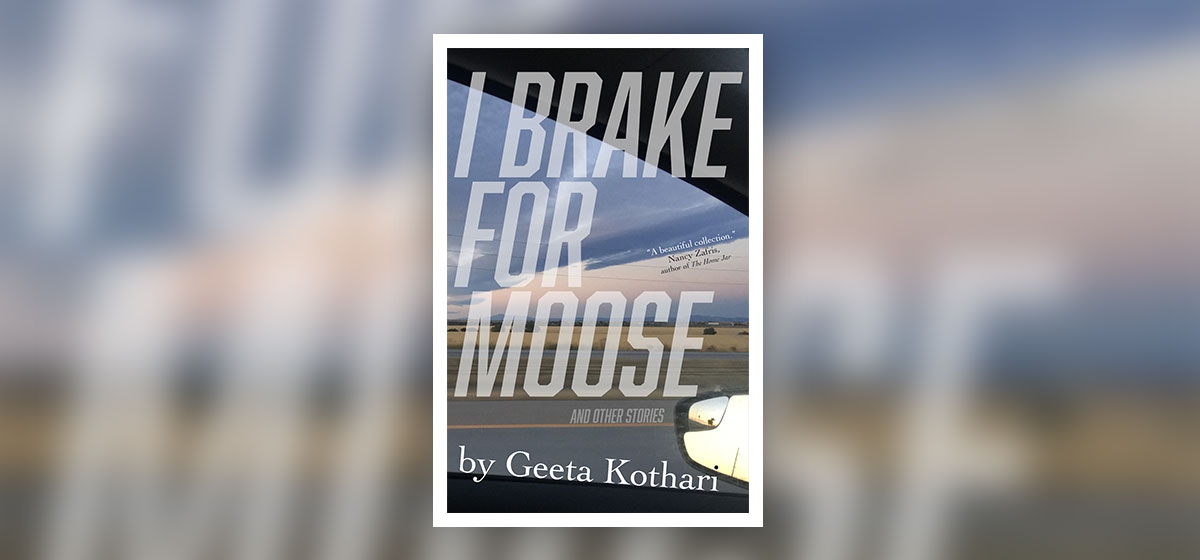 April 2, 2018
With hate crimes up nationally according to the FBI, those of Indian descent haven't been spared. Locally, a 2016 beating incident at a South Hills Red Robin was deemed "ethnic intimidation," while the 2017 murder of Indian engineer Srinivas Kuchibhotla in Olathe, Kansas drew international attention. These are but two prominent examples of the recent anti-immigrant trend affecting Indian Americans who have the highest median income and education levels of any ethnic group. And while racial violence doesn't play a role in local author Geeta Kothari's 2017 stunning debut short-story collection, "I Brake for Moose and Other Stories" (Braddock Avenue Books), a strong sense of awareness for the "otherness" her characters feel gets honestly rendered.

Kothari, the daughter of Indian immigrants who arrived in New York in the 1950's, is a Senior Lecturer in Creative Writing at the University of Pittsburgh. Her stories and essays have been anthologized and she's also an editor at the prestigious literary magazine, "The Kenyon Review." In a recent interview with "The Rumpus," Kothari says, "I've never been convinced of my right to be anywhere—India, England, or the U.S. I didn't realize that this would show up in my fiction until I put the collection together and saw how uncomfortable many of the characters are, how they struggle to find a footing or sense of belonging—even when they don't appear to be immigrants or their offspring." Indeed, it's her well-wrought characters' sense of identity-anxiety and rootlessness playing out in interesting ways that make this collection shine.
In the opener, "Spaces Between the Stars," a looming holiday ski trip with in-laws creates conflict between young couple Maya and Evan. The differences in their upbringing are accentuated by Maya's Aunt Shyamma, who raised Maya in Erie after her parents were killed in a plane crash. While Kothari shows this by contrasting Maya and Evan's house furnishings, "orange and red batik wall-hangings…seemed to go well with the re-upholstered couch and chair from Evan's parents," it's food that accentuates Maya's feelings of cultural distance from her husband.
When Kothari writes of Maya cooking "…aloo gobi and dal. Nothing smelled or tasted right; the potatoes and cauliflower were mushy and the dal had too much cumin," she's using food to give the reader a sense of setting and mood. When she writes of Maya, "growing up in a strict vegetarian household in Erie during the sixties…Shyamma banned Oreos because they were made of lard. At barbecues and school picnics, Maya hid her plate, heavy with potato salad, corn on the cob, coleslaw and an empty hot dog bun. Shyamma saw that Maya ate nutritionally sound meals, overlooking the conflict between this and Maya's sole desire: "to be like everyone else…," it's reminiscent of Bich Minh Nyguyen's beautiful memoir, "Stealing Buddha's Dinner." In both works, cultural assimilation through food looms as an important decision for the children of immigrants.
The title story leans on an aimless, unnamed Indian-American narrator's toiling as the touring manager for a struggling indie-rock band as its focus. She's dating the bass player, Jeremy, but life on the road isn't all it's cracked-up to be, with its steady diet of motel beds, diner meals, too many cigarettes, and "a landscape we never see because we're still sleeping it off by the time tomorrow rolls around." When a moose is finally spotted from a bus window it becomes a metaphor for the myth of carefree living, which Kothari dispels through scenes of tedium and reflective moments interspersed with bits of onstage action.
The story's power lies in its careful characterization expressed by the narrator in thoughtful, rounded ways. The lead singer, Gus, also Indian American, "has the moves of someone who thinks he's a star…a mop of black curly hair, a long, thick nose, high cheekbones and brown eyes like pools." As contrast, his girlfriend Joanne, "looks like a ferret, dark eyes ringed hollow with thick eye liner that never seems to smear, no matter how hard she dances, how late we stay up." Then, there's Alma, a diner waitress who has a fling with Gus, with her "blond hair cut short to her head, almost like Joanne's, closer to a cap than a bad wig. She's young, too young for such an old name, and her lipstick is soft glossy pink. I feel sorry for her…" The story lingers as an insightful ride highlighting personalities against the backdrop of an often unglamorous rock-n-roll lifestyle.
While Gus makes another appearance in "Dharma Farm," the main characters and story there feel less impactful than in other places. Better examples are Meena, who becomes a stalker in "Foreign Relations," and the guilt-torn narrator in "Home is Another Country on TV," who claims, "Fun is an American habit," while still coming to terms with her friend's suicide years later. Without relying on fancy plot twists, Kothari skillfully uses 11 stories covering 148 highly readable pages in "I Brake for Moose" to bring to life a memorable cast who provide readers with some necessary perspectives to better understand the overlooked Indian-American experience.