Kristine Knows Her Frick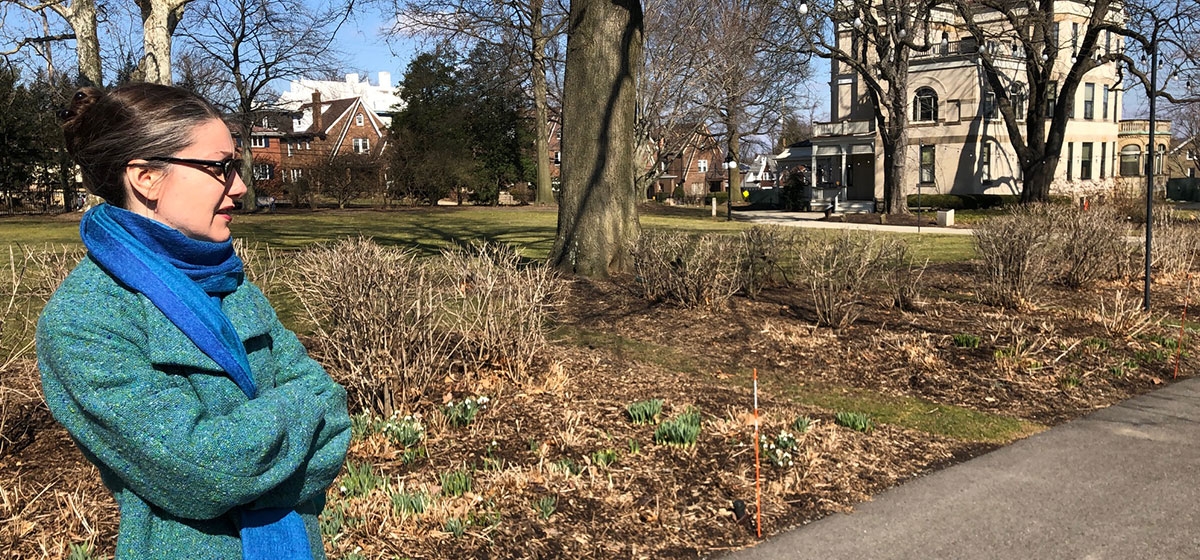 May 13, 2019
It is 17 degrees outside. It is very gray and very windy and everything is frozen. Which would inspire most people to look out the window and say, "Um, no thanks," but not the trio from Madison, Wisconsin.

"It's like spring!" they say, all smiles and giggles and oblivious to the cold. It's their last day in Pittsburgh, and they really wanted to visit The Frick to tour Clayton. Which they think is kinda funny, because they have no idea who Henry Clay Frick is. But they've been to Vanderbilt's Biltmore estate in the Blue Ridge Mountains and Hearst Castle in California and as soon as they got wind of this house, they put on their puffer coats and piled into the rental car.
Kristine is their docent. She is very petite with very blue eyes that match her coat and her scarf and her knit snood. The tour starts at 1 p.m. The trio arrived just in time. So, she puts on her sunglasses and leads them out from the visitor's center and down a concrete path, passing a home that looks like it belongs on an HGTV show.
"That's a children's playhouse?" they ask as they continue down the path towards Clayton.
Kristine has been doing this for over 10 years. Giving people tours of the 23-room chateau that the King of Coke and his family called home from 1882 – 1905. Reminding everyone to please don't eat, drink, take photos or phone calls during their tour as she puts on a pair of white gloves and starts answering questions.
"Can you tell us about the ceilings?"
"Was this the original fireplace? What is it made of?"
"What's that on the walls?"
Without missing a beat, she tells them all about the aluminum leaf on the ceiling, the Italian marble fireplace, and the red silk velvet wall covering embroidered with real silver thread.
Kristine was one of the youngest docents at The Frick when she started, following six months of
training that was like Art History 101 on steroids. "And my background is in art history." Learning about art and architecture and the history of Pittsburgh and anecdotal stories about Henry, Adelaide, little Helen and Childs and the two siblings who died so young, which everyone always thinks is a shame. On the first tour she ever led, 16 people showed up. It was nerve wracking. "Oh, god, terrible!" she says. "I certainly was traumatized."
"Wait, when did the family move to New York?"
"Are those finger bowls?"
"If a maid got married, could she still work here?"
She answers their questions – "They moved in 1905. Those aren't finger bowls. They're actually for bon bons. No, if a maid got married, she could no longer work here, although the male servants could" – as the tour continues to the dining room with the sprawling mahogany table with room for 22.
"Whoa! Teddy Roosevelt came here for lunch?"
Through the kitchen and past the silver vault, into the room where Henry would play poker with his buddy Andrew Mellon, up the stairs to the second floor.
"We get to touch the banister?"
Kristine docents about three times a month. Usually on Wednesdays. She never knows what she's going to get, which makes it so interesting. She's seen a lot of people over the years. People who go through the tour with their eyes glazed over and people who'd like to spend the whole day here wanting to know everything.
"A guy recently asked me about the plumbing," she says. "That's such a dude question."
She's seen people's jaws drop open when she reminds them that this was the Frick's starter home, that the red silk velvet and aluminum leaf and 23-rooms were kind of ho-hum, really; at least compared to how the millionaire down the street was decorating his place. "Art collecting was his thing," she explains, "not having the best house on the block."
"Oh, wow, is that a Monet?"
After an hour, the tour ends. The trio puts their puffer coats back on, ask a few more questions, and everyone heads outside. They thank her profusely. Laugh about how springy 17 degrees feels. Then disappear into the greenhouse.
It's a little after two o'clock. Kristine puts on her sunglasses, and heads back to the visitor's center, where she'll wait to see who else comes out to Clayton on a cold, windy, frozen day in Pittsburgh. "I really do love it. Because you never know what's coming on the next tour," she says. "That's what makes it intriguing."