Katherine MacCord: A Chance to Change the World
Meet Pitt's first Gates Scholarship winner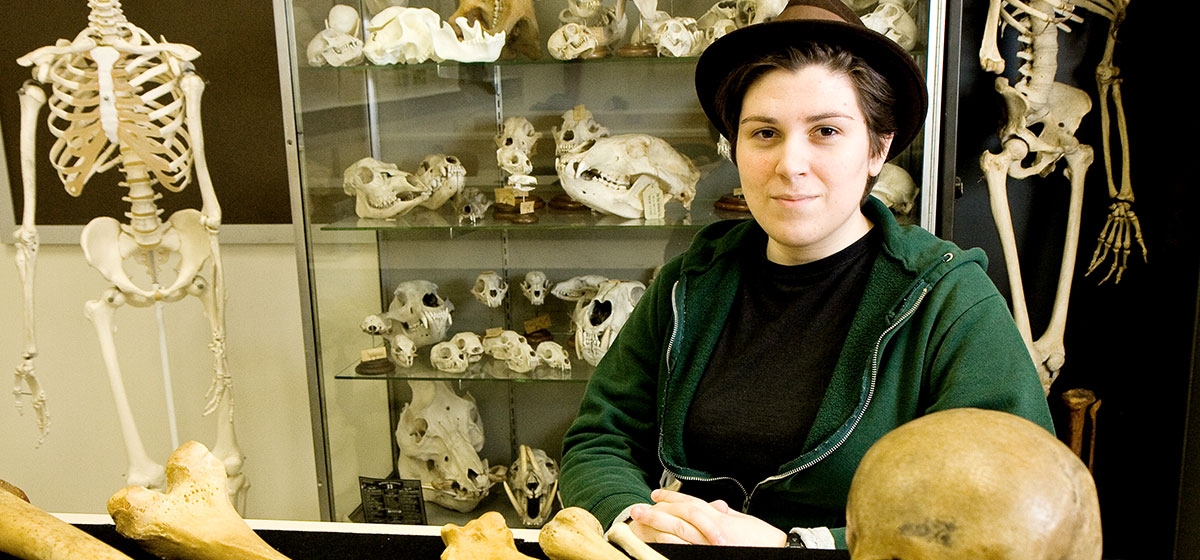 May 20, 2009
This fall, 23-year-old Katherine MacCord will begin her studies at England's Cambridge University on the dime of Microsoft co-founder and billionaire Bill Gates as the first University of Pittsburgh student to earn a Gates Cambridge Scholarship.

While such an achievement suggests she followed an academic strategy carefully conceived before college or later, the path that led MacCord to the doorstep of Cambridge was, in many ways, as common as her hoodie, cargo pants and the knapsack in which she carries her world around campus.
That's not to suggest her accomplishments at Pitt fall within the boundaries of ordinary. As an undergraduate, she traveled to three continents to uncover evidence that casts serious doubt on the long-held belief among anthropologists that disease and malnutrition experienced during childhood curbs bone growth. And she counts among her numerous credentials the Chancellor's Undergraduate Research Fellowship and a Berner Fellowship, which paid her tuition this year as a fifth-year anthropology major.
But in high school, she offered little evidence that such academic accomplishments were on the horizon. She did well, but found it uninspiring. "I got bored with it," says MacCord, who grew up in Wyncote, Pa., outside of Philadelphia, and graduated from Cheltenham High School, whose alumni of note range from baseball Hall of Famer Reggie Jackson to former Israeli Prime Minister Benjamin Netanyahu. "Most of the curriculum seemed to be geared toward taking standardized tests."
She scored well enough on those tests, but did not stand out as exceptional. And by her own admission, her strategy for selecting a college was "a bit scattered."
"I applied to schools because they were in places where I wanted to be. I applied to a lot of small liberal arts schools in New England, that was my ideal. What I would do when I got there, I would figure out once I got there."
Her application for admission to the University of Pittsburgh was a hedge, driven in part by concerns about money and the fact that it wasn't Pennsylvania State University, where many of her classmates had applied. "Pitt was sort of my backup, a safety school. It was cheaper than all of the other schools. Then I looked into it and found that it was actually a good school." She was accepted at Pitt and at one of her small liberal arts choices, rejected by one highly competitive New England school, and wait-listed by another.
She chose Pitt for no more compelling reasons than it was affordable and offered a broad range of fields of study from which to choose.Even a brief conversation about her interests outside the classroom reveals a mind unsatisfied with the superficial. Take, for example, film, one of those interests. Howard Hawks's "His Girl Friday" is among her favorites, for its overlapping dialogue. She knows it was a remake of Chicago journalist Ben Hecht's stage play, "The Front Page," rewritten to accommodate a female lead.
Billy Wilder is her favorite director, and she's not only seen, but can recount in detail, the plot of one of his darkest and more obscure films, "Ace In The Hole." And not only does she own copies of the films of Preston Sturges, but she's quick to note that he was the first screenwriter the studios allowed to direct his own work.
What happened to Katherine MacCord at Pitt underscores the fundamental value of the university experience. Inspired and guided by her teachers, this young, unformed student brimming with intellectual curiosity discovered her passion and purpose.
To be fair, that process began shortly before she arrived at the university's Oakland campus. Like most American high school students, MacCord's exposure to the field of anthropology was minimal, at best. As college neared, she settled on the idea of studying biology. Her mother and aunt were nurses and, she says, "the human body was a phenomenon to me— how all the organ systems interact and function properly." Her plans shifted senior year, following an AP biology field trip to biology and anthropology laboratories at two nearby universities.
The first was a biology lab at Drexel University. "It was a concrete bunker with fluorescent lighting and three people in it who had never seen the light of day hovering over pipettes. I took one look and thought there is no way I'm doing that for the rest of my life."Next was the physical anthropology lab at the University of Pennsylvania. "I'll never forget it," MacCord says. "Dr. [Janet] Monge greeted us. She was the stereotype of anthropologists—the crazy ethnic skirt, fly-away hair. She started taking out all of these specimens, like a Peruvian mummy and bunch of bones, passing them around and telling us really cool things about bones, anthropology, culture, human skulls. I thought, this is it. I'm doing this."
During her nearly five years at Pitt, her particular interests in the field sharpened to include environmental influences on human growth and development, as well as evolutionary theory, mechanisms and process. "She's very sophisticated," says her academic advisor, Jeffrey Schwartz, who is a professor in the departments of Anthropology and History & Philosophy of Science, as well as the president of the World Academy of Art and Science. "She's become more vested in many of the evolutionary theoretical questions bringing development into the thinking about evolution than I am, and that, actually, very few people are. She's just been a brilliant student."
That wasn't always the case. In fact, it was a disappointing performance in one of her first anthropology classes at the university that Schwartz points to as the defining moment in her development. "She had taken my Human Skeletal Analysis class and didn't do as well in it as she thought she could have, and she came to talk to me about it. She seemed so keen and eager that I offered her the opportunity to work with one of my graduate students on a skeletal collection I have in my lab. And she just blossomed. "By the end of the summer she was a dyed-in-the-wool young osteologist. She crammed huge amounts of information into her head, and not just in sort of a memorization way. She actually understood it." And, he adds, MacCord understood the limitations of such analyses. "That's how she got into doing her own project. She began to question the underlying assumptions of what people do in their research."
"I just became enthralled by the human skeleton," says MacCord. "I wanted to know not just what was there, but why they were there, why certain features develop the way they do." This inspired an undergraduate research project that began simply enough as an examination of aging through skeletal analysis, then developed into a test of a tenet of her field that childhood disease and malnutrition significantly and negatively impact bone growth.
Supported by a research grant, she examined the skeletons of children ages birth through 12 years, beginning with the Hamann-Todd Osteological Collection at the Cleveland Museum of Natural History. She also examined human skeletons curated at the Bocage Museum in Lisbon, Portugal, and in the Raymond Dart Anatomical Collection at the University of Witwatersrand in Johannesburg, South Africa. All collections offered detailed records of the skeletons important to her study, including ages, causes of death and, in some cases, hospital and medical records. She was able to group by age more than 100 children who had experienced various diseases or malnutrition and those who had not had such problems, and to compare bone measurements, primarily the bones of the leg, and other data.
Preliminary results led to a surprising conclusion. Contrary to popular belief, neither disease nor malnutrition early in life appeared to impact significantly the growth of the individual. "Kate's research," says Schwartz, "really questions one of the centerpieces of human biological studies."
MacCord intends to devote her career to such work as a university-based researcher. Her next step is to earn a master of philosophy degree in human evolutionary studies from the Department of Biological Anthropology at the University of Cambridge's Churchill College. As part of the admission process, she had applied to be considered for a Gates Cambridge Scholarship, which was created with $210 million from the Bill and Melinda Gates Foundation to provide scholarships covering all expenses to graduate students from outside the United Kingdom. More than 700 top students applied. A panel of experts in various fields selected MacCord and 36 other U.S. students, based on their intellectual ability, leadership capacity and the likelihood of their contributing to society in ways that will improve the lives of others.
Why Cambridge? "It's the best," says MacCord. "And they've got the Duckworth Osteological Collection, which has some 10,000 skeletons to look at. I'll be like a kid in a candy store over there."