James Dean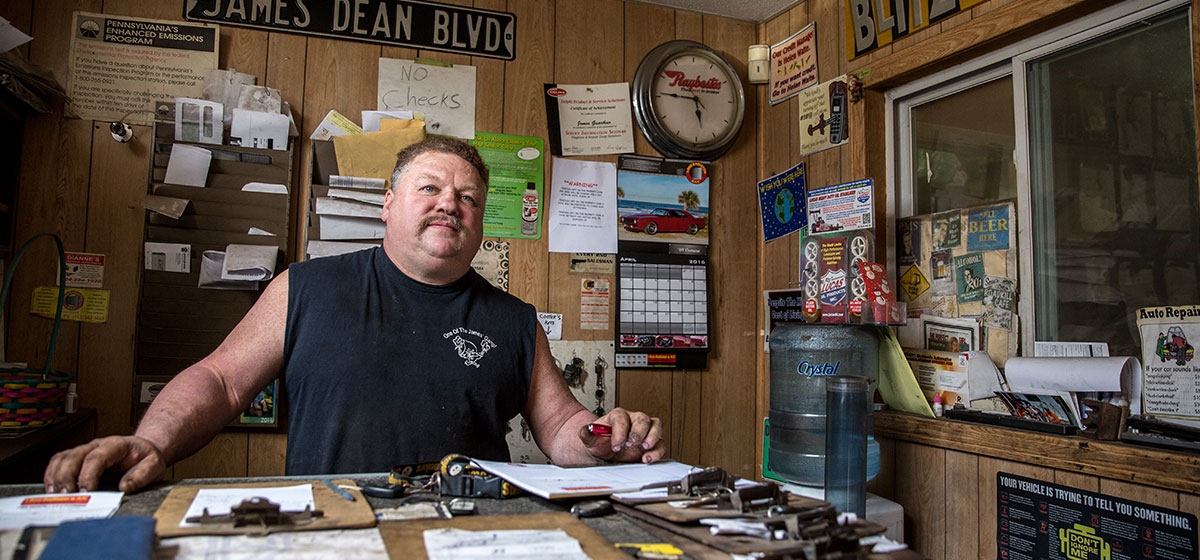 May 19, 2016
Half of James Dean's body is under the hood of a '63 Chevelle that's missing all of its doors, a portion of his 50 years hanging over navy blue work pants as he twists awkwardly, trying to get the right angle.

He's in the middle of grinding a piece of metal, orange-tipped sparks cascading overhead in an ignited waterfall. The Chevelle has been gutted of its interior. The seats are gone. So is the dash. And the console. Only the steering column remains.
The car's been sitting around for a while. The owner will have dumped about $14K into it before those tires ever hit pavement again. It's not worth much more than that, being a four-door. No one wants a four-door. Too family oriented. Now, if this were a two-door? Hell, it'd go for twice as much.
"It's the muscle," he explains. "Muscle cars are two-door."
The owner of the four-door lives in West Virginia. James Dean works on the car whenever he has a moment or two to spare.
"Hey, man – James Dean is working on my '63 Chevelle!"
He gets that a lot. James Dean is working on your '63 Chevelle? Really?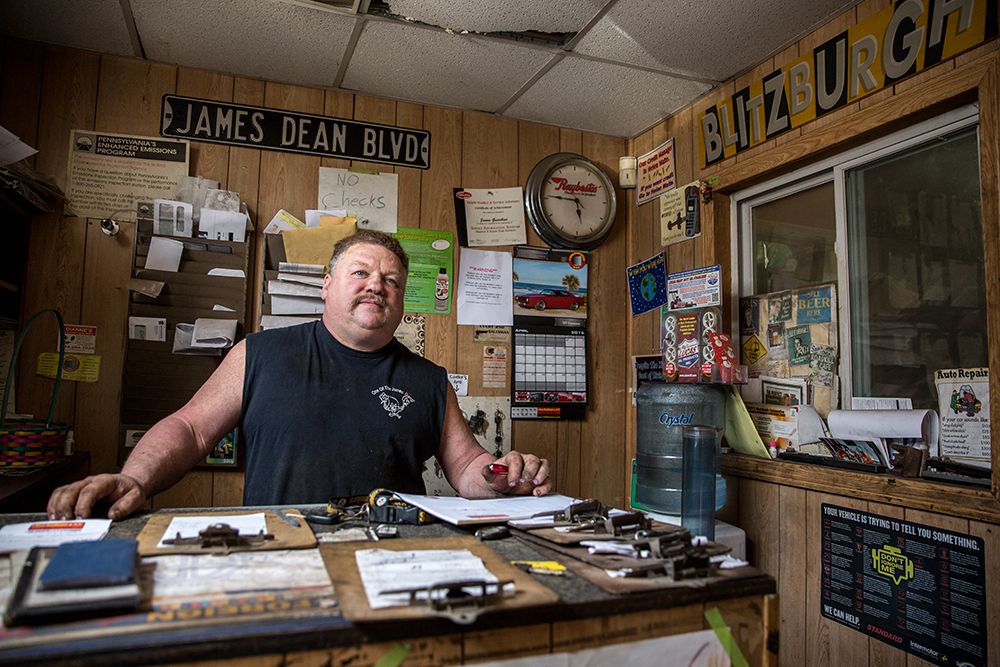 Photography by John Altdorfer
When his mother was on the delivery table, pushing and screaming and praying to God it would all be over, the Eagles came on the radio. "James Dean" was the song. And that was that.
James Dean grew up in California. But he ran away from home when he was 15. "My dad knocked me through the kitchen window one too many times," he explains.
So he and his dog, an Alaskan malamute named Juno, headed for Texas. Once there, they lived in his car for three months. They had unfortunate timing, though – arriving in the dead of winter. Even Texas can get cold then. But eventually he got on his feet, stayed there until he was 21, then went back to California. He ended up in Pittsburgh for one reason: his mom needed him. And this was her hometown.
James Dean has owned the auto garage on Jacks Run Road in Bellevue for the past 11 years in a building that was a strip club in the 1950s. If you look closely, you can still see errant clusters of original, porcelain tiles clinging for dear life to a concrete subfloor now permanently tattooed with rubber treads and evaporated oil slicks. It was a number of things after that – no one can really keep track. These days, the exterior cinder block is a cream color. Stenciled in black paint on the front is a sign: JAMES DEAИ'S AUTO
412-761-4180.
He laughs about that stupid, backwards "N". So does everyone else. JAMES DEAИ'S AUTO? "It's because I'm dyslexic!" he grins. That's one thing about James Dean – he is constantly grinning. And most of his sentences are punctuated with one thing: laughter.
That grin is what earned him the nickname of "Cheese" from the brothers down on the North Side. Back in the day, the brothers would comment that James Dean always had a big, cheesy smile on his face when he was handed a big stack of money.
He's been working on cars for as long as he can remember. No one taught him how to do it. He's the one who figured out how to build tranny's, rear ends, engines, patch and restore bodywork.
"I'm tired of working on this," he says, pushing the sander across the Chevelle's frame again, dust particles rising in clouds around him before settling into his skin. He can taste them on his lips, inhales them into his lungs. Sand, weld, grind, repeat. He's so tired of working on the '63 Chevelle.
When the Chevelle is not in the bay, it's sitting outside amongst a sea of vehicles in various states of repair. Some run, some do not. Behind them is his Christmas fund – a dozen or so engines he'll scrap around the holidays. Which is usually a good plan, but last year, the scrap wasn't worth anything. He's hoping this year will be better.
If it's not, it's not. Oh well. He's been a helluva lot worse off than being stuck without a Christmas Fund. He'll figure something out.
It's the one thing his alcoholic, abusive dad gave him: an impeccable work ethic.
"Everything else," he said with a grin, "God gave me."