Found in Translation
Integrating a thousand tongues
Illustration by Stacy Innerst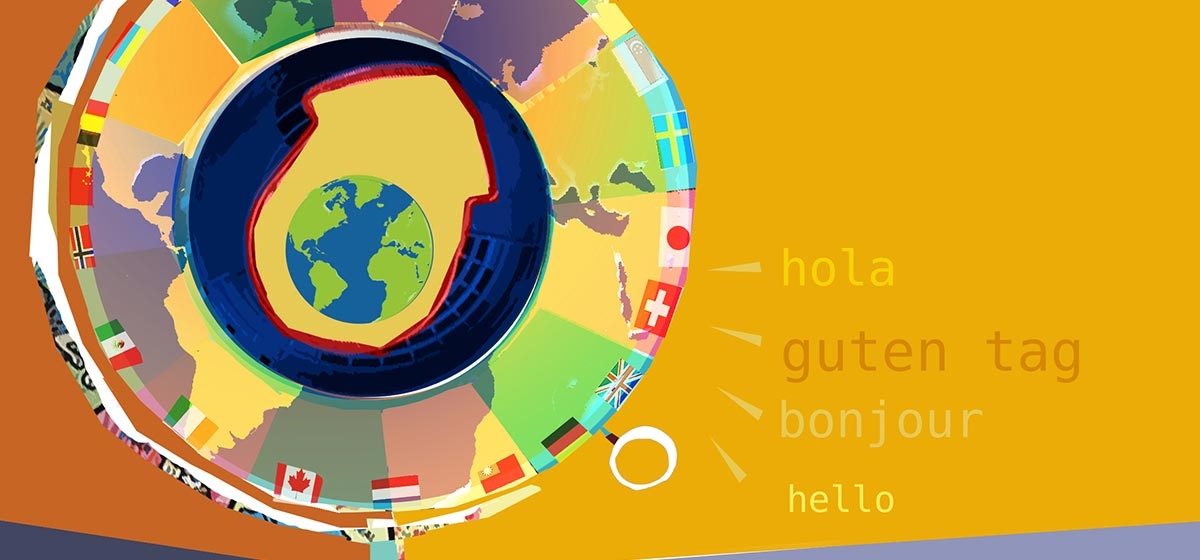 November 20, 2010
Come on, Ima, vamanos! That was the exhortation from my 3-year-old recently when she wanted me to hurry up and get out the play dough. Like now, Mommy—before I scream…

Interesting, I noticed (after gritting my teeth), that a little girl still grappling with the complexities and pitfalls of English has begun to integrate words from two other languages seamlessly into her speech. Although we are strictly an English-speaking household, my daughter often calls me Ima (pronounced ee-ma), the Hebrew word for "mother," which she picked up at preschool from her Israeli friends. Vamanos, of course, means "let's go" in Spanish—thank you, Dora the Explorer.
What could this everyday story possibly have to do with innovation in Pittsburgh and our region's extraordinary impact on the world? First, let's be clear about what constitutes innovation, which is one of the most bandied-about words in business, conjuring up sugarplum visions of big ideas and big profits. But innovation is not just invention for invention's sake. It is bringing an original idea to market in a way that makes a positive difference in society.
It's certainly not news that Pittsburgh has a long legacy of can-do spirit. Imagine a world without the polio vaccine, Ferris wheels, electric lighting, professional football, commercial radio, stainless steel, or organ transplantation—all innovations that can trace their origins here."There's no place on the planet that can equal Pittsburgh's tradition of innovation," exclaims Andy Masich, president & CEO of the Senator John Heinz History Center, in his YouTube video sensation, "250 Years of Pittsburgh Innovation." It's also not news that our planet is growing ever-smaller due to the forces of globalization, propelled by advances in transportation and digital communication. A cartoon published in a Danish newspaper can ignite riots throughout the Middle East. Pop music fans in Japan can instantly download their favorite Lady Gaga hit from iTunes.
This brings me back to the linguistic feats of my 3-year-old, who already is being exposed to different cultures and foreign languages. How wonderful it would be for her to communicate in English, Spanish, Hebrew, and whichever languages would make it easier for her to travel, conduct business and communicate with people across the globe.
It could happen through years of dedicated language study, or computers could do a lot of the dirty work for her, thanks to innovations under way here in Pittsburgh.
Jaime Carbonell is the director of the Language Technologies Institute (LTI) at the School of Computer Science at Carnegie Mellon University and an expert in machine translation—using computers to translate text from one natural language into another.
Researchers began working on machine translation in the 1950s, thinking they would crack the problem in a few years. Some 60 years later, it remains one of computer science's toughest challenges.That's in part because a single word in one language can map to several more in another. Carbonell likes to cite the word "line"—think telephone line, offensive line or the queue at the bank. Also, there are huge differences in structure and grammar across languages that computers must resolve. The top-performing machine translation software programs, such as Google Translate, now use statistical methods that generate translations by analyzing huge databases of already-translated text. While far from perfect, they do a pretty good job for some language pairs.
Born in Uruguay, Carbonell became interested in machine translation when he took a job as a freelance English-Spanish translator in college and decided to build an electronic dictionary to speed up his work (he was paid by the word). "Then I started to automate it even more, and eventually my hobby became my main activity," he says.
Carbonell has devised well-known algorithms and methods for machine translation, with the ultimate dream being a foolproof Star Trek-like universal translator. His bigger mission, along with his fellow scientists at LTI, is to develop technologies that get the right information to the right people at the right time in the right language in the right media at the right level of detail. They call it their Bill of Rights. "Our work aims to permit considerably more understanding and communication worldwide." For instance, he is building tools to help preserve minority languages on the brink of extinction, and released his data on Haitian Creole last winter to speed development of a Web-based translation system for use by relief workers on the earthquake-ravaged island.
And machine translation is just one important piece of this puzzle. Other research is ongoing in fields such as information retrieval and Web search engines, text mining, digital libraries and speech recognition and synthesis.
Call the Port Authority of Allegheny County after business hours, and you will receive help finding the right bus from "Let's Go," a speech recognition system created by LTI scientist Maxine Eskenazi and her colleagues. Another program is being built to allow Pittsburgh residents to report potholes and snow removal issues on nights and weekends when the city's 311 operators aren't staffing the phones.Eskenazi also has developed an algorithm that can pinpoint and correct foreign speakers' pronunciation errors in English. This technology was licensed to a company called Carnegie Speech, whose software is being used worldwide to teach English faster and more effectively to call-center employees, international pilots and healthcare workers. Military personnel are turning to Carnegie Speech to learn Russian and Iraqi Arabic.
"At some point you want to give back and see the things you do actually benefit people," Eskenazi says. "That's been the greatest part of spinning off a company."
In fact, a dozen or so other language technology companies in the region are doing their part to give back, stimulating the local economy while helping facilitate global communication. Among the most well-known are Vocollect and Vivisimo. LTI spinoffs Cepstral, M*Modal, Bueda, and Akustica are also working to tear down the proverbial Tower of Babel, one innovation at a time. "It's underappreciated how big a player Pittsburgh is in the language technology business," says Byron Spice, former science editor at the Pittsburgh Post-Gazette and director of media relations at Carnegie Mellon's School of Computer Science.
One of the newest ventures on the scene is Safaba, a Squirrel Hill-based start-up launched in 2009 by Carnegie Mellon associate research professor Alon Lavie and partner Bob Olszewski. Safaba is developing software to make custom machine translation solutions affordable for commercial clients, helping to meet the growing demand for fast, accurate translation services.
"The thing that's fascinated me since I started working on machine translation was that this wasn't just some theoretical problem in computer science," Lavie says. "It was something where if I made some real contributions, I would probably see, in my lifetime, those contributions helping people on a day-to-day basis."
You can experience some of this potential firsthand by downloading the Jibbigo speech translation app for your iPhone, created by Carnegie Mellon computer science professor Alex Waibel. You talk in one language, and it talks back in another. For example, you say: "Hello. How are you?" Your phone replies: "Hola. Cómo estás?"Jibbigo currently translates between English and Spanish, Japanese, Chinese and Iraqi Arabic. If only it could convert my daughter's daily stream of "nos" and temper tantrums into "yeses" and rational dialogue. An automated English-"toddler-ese" translator. Now that would be innovation, indeed.