In the Smokehouse with Herb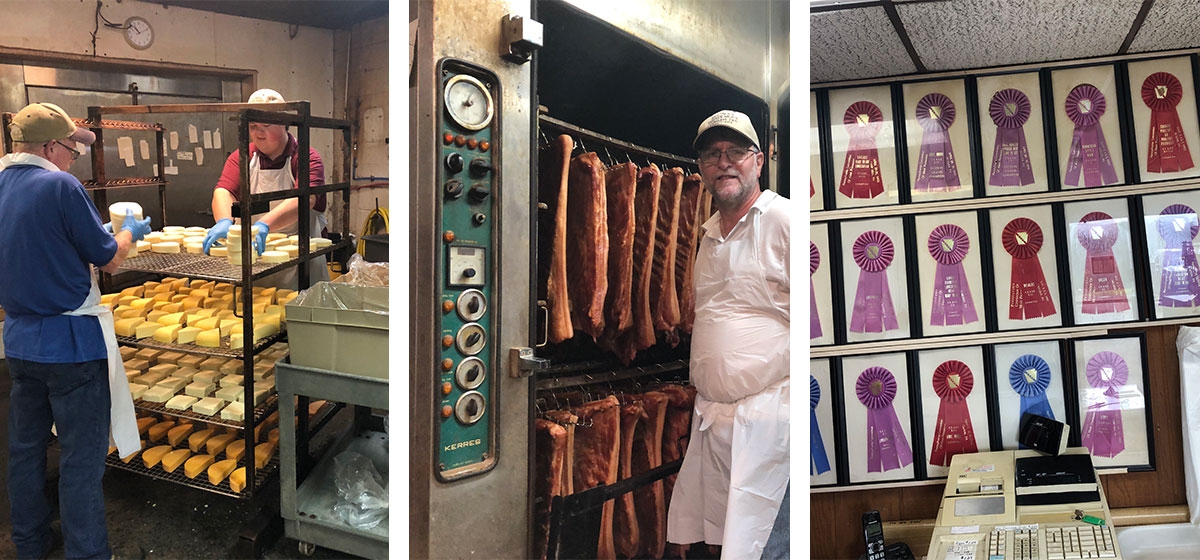 October 7, 2019
There are 400 pounds of bacon smoking in the smoker. Hickory smoked. With actual hickory.

"Not liquid smoke," says Herb Brittner. "See the hickory sawdust? This is the real deal."
The bacon is going to be sliced tomorrow, probably by Herb's sister, Sally, as well as Randy, who are already slicing and packing 100 more pounds of bacon that's already been smoked, peppered and trimmed on both ends.
"So it's leaner," Sally says, grabbing a handful of sliced bacon and placing it inside of a plastic bag that will be vacuum sealed. Each package contains a pound of bacon. "Well, about a pound," she says. "I eyeball it. I've been doing this for so long, that I just kind of know how much a pound is."
Herb Brittner's Smokehouse, which has been family owned and operated since the 1940s, is open Monday through Saturday and sits off Magill Road in Zelienople, just a few steps from the big red barn with the big white lettering. "HERB BRITTNER'S SMOKE HOUSE RADIATOR SHOP." Wednesday is the longest day because they're getting ready for the weekend, which is usually crazy, but not nearly as crazy as the holidays. They'll sell 4,000 hams just over Christmas.
"See that board back there?" Herb says, pointing to a huge bulletin board behind the vacuum sealer. "During Christmas, that thing will be covered with orders."
Herb's grandfather, also a Herb, started the business back in the 1940s, then handed it to his son, Herb, who worked there for a while before deciding he was more interested in fixing radiators than he was in smoking meat, so he set up a radiator shop next door to the smokehouse. Which is when his son Herb, the current Herb, took over the smokehouse. "We also have a son, Herb, who has a son, little Herbie," says his wife, Kathy. "So, five generations of Herbs."
Her Herb is currently running from the smoker to the slicer; from the slicer to the cooler; into the cooler to check on the cheese. He's already sliced it up for John and Chris, who are about to place all 200 lbs. of colby, horseradish, gouda, provolone, swiss and hot pepper onto stainless steel racks to get them ready to go into the smoker later in the evening. "We'll smoke it overnight. It's called a cold smoke, so about half the temperature of what the bacon is smoking at," Herb says.
The cheese comes from Wisconsin. The meat all comes from out west. "I don't slaughter," he says. "I have enough to do."
Herb will prepare the meat, grind it, smoke it. Get it ready to be sold out front in the store. Plain Beefsticks and Extra Hot Beefsticks and El Scorcho Beefsticks. Herb's Franks, Herb's Smokies, German Bologna and Jalapeno Cheese Bologna. Smoked Turkey and Boneless Turkey. Slab Bacon, Sliced Bacon, Canadian Bacon, Garlic Bacon, Peppered Bacon, Thin Cut Bacon and Thick Cut Bacon. There is sausage and baby back ribs and ham hocks and a lot of awards hanging on the walls behind the cash register. Grand Champion awards from the Pennsylvania Convention of Meat Processors for his smoked sausage, cured beef and liverwurst hanging next to dozens more awards for his bacon, wieners, lunch meat, poultry and ham. His beef jerky is still his best seller and has also gotten the most awards, including Grand Champion at the American Cured Meat Championships in 1999.
Herb will be here until about 8 p.m. "First one in, last one to leave," he says, helping John and Chris push the cheese back into the cooler. Edie and Jacob are just about done with the beef jerky, which was hung and smoked yesterday so that it could be packaged today. It's good timing, because Herb's mom and dad just walked in the door, which means it's time for lunch.
"My mom makes lunch for everyone every day," he says.
"It really is a family business," says Kathy. "Herb's aunts used to work here. His mom used to work here, our son Matt manages our Cranberry store, and when our other kids come home for a visit, they get put to work, too."
"I've been working here since I was about 15 or 16 years old," says Herb. "I have no idea what else I'd do if I weren't doing this."
"That's because it's in your blood," says Kathy.
"Yeah," Herb says. "It is."