The Tracy Method
The Pirates' new skipper says there are no more excuses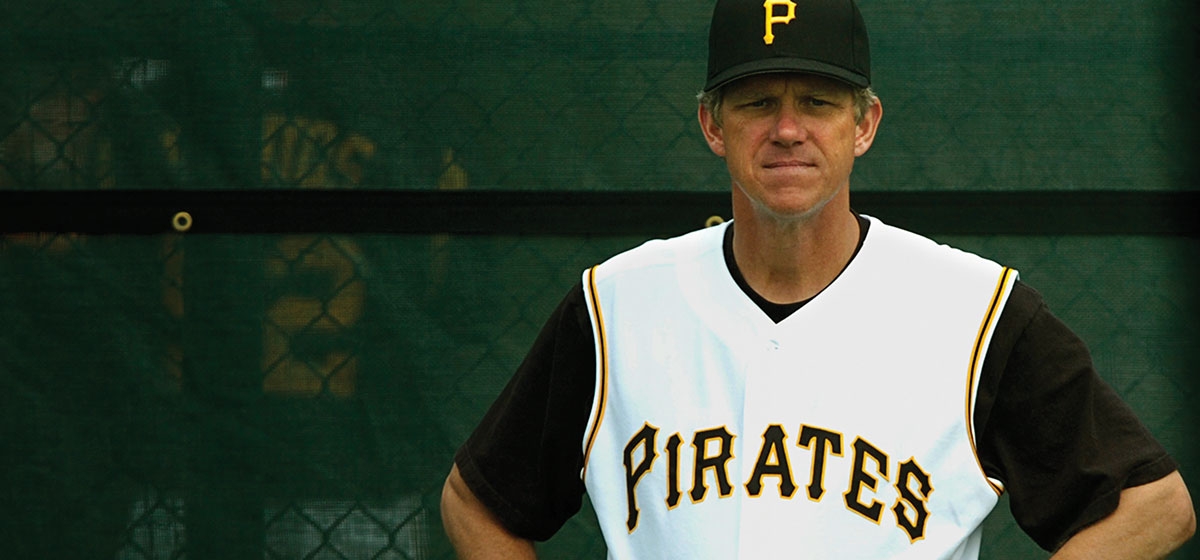 February 20, 2006
On the afternoon of Sept. 21, 1980, a rookie outfielder for the Chicago Cubs cracked his first major league home run over the centerfield wall at Wrigley Field. Four days later, he hit his second homer, and two days after that, a third.

"I was on pace," said Jim Tracy, laughing the knowing baseball laugh that precludes even a predicate to this sentence.
No, when you are 24 and finally in the big leagues after years of having every credible scout predict you'd never get there, you don't celebrate three homers in seven days with mathematical extrapolation. You don't take it to mean you could hit 78 in a full season if people would only believe in you the way you believe in yourself.
The game is simply too difficult.
Tracy never homered in the majors again.
"The (players) strike came the next year and I only batted 63 times with the Cubs, then I was traded to the Astros in the offseason," the new manager of the Pittsburgh Pirates was remembering recently. "I went to spring training with the Astros, but I wasn't kept on when the season started. That was the first time I thought maybe the candle was starting to burn out."
After two more seasons in the minors and parts of two others in Japan, the playing career of James Edwin Tracy flamed out in an unseen trail of smoky trivia. He'd homered off Dick Ruthven, the Pirates' Jim Bibby (who, Tracy said, "wasn't too happy about it"), and Bill Gullickson. He won a Texas League batting championship at Midland in 1979, and then came the end of a melancholy baseball tale told ten thousand times.
Now he is 50, a generation removed from the hot disappointment of miscalculated potential, but no day goes by that Tracy doesn't fully comprehend every conceivable dimension of what it is to be young and talented and not getting better quite fast enough.
Could there be a better fit for the Pirates, a franchise stuck in pretty much the same predicament for going on 14 years?
"Just because they're young, there's been a philosophy that's been thrown out there," Tracy said of the club's post-modern history. "and it's been a crutch, I think.'Well, they're young.' That's fine, but the problem is, they haven't learned that if they go about playing baseball in the right fashion, they're going to find out they're better players than they've been giving themselves credit for."
It's the essential message Tracy brings to Pittsburgh after five years of managing the Los Angeles Dodgers: If you keep doing things wrong just because you're young, you'll wake up one day and be old without ever having been good.
"The other thing is this constant talk about the payroll," Tracy said. "That's another thing that's been used as a crutch; it's offered as a reason that we don't play well, but it's no reason not to play the game correctly. There's a difference between what it takes to play baseball for 162 games and what it takes to play winning baseball, and everybody in that clubhouse has got to understand that difference. Everybody's got to gain the understanding of what it takes to win games and to win close games."
But the rather elephantine problem is, these young Pirates are already pulling down $47 million for not knowing the difference. The payroll is up about $12 million from last year, and though it's still decidedly lower middle class in baseball's fantasy land demographics, 25 guys making $47 million is still 25 guys making $47 million. It'll take the edge off your desperation.
So the issue is essentially whether these players will gravitate to Tracy's teachings and warm to his methods, one of which was on conspicuous display in an early March exhibition game in Bradenton, Fla.
Seated in a folding chair next to the Pirates dugout still bulging with a training camp roster, Tracy studied 24-year-old pitcher Ian Snell, a star in the Pirates' minor league system who has struggled mightily in brief stretches in the big leagues. Snell was completing four highly competent innings against the Cincinnati Reds. As Snell walked from the mound, Tracy rose from his chair, shook Snell's hand, pulled him toward a chair next to his, sat him down, put his arm around him, talked soothingly, patted him on the head, and sent him to the clubhouse.
Oh yes. He'd given him the Full Tanner.
The manager with whom long-time Pirates students most compare Jim Tracy so far is Chuck Tanner, the logical positivist who ran the club from 1977 through 1985 and delivered the club's last World Series championship in 1979. It's in the smile, the contact, the rock-hard handshake, the memory for names, the nurturing compliments Tracy deals to even the marginally deserving that compels such a comparison.
"If you can't get along with Jim Tracy, then you've got issues," said Jim Lett, Tracy's primary lieutenant and strategist and a baseball man who goes back with him some 15 years. "He's just got a God-given talent for remembering things because he knows everything. He knows what happened in the seventh inning of a game Aug. 10, 2002. He knows everybody's tendencies. He studies the tendencies of other managers. He knows when they're going to bring in a left-handed pitcher and which right-handed hitter he's going to counter with based on those tendencies.
"It's like he's got a tape-recorder in his mind. He doesn't carry a book around, a set of stats. It's in his head. Most of us can't do that."
Tracy organizes his baseball intelligence in a laptop on his desk, but the tape recorder's been running for 30 years. The Cubs rescued him from a position selling corrugated displays (the advertising contraptions that turn up at the ends of super market aisles) with an offer to manage their Peoria club in the Midwest League in 1987. His rapid pin-balling through three farm systems eventually won him a seat next to manager Felipe Alou as bench coach of the Montreal Expos.
As the top strategic aide for Alou and later for Davey Johnson with the Dodgers, Tracy was exposed to a range of styles and several metric tons of managerial skill. Alou, the gracious, studious director of the Expos and now of the Giants "was like a father to me," according to Tracy, and Johnson, who first tapped into the potential of software to build a manager's knowledge base, have combined over the past two decades for more than 2,100 victories. Tracy succeeded Johnson to his first big league managing job in 2001. crammed with scouts and talent evaluators and coaches and specialists, many with an incorrect or even agenda-driven take on the available talent that is separate from the manager's. "I do a lot of evaluating in the spring," Tracy said. "I'm not the least bit shy of asking the opinion of every coach, or of getting their thoughts about something on page 37 when we're all on page 22, but the key is to find a comfort level with your players and to understand their abilities and where those abilities fit in particular situations."
Tracy's skills as an evaluator led directly to the jump-starting of dormant careers in Los Angeles. Paul LoDuca, essentially a nine-year minor league catcher, was given a full shot at the job by Tracy in 2001 and has been a full-time big league catcher ever since, averaging 12 homers and nearly 70 RBI every summer. Eric Gagne was a marginally successful starting pitcher in the Dodgers' organization before Tracy made him a closer in 2002. Over the next three seasons, Gagne saved a staggering 152 games. Last year, with Gagne hurt and LoDuca long since sent to Florida in a howlingly unpopular trade, the Dodgers slipped to 71 wins (and 91 losses), Tracy's only losing season in Los Angeles.
When Tracy asked for a contract extension at the end of last season, it opened a rift with management that couldn't be bridged. Happily, another fledgling executive with whom Tracy had crossed paths in the Montreal system was now running the Pirates, General Manager Dave Littlefield.
"I'd always stayed in touch with him and visited with him whenever I could," Littlefield said. "I was always very confident that he would be successful, particularly with this job we have and this group of players we have. We stand to be a much improved team over last year because a lot of our younger players have gotten more experience and we've been able to add some payroll and take on some solid veterans to help around the clubhouse.
"Jim will be a nice fit with that whole mix. You want to win the game every night. We don't want to use these crutches that are obviously out there. We're young, but we've got talent and we've got to fight through that. We understand that baseball's financial system is not the perfect system. We want to win games. We might be young but we've got talent. Jim carries the torch in the clubhouse and demands that the younger players understand that."
There is no shortage of methodology here. Of the six coaches on Tracy's staff, every one has managerial experience on resumes that total 46 years of running a clubhouse and a ballgame. Last year, by contrast, McClendon's seven-person staff included only two coaches with managing experience. In the clubhouse, among Tracy's first tactics this spring was to cultivate leadership in unexpected places. Rather than lecture, he'd suddenly turn the discussion over to newly acquired relief pitcher Roberto Hernandez, for example, whose 14 years in the big leagues may be mined as an emotional database to Pittsburgh's young bullpen, particularly first-year closer Mike Gonzalez.
"That's what Roberto Hernandez can bring you, and I expect the same from a Joe Randa, a Sean Casey, a Jose Hernandez," Casey said. "They bring not only an understanding of success but an understanding of unselfishness that's necessary to knowing the right way to play."
They're the type of players that know that in a 162-game season there are going to be potholes, and they know how to get out of those potholes. You can't be expected to know everything at 22, 23, 24 years of age, but you can be expected to listen to Roberto Hernandez."
The Pirates will host baseball's All-Star Game in July, and when the annual mid-summer celebration of the relationship between baseball and its worldwide fan base comes to town, someone will surely serve up the unpopular reminder that the Pittsburgh Pirates have supplied the mandatory minimum (1) of All-Stars in 11 of the past 12 years.
Whether the organization will say so, Tracy's mission in his new job is to overcome exactly that kind of national anonymity. The only extended national publicity the Pirates have generated in this century was from having former first basemen Randall Simon take a whack at one of Milwaukee's racing wieners between innings in 2003.
To make the Pirates synonymous with winning again, Tracy has a three-year contract for just north of $3 million. Refreshingly, he will make no excuses. Display no "crutches." To Jim Tracy, the only bad thing about managing the Pirates is probably that he doesn't have the Pirates to kick around any more. He was 27-7 against them as manager of the Dodgers. The guy won't even cry poverty, and that will be refreshing as well.
"The money doesn't play," he said. "The players play."