Hero worship
Modern philanthropy a century later, the evolutionary advantage of altruism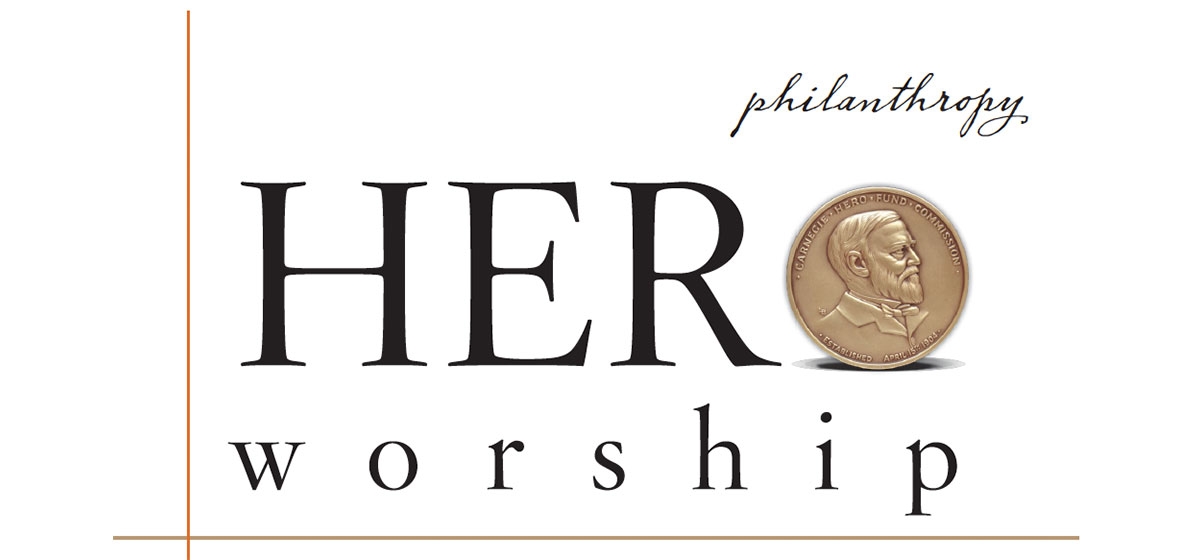 November 20, 2005
In his 1889 essay, "The Gospel of Wealth," Andrew Carnegie gave what is considered to be the first public airing of the idea that the rich have a moral duty to return wealth to the community.

That and his subsequent deeds are credited with giving rise to modern philanthropy.
On the occasion of the first issue of Pittsburgh Quarterly, we thought it fitting to look at the project that was Carnegie's favorite, the Carnegie Hero Fund. While others gave Carnegie ideas for funds, many of which he created, the Hero Fund was his own idea, "The fund that may be considered my pet … I don't believe there's a nobler fund in the world."
And though he lived in New York at the time, Carnegie directed that the Hero Fund be in Pittsburgh, where it has been since 1904. It is one of the great Pittsburgh ideas, awarding more than 8,900 medals and $287 million to recipients who fit a strict definition: The rescuer must leave a place of safety and knowingly risk death to save the life of another, without obligation to do so. That filters out many: police and firemen doing their jobs, family members saving loved ones, and people who created a calamity that called for rescue.
Carnegie believed in the heroic and had faith that his idea would catch on, saying "The gods send thread for a web begun." As his web has passed the century mark, we asked Carnegie Hero Commission President Mark Laskow for his thoughts.
In evolutionary biology, it is difficult to account for heroism and for altruistic behavior in general. Why doesn't the force of Darwinian natural selection systematically eliminate from our species any tendency to take heroic but mortal risks? These risks clearly reduce the odds that the hero and his offspring will reproduce, and natural selection should favor those who stand aside and watch heroes take those risks.
Believe it or not, one evolutionary biologist has struggled with this issue and produced a mathematical model that demonstrates a slight evolutionary advantage to altruism. But even if academics accept that approach, I expect few of us will find it very satisfying.
What about turning it around, however, and instead view evolutionary biology through the lens of heroism? In that regard, one can effectively argue that the potential for heroism is a critical component of our spiritual nature, which sets us apart from other species. The "Carnegie" definition of a hero has a tough requirement of informed, conscious choice.
Carnegie added another element to the equation of heroism: Perhaps our social evolution — our culture, religion, and civilization — has made it more possible for individuals to act heroically. In the Deed of Trust establishing the Hero Fund, he wrote:
We live in a heroic age. Not seldom are we thrilled by deeds of heroism where men or women are injured or lose their lives in attempting to preserve or rescue their fellows; such the heroes of civilization. The heroes of barbarism maimed or killed theirs.
Certainly culture, religion, and civilization play an important role. After all, most of us worship God and, in so doing, bring our own lives at least a little closer to what He expects of us.
So then, what about us? Could any of us be such a hero? Why do some act, while others watch? I suspect the prevailing view in our culture is that, by some sort of moral spontaneous combustion, a single heroic act will redeem a life that has been, shall we say, morally unremarkable. There is a romantic charm to this, and the notion can be found even in some religious thinking. In fact, it is the theme of one of my favorite hymns:
Once to every man and nation
Comes a moment to decide
In the strife of truth with falsehood
For the good or evil side.
I find this very dramatic, very appealing, very stirring. But is it good thinking? Popular culture likes this approach. Hollywood regularly turns out movies about regrettable characters who, after a life of regrettable behavior, suddenly rise to a challenge with exceptional heroism, generosity, academic competency, or whatever. It fits the movies, but is probably less useful in examining and leading our lives.
I prefer Socrates' maxim, "We become what we habitually do." I hope God never sends any of us the opportunity to step in front of a bullet meant for another, but I know God sends all of us a steady stream of less dramatic, but very hard, things to do. If we truly become what we habitually do, then our challenge is to do the small, hard, honest things every day. Perhaps that would prove a preparation for a heroic challenge, perhaps not. But if we can do that over the course of a lifetime, we might do as much good for the world as one of our heroes, albeit without the medal.
When I became president of the Commission a few years ago, a young reporter asked me, "What sort of changes do you expect to make?" My answer seemed to surprise him. "None." When Andrew Carnegie established the Commission in 1904, he made a clear statement of what he considered to be of enduring value in human character. Much has changed in our society since then, including many of our values. Through all that change, it is remarkable that in our modern society we still need heroes, we still find them in our midst, and we still honor their acts and spirits.
Modern day heroes
Debra Nicholls, Jan. 8, 2004, Trabuco Canyon, California
Debra Nicholls helped to rescue Anne M. Hjelle from an attacking mountain lion, in Lake Forest, Calif. Hjelle, 30, was riding her bicycle in a county park when a 122-pound mountain lion jumped on her back from the brush adjoining the trail. The lion took her to the ground, her neck in its jaws. Nicholls, 48, a mountain bike racer, was riding with Hjelle and came upon the scene within moments. She immediately got off her bicycle and threw it at the lion, then grasped Hjelle by the leg as the lion pulled her about 20 feet from the trail into the brush. Alerted by the women's screams, other bicyclists responded and threw rocks at the lion. It released its grip on Hjelle and retreated. Nicholls and others carried Hjelle back to the trail, from which she was evacuated to a hospital. Detained there eight days, she required treatment, including surgery, for severe bite wounds to her neck and face. Nicholls sustained scratches to her legs, and she recovered.
Kevin W. Brown, June 1, 2000, Laurel, Maryland
Kevin W. Brown and his father, William A. Brown, saved Kevin H. Scott from suffocation, in Mitchellville, Md. Scott, 42, lay on the second floor of his two-story house after trying to rescue his daughters from a fire. William, 57, a letter carrier, and his son Kevin, 28, a customer service supervisor who lived across the street, saw smoke coming from the house. They entered through the front door, searched the first floor, then climbed the stairs. Smoke forced them out, but they climbed the stairs again and found Scott. They pulled Scott outside to safety. After Scott told the men his daughters were still inside, William and Kevin entered a third time and climbed partway up the stairs but were forced out by the fire. As he returned down the stairs, Kevin fell and dislocated his shoulder. Firefighters arrived and removed the girls, but they did not survive. William and Kevin Brown suffered smoke inhalation. They both recovered.
Daniel Elwood Stockwell Oct. 15, 1991 Keene, New Hampshire
Daniel Elwood Stockwell rescued 15 people from assault in East Swanzey, N.H. A 16-year-old boy, armed with a high-powered rifle, entered a high school cafeteria and fired one round, wounding two students. The assailant then ordered 15 seventh-grade students into a classroom, where, reloading his rifle, he detained them. Stockwell, 49, the school's principal, was alerted to the situation and went to the classroom. He entered the room and offered himself as a substitute hostage in exchange for the students' release, to which the assailant agreed. The students exited the room unharmed. For the next 40 minutes, Stockwell, at gunpoint, talked with the assailant, until police entered the room and subdued him.
Carolyn M. Kelly, Sept. 1, 2002, Shreveport, Louisiana
Carolyn M. Kelly helped to save Nina M. Hutchinson from drowning in Shreveport, La. The car in which Hutchinson, 83, was a passenger entered a small pond and began to sink in water about 11 feet deep. She exited the car and struggled to stay afloat in the center of the pond, about 50 feet from the bank. Kelly, 81, a retired medical technologist, heard the accident from her nearby home and, after notifying authorities, responded to the scene. Recognizing Hutchinson and seeing her difficulty, Kelly swam to her. She grasped Hutchinson and moved to the submerging car to hold on. Firefighters began to arrive within minutes, and one of them entered the pond and swam to the women. He took Hutchinson to the bank, Kelly following. Hutchinson was admitted to the hospital, where she died the following day.
Jeffrey Carl Harriman, May 7, 2001, Palmer, Alaska
Jeffrey Carl Harriman rescued Stephen A. Hansell from assault, in Anchorage, Ala. After a man armed with a knife entered the grounds of an elementary school and wounded three boys, he entered the building. The school initiated its lockdown procedure, with staff securing the students in the classrooms. Harriman, 50, a teacher at the school, saw the assailant in the hall and followed him. The assailant forced his way into one of the classrooms, where Stephen, 8, and other students had sought refuge. He approached Stephen and put the knife to his throat. Entering the same classroom, Harriman rushed the assailant and pushed him off Stephen and to the floor, Stephen sustaining a severe knife wound to the side of his head. Still armed, the assailant regained his footing and confronted Harriman, who maintained a position between the assailant and Stephen. Using a plastic bin as a shield, Harriman kept the assailant at bay until police arrived minutes later. Harriman removed Stephen from the room as police commenced a standoff with the assailant, then apprehended him. Stephen required two days' hospitalization for treatment of his knife wound.
Jared C. Williams, March 27, 2002, Ozark, Alabama
Jared C. Williams saved Hayden A. Strickland and Jennifer L. Jackson from drowning, in Panama City Beach, Fla. Hayden and Jennifer, both 14, were wading in the Gulf of Mexico when they were caught in the undertow. A member of their group, Jared, 16, a student, waded and swam to Hayden, then, fighting the undertow, took her to shore. Jared returned for Jennifer, who, nearly exhausted, was farther out. He grasped her, started to swim parallel to the beach with her, then turned and went directly toward shore. A woman in their group waded partway out from shore with a body board and met them. With Jennifer atop the board, the woman pulled her to the beach. Hayden and Jennifer were exhausted, but they recovered.
Most Recent Awardees
Robert Diaz deceased, Huffman, Texas
Miranda A. Elkins Gainesville, Texas
Donald James Miller Port Moody, British Columbia
Stephen F. Coenen New Orleans, Louisiana
John Glenn Dubois deceased, Regina, Saskatchewan
Steven Glenn Las Vegas, Nevada
Bryce Stetler Plover, Wisconsin
Paul J. Moore Tacoma, Washington
Camron Erway Larned, Kansas
Michael Redice Charlotte, North Carolina
Clifton Anthony Las Vegas, Nevada
Christopher P. Meehan deceased, Manassas, Virginia
Elvin Leo Troxler deceased, Ellerbe, North Carolina
Terence Michael Wiles Luzerne, Michigan
Joshua L. Belanger Clio, Michigan
Aaron S. Meyer Cameron, West Virginia
Jack Cain Wind Ridge, Pennsylvania
Brent M. Wharry Moundsville, West Virginia
Steven M. Cook Cameron, West Virginia
Donald M. Kline Morehead City, North Carolina
D. Brent Martin Cincinnati, Ohio