Healing Children for 125 Years
Children's Hospital celebrates a major anniversary from a position of strength
Children's Hospital of Pittsburgh of UPMC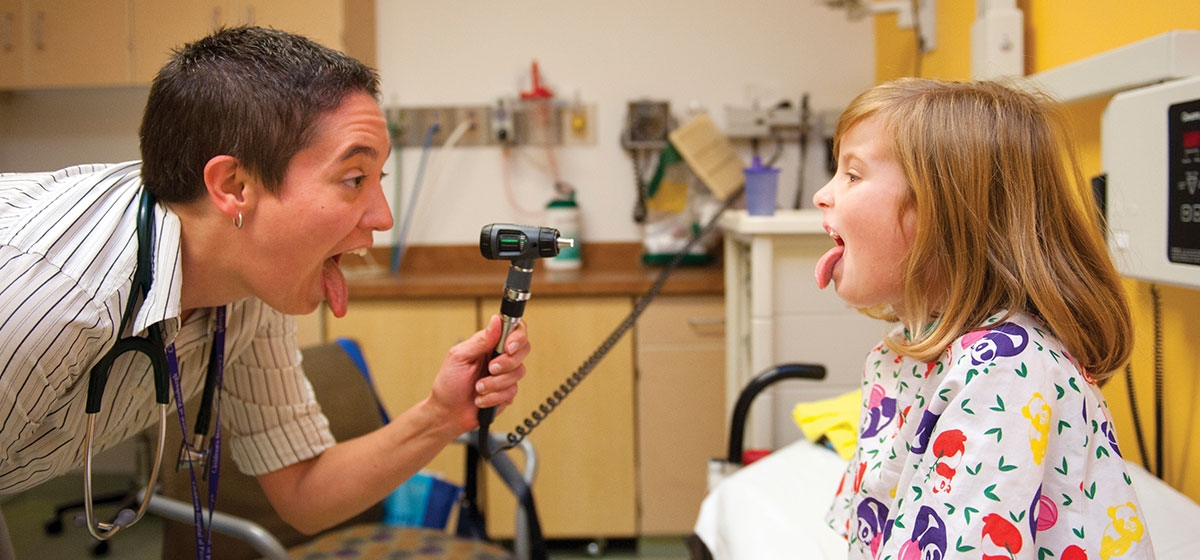 May 20, 2015
Each day, Dr. Patrick Dantzer, a fourth-year resident at Children's Hospital of UPMC, walks past an indoor mural commemorating Jonas Salk and his polio vaccine discovery. Pretty big shoes to fill, but also a good way to kick start a shift.

The milestones at Children's are copious—so many medical breakthroughs, including the polio vaccine, so much support from generous community members, so many miracles for children and families. Today, the hospital's environment-friendly main campus overlooks Pittsburgh's Lawrenceville neighborhood as a colorful beacon of pediatric wonder for families all over the world.
"Care for every child," was the message of Pittsburgh Children's Hospital when it opened as a 15-bed facility in Oakland on June 4, 1890, the brainchild of a young entrepreneur, Kirk LeMoyne, the son of Pittsburgh pediatrician Dr. Frank LeMoyne. Now, as the hospital celebrates its 125th anniversary, that transcendent message still rings true and stronger than ever from the Lawrenceville campus that opened in 2009.
The hospital's papers of incorporation include names such as Frick, Magee, McCune and Westinghouse. The hospital, initially named Pittsburgh Hospital for Children, got a financial boost for construction after Jane Holmes, a local philanthropist and church worker, bequeathed $40,000 for a hospital exclusively for children.
Their community pledge began with this mantra: "The doors of Children's Hospital have been opened to all children in need of medical and surgical care regardless of race, creed or the ability of their parents to pay the cost."
Greg Barrett, president and chief development officer of Children's Hospital of Pittsburgh Foundation, is still moved by that pledge.
"To me, 125 years of this community committing to and creating this institution that would care for all of their children, well, that's a unique and pretty wonderful thing if you think about it," Barrett said in a recent interview with Pittsburgh Quarterly. "That's what we want to celebrate here—and the message that excites me: 125 years of this community caring for our children."
Children's Hospital and its Foundation are in the midst of a year-long celebration that will continue to raise money for patient care and research with the goal of attracting a new generation of support from leading organizations and individuals throughout the region and beyond.
The signature event of the 125-year commemoration is an October 2 celebration at the David L. Lawrence Convention Center. And while that gala will bring out the region's dignitaries, Barrett is making sure that donors of all levels are being recognized.
Take Albert Lexie, who, for more than 30 years, caught two buses from his home in Monessen to Children's Hospital to shine shoes, twice-aweek. He donated all of his tips and part of his salary to the hospital's Free Care Fund, which tallied up to more than $200,000.
The fund helps the hospital pay for providing care to children whose parents cannot afford to pay, or who lack insurance. "I like to just take care of the kids—be good to the kids," Lexie said in a video produced by Children's and UPMC. Lexie's biography, "Albert's Kids: The Heroic Work of Shining Shoes for Sick Children," was published by RoseDog Books and the Children's Hospital of Pittsburgh Foundation. He retired from the hospital at 71, in 2013.
"It's just a tremendous statement about the community caring for our children," Barrett said. "Albert's story stands out, obviously, but I have a million other stories like that. The belief in children and philanthropy and doing what it takes to make them well—that's the true inspiration. The community buys into it."
Salk, too, exemplified the giving spirt that surrounds the hospital—he declined to patent his polio vaccine, making his polio vaccine a gift to the public. In a 2012 article, Forbes estimated Salk's gift to be worth $7 billion.
On a recent tour, Dr. Andrew H. Urbach, associate chief medical officer at Children's Hospital of UPMC, showed the various stunning city views from large windows throughout the hospital building that bring in natural light—a departure from the old hospital in Oakland. Pittsburgh architecture firm Astorino Inc., played a large role in the building's design and the use of bursts of color on the exterior and interior.
"We didn't want anyone to come here and feel alienated," Dr. Urbach explained. "We tried to design pieces of the building for almost any age, so wherever you walk, you see something that attracts you and makes you relax and feel comfortable at a time when you are particularly stressed."
The long hallway from a parking garage to the main lobby is called the "Transformation Corridor," and contains accompanying images on the floor illustrating the changing of seasons, with cocoon-to-butterfly artwork on the walls. The images symbolize the evolution of healing.
"Care for every child" was the message of Pittsburgh Children's Hospital when it opened as a 15-bed facility in Oakland on June 4, 1890.
The 6th floor includes the four-story Eat'n Park Atrium, with a large movie screen that opens to the outdoor Howard Hanna Healing Garden, which includes more panoramic views of Bloomfield, Lawrenceville, the Cathedral of Learning and downtown skyscrapers. The hallways are full of artwork and inviting color patterns designed to foster positive energy with streams of natural light flowing through the multitude of windows.
The new patient rooms are larger than at the previous Oakland hospital, equipped with video games and PlayStations and a pullout bed for family members. Almost all the rooms are private, designed for one patient only.
This all came together through the merger of Children's Hospital with UPMC on Oct. 31, 2001. The merger originally occurred with the idea of renovating UPMC Montefiore, about a block away from the Oakland facility, as the new Children's. Around the same time, St. Francis Hospital in Lawrenceville announced its closure due to financial struggles, and UPMC wound up buying that property.
Hoddy Hanna, chair of the Children's Hospital of Pittsburgh Board of Trustees and a member of the Foundation board, said the merger was transformative. "We were bursting out of the old Children's hospital in Oakland," said Hanna, CEO of Howard Hanna Real Estate Services. "We could not have built the new facility without UPMC and their assistance."
In the 1980s, Hanna got involved in fundraising for Children's through the Old Newsboys organization, which started in the 1930s after a Pittsburgh Press editor was impressed with the care his son received during a three-day stay at Children's Hospital. The newspaper began a tradition of printing commemorative holiday issues, with the proceeds going to Children's Free Care Fund. Howard Hanna Real Estate started hosting holiday luncheons supporting the hospital's Free Care Fund, and the company has raised millions for the fund.
"I started to spend time at the hospital and see all the great things happening there," Hanna said. "Support of the Free Care Fund became a very big part of my life. It's such a remarkable place—you literally almost hear about a miracle there each day."
Hanna recalled a story of an eightyear- old girl who came to Children's recently from Australia with a stomach order so severe that she hadn't eaten solid food in two years. After surgery and treatment, she got better and fell in love with the art of cooking, with the goal of becoming a chef.
Hanna credits the 2001 addition of Dr. David Pearlmutter from the St. Louis University School of Medicine for expanding the hospital's clinical research program and helping Children's become one of the nation's Top 10 National Institute of Healthfunded hospitals. Pearlmutter, who is Children's Hospital's physician-in-chief and scientific director, "has been the driver in our research since he arrived," Hanna said. "He has really helped Children's gain major funding and brought in the right researchers to help us lead."
The Children's residency program also boasts a stellar reputation, and as Dr. Urbach said, "A big part of who we are is our pride in training the next generation."
For Dr. Dantzer, the 30-year-old resident who passes daily by the Salk mural, the history of Children's and the opportunity to learn from the best has been something he'll benefit from for the rest of his career. "That's the great thing about working at Children's. It's an excellent place to train. It's a warm and friendly environment, and there are great teachers on every level."
He met his wife in the Children's residency, and for many others in the program, the hospital's new campus has had an added bonus for Pittsburgh—making the surrounding neighborhoods a destination.
"You have a lot of residents, fellows, doctors and nurses moving into Lawrenceville, Friendship, Shadyside and other nearby neighborhoods," Barrett said. "There are a lot of people choosing to live near the office and you can already see the impact on those areas of the city."
In 125 years, Children's has grown far beyond what its founders and early supporters could have imagined, but in some ways, Hanna said, the hospital's legacy may be only beginning.
"We have a lot of momentum going for us. People want to come here and do residency work, the research arm has taken off, and we're thriving on the clinical side. It's been a great institution that has been wonderful for 125 years, and we're positioned so that the hospital will be even stronger and greater over the next 125 years."