Haute Wired Gala Toasts Fashion Exhibit
April 28, 2017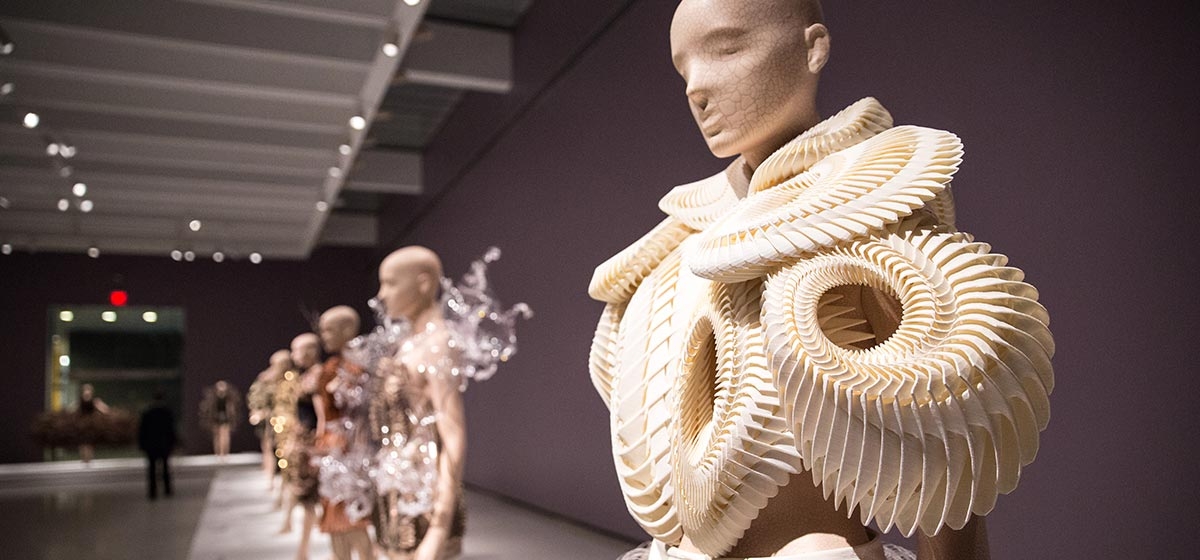 May 1, 2017
"Iris van Herpen: Transforming Fashion," the first exhibit of its kind to grace one of the main galleries of the Carnegie Museum of Art, drew 210 guests for the Haute Wired Gala on April 28. The event toasted the final days of an exhibit co-organized by the High Museum of Art in Atlanta and the Netherlands' Groninger Museum.
---
---
"It's so accessible on a lot of different levels," said Rachel Delphia, the Carnegie's curator of decorative arts and design. "You can look at it as fashion, which it is, or you can look at it as objects."
Fusing fashion with technology and engineering, the international design darling's use of unconventional materials such as crystals, silicone, glass bubbles, metal gauze, and magnets embraced the idea that modern couture could function as living sculpture.
The New Orleans-based band Tank and the Bangas—winners of NPR's 2017 Tiny Desk Contest—entertained during a cocktail hour that was emceed by WYEP's Brian Siewiorek. It also featured models wearing homages to the exhibit that were created by Pittsburgh designers Atticus Adams and Memphis George.
The gala committee included Carnegie Women's Committee president Mary Margaret Stamy, gala chairwoman Gail Murphy, Vivian Benter, Antoinette DePasquale, Ina Gumberg, Janet Hunt, Mollie Lang, Ramsey Lyons, Mary McKinney, Peggy McKnight, Karen Meck, Jennifer Muse, Quirine Okonkwo, Gabriela Porges and Tara Safar.