Hard Hitter
A Pittsburgher's voyage as NFL player and agent
Field: Shutterstock; other images courtesy of Ralph Cindrich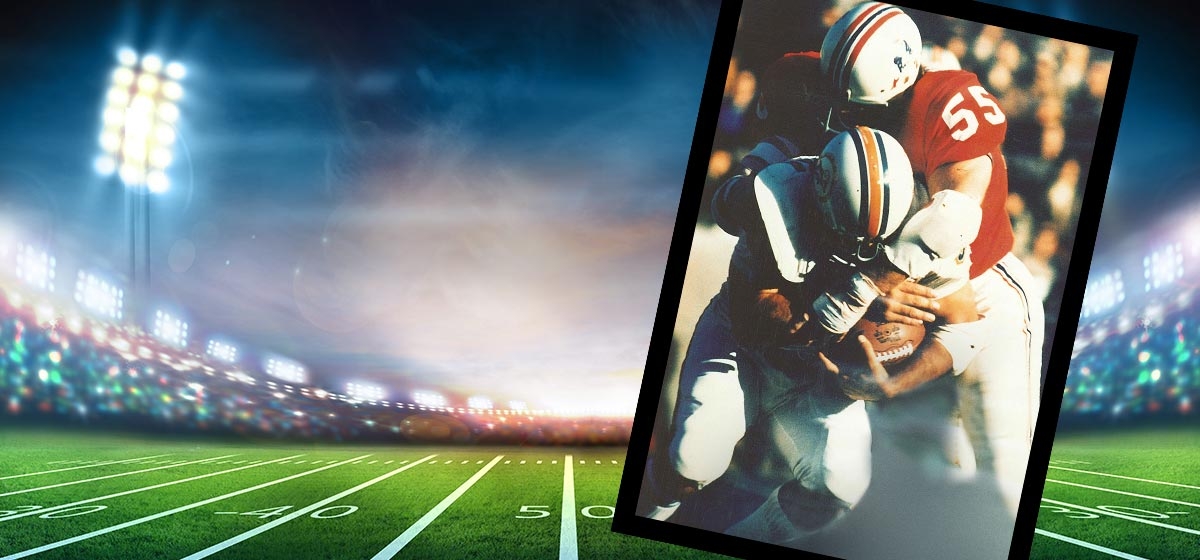 February 20, 2017
They're not really going to miss Ralph Cindrich, those suits with the NFL's 32 teams. If they think of him at all, it's in vulgar adjectives attached to the devilish contracts he extracted from them for his clients, such as Bill Fralic's Rabbi Trust, Will Wolford's Blind Side contract and Dermontti Dawson's first-ever option-year double signing bonus. On the whole, however, they'd just as soon forget him.

"I lived for these wars," Cindrich was to write.
Wars like the Vodka Shootout with Robert Irsay of the Indianapolis Colts, one of the most controversial owners in NFL history. A negotiating session over quarterback Craig Erickson became long and vulgar and drunk. Irsay liked his booze, Cindrich said, and this meeting turned into a shot-for-shot duel into the night. Cindrich finally gained not only Irsay's respect, but the contract he wanted. Some years later, Cindrich lifted a farewell toast to him.
"Bob," Cindrich said, "…I know this—if you were cremated, you're still burning."
Cindrich, former All-American linebacker at Pitt and linebacker with the Atlanta Falcons, New England Patriots, Houston Oilers and Denver Broncos, was the first NFL player to become an agent. He knew the severe knee injury he suffered at Pitt doomed him to a short playing career, if he could make it at all. It lasted four years. Then he spent some 30 years as one of the most successful sports agents in the land. Also probably, by his own description, the most hard-assed.
(Cindrich has a bright personality and a ready laugh, but the linebacker in him isn't far from the surface. On a talk show on KDKA Radio in 2012, he pretty much called University of Alabama Coach Nick Saban a cheater. "And if he has a problem with anything I say," Cindrich added, "come after me, big boy.")
Cindrich's been-there, done-that background helped him gain some 200 clients, including Mark May, a Pitt All-American and now an ESPN commentator, and Herschel Walker, James Farrior, and Fralic, Wolford and Dawson. But the NFL? The enemy? He won't miss them. Come NFL Draft Day in April, while the rest of the country is worshiping at the TV set, he will be doing something else. Anything else.
"I've always loved football," said Cindrich, a starter from the beginning at little Avella High School in Washington County, "but I'm not interested in the draft."
But then, the draft won't be as much fun as it used to be. Back then, it was into the trenches against the suits. "All's fair in love and negotiating," Cindrich said. The sessions, usually by phone, often would end up as exercises in hurling delicious, carbon-edged invective, and they also required mothering anxious young players, to say nothing of a number of general managers and owners, as well.
Cindrich's career reached a crisis stage in 1999, when the NFL sued him in a contract flap. A railroading, he called it. "I was a marked man," he said, in his 2015 tell-all-and-then-some book, "NFL Brawler: A Player-Turned- Agent's Forty Years in the Bloody Trenches of the National Football League."
"It was a street fight," Cindrich wrote. "And I was up against… some pretty rich and powerful bastards in the NFL."
The score, he said: "Ralph 1, [expletives] 0."
"One thing," Cindrich said. "I never lied, I never cheated, I never misrepresented and I never bought players."
His upbringing saw to that, he said. He grew up in Avella, a mill and mining town, absorbing the values of his dad, A.J., the son of a Croatian butcher, and his mother, Stella, born on a boat coming to the U.S. from Italy.
* * *
Cindrich, who went to law school while playing for the Houston Oilers, made three professional debuts in his career. The first embarrassed him in front of a stadium full of people. The second scared him half to death in a courtroom. The third was the inspiration for his career—a confrontation with the iconic Art Rooney of the Pittsburgh Steelers.
He made his pro debut with the Falcons at linebacker in an exhibition game (NFL marketers prefer to try to dignify them as "preseason" games) before a big crowd in San Diego, where he received a humiliating baptism. The rookie was all set to impress the coaches and the crowd with a demolishing hit on Mike Garrett, the Chargers' famous running back. Garrett gave him a nifty fake that left him face-first in the dirt. "A face mask," Cindrich said, "holds an awful lot of sod."
That was piddling compared to his debut in a Texas courtroom. He had been appointed by a judge to defend a woman who, with her pal, tied up two young men and brutally strangled them, one after the other. They took a coffee break after the first one. "There was no question of her guilt," Cindrich said. "My goal was to save her life." He got to his feet to begin his defense and stopped. "I had no spit," he said. "My knees were shaking. If I lost, this woman died." He saved her life.
Cindrich was still young as an agent when he collided with the Pittsburgh Steelers in 1978. They drafted Pitt center Tom Brzoza in the 11th round, and shortly after, Brzoza broke his thumb in an off-season contact workout. But off-season contact violated NFL rules, and the injury cost Brzoza a chance to make the team. Cindrich argued loudly and publicly that the Steelers owed Brzoza. A local sportswriter broke the story. Ultimately, the NFL penalized the Steelers, taking away a precious thirdround draft pick. And Cindrich finally won. He was leaving the Steelers' offices with Brzoza's check when Art Rooney, the venerable and fabled "Chief," asked to see him.
"Not the Chief!" Cindrich told himself. "Anybody but the Chief!"
When the pope calls, you answer.
Cindrich vividly remembers the audience as something like a meeting with a kindly old friend. It ended with Art Rooney asking him two questions: Did you do the right thing? Did you do the best you could do?
Cindrich managed "yes, sir" twice.
"Well, now," Rooney said, "that's all that really matters, isn't it?"
* * *
At draft time, Cindrich was a shameless three-card monte dealer. In the 1985 draft, for example, his prize client was Bill Fralic, the All-American offensive lineman from Pitt. Minnesota wanted him badly. Cindrich let it be known widely that Fralic didn't want Minnesota. Minnesota got the message. The Indianapolis Colts coveted Cindrich's other prime client, receiver Al Toon out of Wisconsin. Cindrich also told Indianapolis to forget it. Minnesota, a jilted date, traded its pick to Atlanta, and Atlanta took Fralic. Indianapolis stepped aside, and Toon went to the New York Jets. Both players went on to Pro Bowl careers.
One angry general manager complained that Cindrich would do anything to get his players more money.
Cindrich was delighted. "I couldn't buy that type of PR," he said.
"…players do make big money. And the owners make big money. But when players deal with the owners on their own, they will get their clock cleaned."
—Ralph Cindrich
Cindrich termed agents "the last line of defense" for players. It all sounds so gallant, but self-serving. Agents make a nice living off players.
"True," said Cindrich. "And players do make big money. And the owners make big money. But when players deal with the owners on their own, they will get their clock cleaned."
* * *
A funny thing happened to the NFL on the way to the Super Bowl—TV ratings had fallen off in the 2016 season. And there were those who would bet that Mount Everest would fall over before that could happen. The trend developed early. By late October, Sports Illustrated reported that "Monday Night Football" was down 24 percent, "Sunday Night Football" 19 percent and "Thursday Night Football" 18 percent.
This strikes the NFL right in the cash register. TV means money from commercials, and falling viewership could mean falling TV money.
But Cindrich doesn't think that the U.S. football stadiums are headed for tractor pulls and soccer.
"I think the Colin Kaepernick thing hit the country harder than most people realize," Cindrich said. This was the quarterback of the San Francisco 49ers refusing to stand for the national anthem, and various other players joined him. Fans were furious, and were swearing off football.
Other reasons were advanced for the ratings drop: A reaction to domestic violence involving players. Oversaturation by football, and even beyond the games, to such TV features as the NFL RedZone and fantasy leagues. NFL Commissioner Roger Goodell added the presidential campaign with conflicting televised debates. Was pro football dangerously starting to fall?
"There was a deterioration, yes," Cindrich said. "But I think football is too deeply ingrained in the American culture for the game to be badly damaged."
And then there was the monster coming out from under the bed—concussions and their long-range effects, followed by some parents keeping their kids out of football. Does this signal the beginning of the end of football?
"I don't think so," Cindrich said. "Remember—football is part of American life. Not only that, but for a lot of young guys, football is a way out—a way out of poverty."
Cindrich himself had concussions. Would he play now, knowing what he knows about them?
"Yes. Yes, I would," he said. "First, I love the game. And football has given me everything I have. I've been blessed."
* * *
Cindrich one day called Bill Polian, general manager of the Buffalo Bills, trying to get through a particularly tough deal. "He went right after me," Cindrich said. "I didn't really know why he was so mad." Things spun out from there in bright language delivered at a high volume. That night, Cindrich was still so miffed that he could barely sleep. Early the next morning he grabbed a flight to Buffalo, stormed into Polian's office, leaned over his desk and said: "If you ever [expletive] talk to me that way again, I'll beat the living [not merely vulgar, but expletive] out of you! You understand me?"
That said, Cindrich stormed back out of the office and caught a flight back to Pittsburgh.
Nope. The suits of the NFL won't miss Ralph Cindrich.