Forever In Bloom
Local gardens adorn Smithsonian archive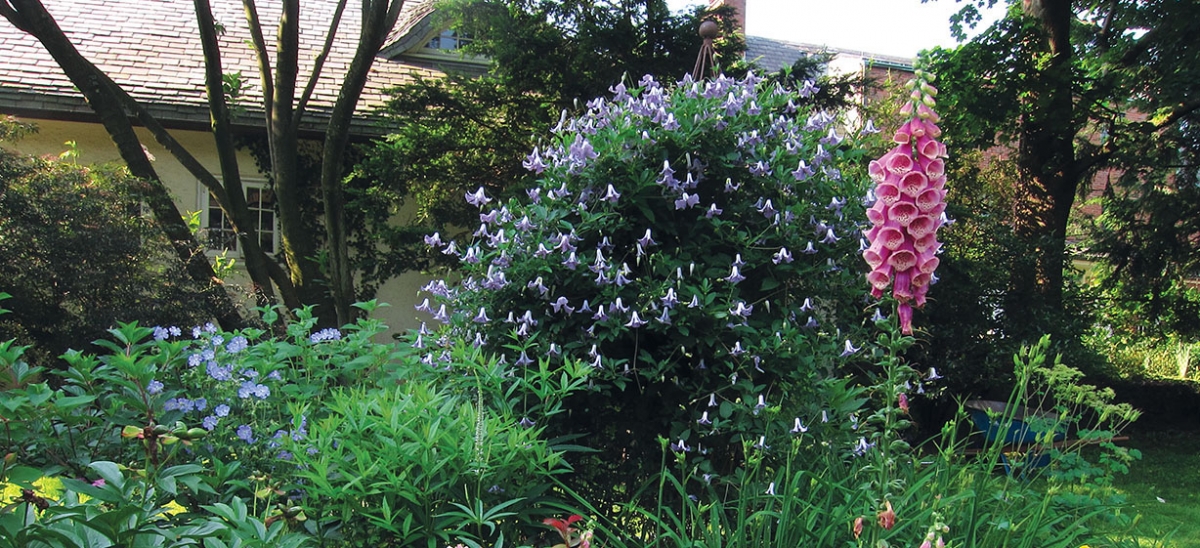 February 20, 2016
Gardens are fleeting, as anyone with a green thumb will attest. Within two weeks of neglect, weeds invade; within two years, shrubs perish and pathways disappear; within two decades, the garden is but a memory. Fast forward two centuries, when everyone who even remembers the garden is gone…

---
---
The Garden Club of America, founded in 1913, watched some wonderful gardens vanish, with no trace left behind. In some cases the owner died, in others the parcel upon which the garden was built was sold and developed. Great gardens only live on at the behest of a new owner, which is the reason so many do not. There had to be a way to insure that, come what may, special gardens would be remembered. The Garden Club of America had both the will and the means, and the Smithsonian Institution had the way. In 1987 they pledged to work together to capture in perpetuity gardens of special historical significance or cultural value before another disappeared forever.
Images were gathered. Garden owners, or their descendants, shared verbal histories, garden plans, and correspondence. And, upon transfer and cataloging of thousands of photographs and reams of documentation, the Archives of American Gardens was christened in 1992. Today, the AAG at the Smithsonian in Washington, D.C., houses the stories, told in pictures and words, of nearly 10,000 gardens dating from 1870 to the present. Some are honored with a single hand-painted glass lantern slide (precursor of the 35-mm color transparency). Others have files an inch thick. The Garden Club of America, under the leadership of its Garden History and Design Committee, is responsible for submitting half of all of the archives' current entries.
Pittsburgh is well represented in the AAG, thanks to two Garden Club of America affiliates here: the Garden Club of Allegheny County and the Village Garden Club in Sewickley. Seventeen local gardens have been inducted into the AAG (see sidebar), and the collection expands as members continue to photograph and document contemporary landscapes. Here's a sampling of some of our region's horticultural treasures that have been accepted by the Smithsonian and will live on, no matter what the future holds.
All of the information in the archives is available to researchers by appointment. (A Smithsonian archivist must locate the requested material, some of which is stored off-premises, so call in advance.) Summaries of these and other gardens, as well as some images, are available at: Archives of American Gardens
Additional local gardens listed in the Smithsonian Institution's Archives of American Gardens registry:
Newington, Edgeworth
Poplar Hill, Sewickley
Mrs. W. P. Snyder III Garden,Wilpen Hall, Sewickley
The Spahr House Garden, Sewickley
Hartwood County Park, Hampton Township
Hilltop Hideaway, Fox Chapel
La Petite Maison, Squirrel Hill
The Macpherson Garden, "Reverie," Shadyside
Tullymore, Edgeworth
The Macchione Italian Garden, Sewickley
The Schenck Garden, Fox Chapel
The Genter Garden, Topiary Folly, Sewickley
The Catone Garden
Shadyside
Donna and Guy Catone inherited a derelict landscape when they purchased their 3/4-acre Shadyside property in 1986. Fortunately, the "bones" of the garden remained intact, having been masterfully designed in 1927 by local landscape architects William Pitkin and Seward Mott. Gradually its secrets were revealed: a formal footprint with intersecting brick pathways, a central lawn and a shady grotto. An exquisite exedra—rare in Pittsburgh—with pond and fountain serves as the garden's backdrop. Home and garden were so integral to each other that the architect planned an arched tunnel to heighten the dramatic effect of entering the garden.
Mrs. Catone is a gifted gardener. In her hands, the perennial borders thrive once more, accented with drifts of fragrant roses. The Catones' son, Winston, has developed an appreciation for gardening as well, and helps his parents with the "heavy lifting" when the garden demands it. Together, the family has planted many varieties of trees and shrubs and added cutting flowers and vegetables in raised beds along the sunny perimeter
Bakobils Farm
Laughlintown
Bakobils Farm, near Ligonier, has known only three owners in its hundred-year history. Its rather cryptic title makes perfect sense when you consider that many country lanes were unnamed a century ago. Folks looking for the farm could find it "out back o' Bill's property," and since everyone knew where "Bill" lived, the directions sufficed.
Mary and Edward Weidlein acquired Bakobils Farm from her parents in 1974. Mrs. Weidlein oversees the maintenance of about 50 of the property's 250 acres, though she no longer raises livestock as her parents did. Fields, meadows and woodlands blend seamlessly with carefully planned landscape features. The walled garden, tucked against the house and completed in 1937, is Backobils' only professionally designed outdoor space. Humorous correspondence between the owner and New York landscape architect Catherine Cole regarding the building of that garden is a delightful read. A stream with multiple waterfalls was expertly engineered by Mrs. Weidlein's father. Along with a swimming pool, orchard, perennial borders, and large, immaculate vegetable garden, this unique water feature elegantly complements house, barns, stone terraces, and historic springhouse.
The Drake Garden, Cherrytree House
Park Place
Cherrytree House, home of Sarah and John Drake, perches on a cliff above Frick Park. The former cherry orchard has yielded to towering oaks, casting the garden into dappled shade. The front yard features curved paths with a stone bridge that spans a river rock stream. Ornamental trees, flowering perennials and groundcovers are so tightly planted as to leave no room for lawn. Maintaining this elegant horticultural display is a task willingly—lovingly—shouldered by the owners.
In the back, an arched wall fountain and pond original to the house were later embellished with a rill cut into the bluestone patio. Water trickles down the center of the steps, leading the eye to two lower terraces. The "borrowed view" lends a vastness to the garden that far exceeds its 175-foot depth. Charming custom iron plant trellises and handrails designed by Mrs. Drake, an architect, are serviceable additions that fit beautifully with the garden's urban woodland theme.
The Peggy & Stephen McKnight Garden
Fox Chapel
An elegant manor requires a suitably formal setting—at least it did in the 1920s when this classic Brandon Smith Tudor home and garden were built. Fox Chapel was a destination in the country then, a two-hour carriage ride from the city.
While Peggy and Stephen McKnight appreciate that landscape architect Ezra Stiles' original design probably captured the essence of that era, they desired a landscape more in tune with today's lifestyles. After all, who needs a dedicated "drying yard" for hanging out laundry anymore? They brought in landscape architect Diane Devore, and that space is now a lovely garden sheltered by brick walls and overflowing with roses, peonies, and delphiniums.
Garden edits were all pursued with an eye towards maintaining harmony between the house and its landscape. The courtyard garden still greets guests with an abundance of blooms; a network of brick paths leads to color-themed gardens alongside fieldstone terraces, mostly the work of longtime gardener Ed Shirey. The knoll upon which the house was situated hasn't changed, with its magnificent vista, but the landmarks that punctuate the scenery most certainly have.
Garden Dreams Urban Farm & Nursery
Wilkinsburg
Garden Dreams is unique among Pittsburgh's archival entries, and some might think it curious among the more traditional lovelies on the list. But this garden is an urban experiment of which Pittsburgh can be proud, fitting within the Smithsonian's mission of "documenting a meaningful compendium of significant cultivated gardens in the U.S." Carved from a struggling inner-city neighborhood, Garden Dreams occupies just a third of an acre in Wilkinsburg.
The project is the vision of Mindy Schwartz, environmental consultant, community advocate and avid gardener. A decade in the planning, Garden Dreams was cobbled together from three vacant lots next door to Schwartz, who purchased them at fire-sale prices through Allegheny County's Vacant Property Recovery Program.
Her supporters, including the farm's dedicated staff, have helped Schwartz turn Garden Dreams into a viable business and a vital community asset. The nursery doubles as a gathering site for neighbors as well as a place for gardeners to learn sustainable horticultural practices, especially those that can economically benefit lower-income families. Everything is grown organically: 100 varieties of tomato plants and dozens of peppers are available for purchase by home gardeners through early fall, plus eggplant, colorful lettuces, herbs, even edible flowers. When debris from demolished buildings threatened to contaminate the site, beds were excavated and refilled with clean soil. Structures are all made of recycled materials. And beneficial insects are most welcome.