Finding the Green for Green Spaces
Cities exploring new ways to pay for parks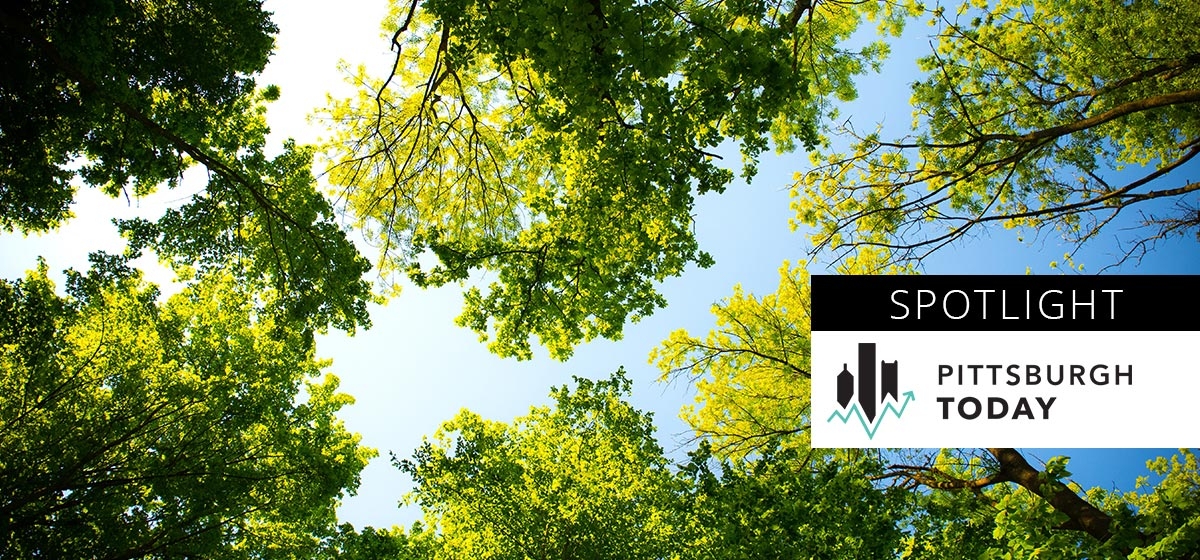 February 25, 2019
Gathering Place in Tulsa, Okla. was named the best new attraction in America last year by USA Today. It's a sprawling $465 million park with lakes, gardens, wetlands and an extravagant playground. Essentially, it's a public park, built and maintained with private dollars, and in that regard, it's an exception as urban public parks go.

Public parks more often claw for funding in crowded city budgets where fire, public safety and other vital day-to-day services are the competition. But some cities are making more room for green spaces.
In fact, the level of investment they receive separates the top parks systems in the country from all the rest.
The city of Minneapolis, considered to have the nation's best metropolitan park system, spent $249.11 per capita in both public and private spending in 2018, according to data from the Trust for Public Land, a national nonprofit parks advocacy group. In the City of Pittsburgh, park spending was less than $100 per capita, with most of the money coming from private sources.
Public spending is critical to ongoing maintenance costs and building new parks, park connections and amenities. But today cities are looking beyond their public budgets for help, exploring innovative ways to tackle the challenge of sustainable funding, ranging from the creation of private parks to raising endowments to cover programs and maintenance.
Only so much to go around
Sustaining urban parks is a long-standing challenge for cities, particularly those with well-developed park systems created piecemeal over the span of a century. "In the old days, a philanthropist would gift a park and then the city took ownership," said Stephan Bontrager, vice president, communications and outreach for the nonprofit Riverlife. "The maintenance of those spaces then becomes a challenge. As more and more parks come under the purview of the city, the resources become more and more spread out."
Parks are currently funded through a mix of public and private funds. The City of Pittsburgh has budgeted $4,832,392 for parks and recreation in 2019—an increase of $84,063 from the previous year. That allocation alone adds up to $15.98 of park funding per city resident. In 2018, public and private spending for Pittsburgh's parks totalled $99.68 per city resident with only $15.44 coming from the city's budget, according to data from Trust for Public Land.
Additional public funding comes from the Regional Asset District (RAD) tax, a one- percent county sales tax that supports the county's libraries, parks, and other cultural and recreational programs and facilities.
The city's park support has rested heavily on private funding, raised primarily through the Pittsburgh Parks Conservancy, which has raised $110 million from private sources in the past 22 years.
"We have done an incredible job as a conservancy in raising private funds," Jayne Miller, president and CEO of Pittsburgh Parks Conservancy, a nonprofit advocacy group and fundraising arm for the city's parks. "But private fundraising and private philanthropy cannot sustain an entire system. How do we ensure that these public spaces are taken care of and provided for the citizens of Pittsburgh? We need to stress how the green spaces of a city provide economic development for the city and health, wellness and quality of life for its residents."
Public parks, private money
Miller comes to Pittsburgh from Minneapolis, the top parks system in the county for the past six years, according to Trust for Public Land's Park Score, which considers key characteristics, such as acreage, amenities, access and investment. Minneapolis also has 2.5 times more money to spend on its parks than Pittsburgh.
Public support for parks is critical to improving financial sustainability. Helping the public understand the benefits parks offer could rally such support, Miller said, "The tree canopy in Minneapolis saves the average homeowner $100 a year in energy savings. People are aware of that. If we transferred that to Pittsburgh and you could see the energy savings, you might be likely to transfer some of that savings into parks spending."
Public-private partnerships are a key feature of many parks throughout the country. New York's Bryant Park in Manhattan is considered the gold standard for public-private partnerships. It's part of the New York City Department of Parks and Recreation, but is managed by the Bryant Park Corporation, private non-profit organization.
A group of influential New Yorkers, including members of the Rockefeller family, founded the Bryant Park Restoration Corporation in the 1980s to improve conditions in the park, which had fallen into disrepair. After a four-year redesign project, the park re-opened in 1992 and became an urban renewal success story.
It's a public park run by a private group with mostly private-sector money. The Bryant Park Corporation operates it, relying mostly on revenue from the business improvement district it resides in. Businesses around the park pay into a maintenance fund based on their property assessments. And more money is raised from sponsored public events.
A big endowment
One of the most heralded new parks in the country is in Tulsa, Oklahoma. Gathering Place opened in September 2018. The seven-year project transformed 66 acres in the city and along its riverfront at a cost of nearly a half billion dollars. It features a sweeping landscape of hills, groves, wetlands and prairies. Playgrounds include impressive structures, such as 22-foot-tall Great Blue Heron with a slide between her wings. Its hefty price tag was covered by Tulsa-born billionaire George Kaiser.
Such a substantial park requires substantial maintenance. Before the park opened, a $100 million endowment was raised by Kaiser's family foundation and other donors so that the city can draw on it to pay for maintenance and family programming.
But not every city has billionaire philanthropists willing to donate millions to make them greener with parks. And sustainable funding remains a challenge, even as the value of parks as an asset for attracting people and talent appears to be on the rise.
"This generation lives in the city they want to live in and they choose places that have a great quality of life," Miller said. "Cities today understand that if you want to compete for the best and brightest you have to have green spaces, trails that connect, access to restaurants, not having to use a car. If Pittsburgh wants to go to the next level as a really competitive city, that's what needs to happen."