Foundation of Steel
Jim Bouchard quietly builds an "unlikely" conglomerate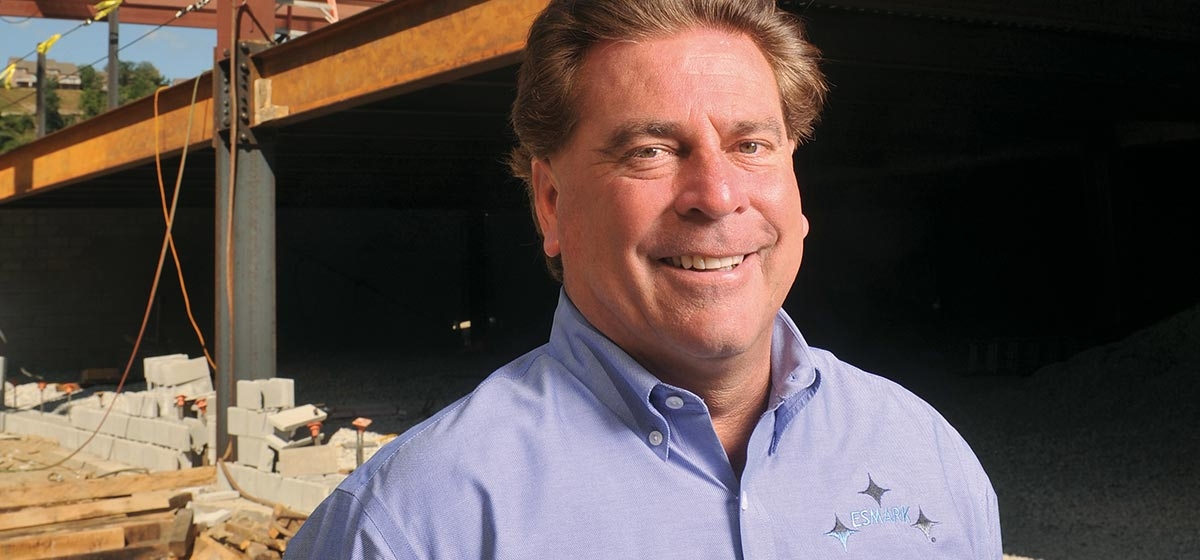 August 30, 2012
How entrepreneurial is Jim Bouchard? Consider this: When he sold Esmark, Inc., the publicly held steel company he ran, to Russia's OAO Severstal in 2008, the price was a whopping $775 million, a remarkable exit for a five-year-old company. But instead of cashing in his chips and retiring to the good life, Bouchard took the road less traveled. He began buying the company back.

Bit by bit, he reacquired a number of Esmark's former assets from Severstal. First was the name, which had considerable brand recognition in the steel sector. When he learned that Severstal had no plans for it, he scooped up the name barely two months after he sold it.
Then he cherry-picked some of the flat-rolled steel service centers that were part of the original package. Although Bouchard won't disclose the acquisition prices, he allows that he got the business units for less than 10 percent of what Severstal paid him.
It was a coup two times over, and the prodigal units became the foundation of the new Esmark, Inc. From nondescript offices in Sewickley, Esmark is now one of the region's most rapidly growing privately held companies. Through an expansion strategy based primarily on savvy acquisitions, Esmark now boasts 450 employees and more than $400 million in annual revenue.
But this is not your father's Esmark. The firm still maintains a significant presence in steel, but its success is attributable, at least in part, to the surprising compatibility of a diverse portfolio of subsidiaries that, at first glance, seems like a crazy quilt.
For example, Esmark is an oil driller with more than 2 million barrels of strategic reserves. It provides outsourced human relations services. It analyzes and brokers manufacturing equipment transactions. And, in a thrust especially far afield from its industrial core, it flies emergency medical missions under contract with the Cleveland Clinic. On any given day, Esmark may be fashioning steel shelving for department store display racks, striking a gusher in Oklahoma, and jetting a kidney to Cleveland for a life-saving transplant.
As unlikely a mix as Esmark's units seem, Bouchard says there's method to his madness.
"This time around, I wanted to design a company so that when steel is down, as it is now, I have other divisions—a capital-intensive steel side, an oil and gas side, an aviation company. Right now, if I didn't have those other entities, which all are doing very well, my steel group would be doing average to above average."
Each foray into seemingly unrelated ventures has been opportunistic rather than whimsical. Take Esmark Aviation. Bouchard learned about the sector through Esmark's corporate pilots and thus was well briefed when the chance to partner with the Cleveland Clinic arose.
"Would it be something I would brainstorm out of the blue and start up? No," he says, "But we saw what had happened—there was an opportunity there. The price point on getting in was perfect because airplane prices had just collapsed. So we could purchase aircraft at a low rate. The company became economically viable because our entry point was low."
The seed for Esmark Business Services was sown in much the same way when, in its first incarnation, Esmark outsourced its human relations functions.
"I found out they were netting about $1 million a year," Bouchard recalls. "So I thought, this time around, we'll own it and do the same thing. It does two things for me: one, I'm able not to have an HR department; two, I have all these other customers paying for an HR department. So if I can break even or make money, instead of having six HR people, I have an HR department for free."
This approach has brought together a roster of subsidiaries that are, as financial advisors like to say, largely uncorrelated. If one unit slumps, the others don't necessarily follow suit, allowing even, predictable growth.
Bouchard has the pedigree for his current role as founder, chairman and CEO. His father, Robert C. Bouchard, was a sales executive for Inland Steel. After graduating from Loyola University's Chicago School of Business, the Illinois native landed with U.S. Steel. He rose to vice president-commercial and ultimately was responsible for the company's commercial operations in 42 countries. For all that, Bouchard acknowledges that the great driver in the new Esmark is his entrepreneurial restlessness, a need to avoid the same-old same-old.
"I'm disappointed with business as usual," he says. "There are always ways to improve. Real entrepreneurs aren't thinking only of inventing something or building something from scratch. They're also saying, 'We can fix that here, build upon it there.'"
Esmark's corporate culture reflects that philosophy. There are, for example, no senior staff meetings. Even if Bouchard brought the managers of Esmark's subsidiaries together, what on earth would they discuss, as different as their businesses are? Instead, Bouchard deals with each manager one-to-one.
In addition, the company operates largely without involvement or pressure from outside investors and advisors. Aside from a $120 million working-capital line of credit, its capital comes from Bouchard Group, owned by Bouchard and his wife Carolyn, which is Esmark's controlling shareholder and also invests in outside properties and assets. One exception: all executives and managers have a financial stake in the company. As Bouchard put it, "They put some skin in the game."
Consistent with that theme of accountability, all employees participate in profit sharing.
"We have to make money so people can make their bonuses at the end of the year," Bouchard says. "That's how people make their dough here. They make it now."
Now looks pretty good for Esmark, and later looks even better. Bouchard may not be done recapturing assets of the former Esmark; he's made a bid for Wheeling Corrugating, a steel and bridge-decking manufacturer that was part of the Severstal deal but ended up with now-bankrupt RG Steel. Should that fly, Esmark will take a big step toward Bouchard's goal of $1 billion in annual revenue.
Watch also for a coming-out party of sorts as Esmark tries to heighten its visibility and name recognition.
"I want to continue to brand Esmark," Bouchard says. "We don't want to be on the front of the radar screen, but we want a little higher profile in Pittsburgh."
To that end, the company is developing a signature $9 million, 40,000-square-foot headquarters facility along the Ohio River in Edgeworth set for completion later this year. Not only is the building a potential landmark, but it also will generate revenue, as Heritage Valley Health System has signed on as a tenant.
Esmark also will extend its community involvement, which is significant but often little noticed. Remember those dramatic flights from earthquake-ravaged Haiti to bring in supplies and bring out orphans for resettlement here? Those missions of mercy were underwritten by Esmark in partnership with Highmark.
Esmark supports youth and amateur hockey at all levels—Bouchard is principal owner of the Johnstown Tomahawks, a junior league team—and plans to continue that assistance. A number of such initiatives are in association with the Pittsburgh Penguins Foundation, which, as team CEO David Morehouse notes, is "trying to find ways to keep kids off the couch and into physical activities."
"Jim is innovative in his approach to business, but he's also innovative in some of the things he does outside business," Morehouse says. "Some of the charitable things he does come out of nowhere, yet he pulls them off—mostly quietly. He's an example of a new generation of philanthropic leaders who are doing all sorts of different things with a lot of thought and energy."
Could it be that, with its swift growth and newly buffed image, Esmark is positioning itself for an IPO? The entrepreneur in Bouchard bristles at the very thought.
"Absolutely not," he says. "That's a different world. With the old Esmark, as soon as we finished one board meeting, we were prepping for the next. There were constant calls from analysts. I was always on a plane to New York or Boston to be at Federated or Franklin because you have to see the big funds once a quarter or six months. You really don't run a business; you run a process. That's no fun."