Chuck Bunch
Forging a new PPG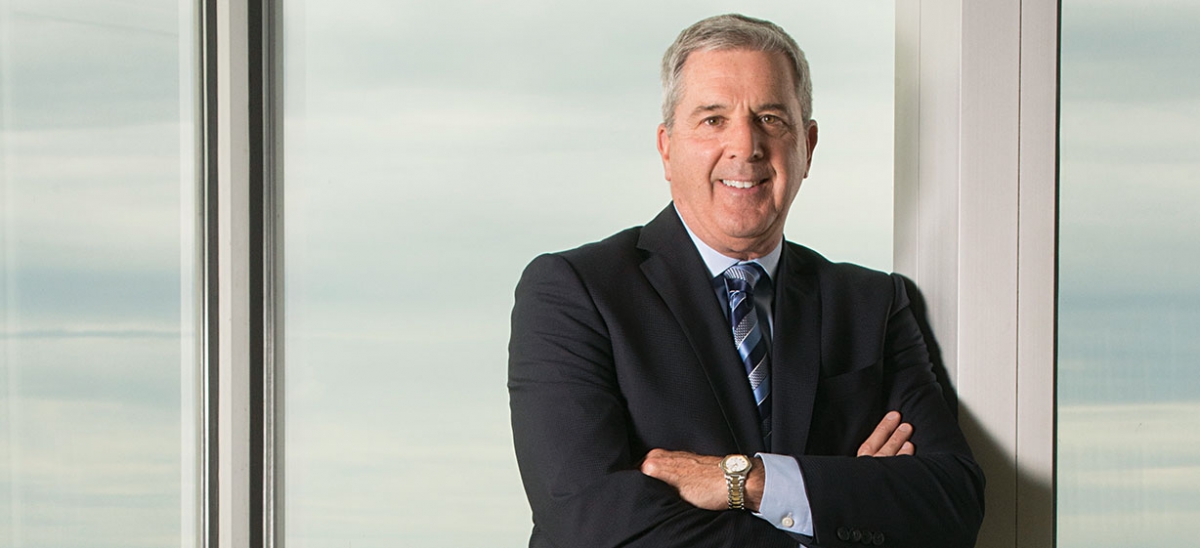 November 20, 2014
The early 1990s seemed like a halcyon period for PPG Industries, one of Pittsburgh's most venerable and best-known companies. Its three business pillars—coatings, glass and chemicals—each was producing about one-third of the firm's revenue, a tried-and-true formula that promised decades of success.

Then came the revolution. Thanks in part to market forces that included globalization, the company launched a transformation that continues to this day. The centerpiece of that reinvention has been an almost single-minded emphasis on coatings and a corresponding sell-off of the other businesses. The result of all this activity: PPG today is the global leader in coatings—a $100 billion industry—with coatings contributing more than 93 percent of PPG's revenue.
Charles E. Bunch, the 35-year PPG employee who has been its chairman and CEO since 2005, indicates the company isn't finished remaking itself.
"The Top 10 global players in coatings still control only about 50 percent of the global market," Bunch notes, "so we think there is still room to expand and make further acquisitions. There's more to do." Through it all, PPG has strengthened its commitment to Pittsburgh, maintaining all its R&D centers here and opening a new facility in Cranberry that's created about 500 jobs. If anything, PPG's importance to the region has grown apace with the company's rise in coatings.
Targeted divestiture
What Bunch and other PPG senior leaders noticed in the mid-1990s was a number of their most important customers, particularly automotive players, setting sail for new markets across the globe—and wanting PPG to follow them.
"Industry in general for all our businesses was globalizing," Bunch says. "Many companies, and we were one of them, were forced to make some choices. Could we grow all our businesses around the world as our customer base is increasingly globalized? We didn't have unlimited resources. For us, the decision was to focus on our best businesses and make sure we're doing all the things we need to do in those businesses to follow the markets, to follow our customers around the world. We wanted to focus on our best businesses, and our best businesses, as we looked across all the portfolio, were in the coatings area."
Ivan M. Marcuse, an analyst for KeyBanc Capital Markets who follows the coatings sector, observes that PPG launched its reinvention from a position of strength, and that the mission was more likely to succeed as a result.
"They weren't in trouble," Marcuse says. "Had they done nothing, they would be a viable company today. It was more a question of 'where can we create the most value' and going down that path. When they had their commodity chemicals business within their portfolio, it was a drag on their overall value. The market wasn't giving them credit for their coatings business at the time. It wasn't that they needed to do it. It was an opportunity to move into a more consistent, less cyclical, higher-margin business."
Thus began what Bunch calls a two-pronged strategy of organic growth and "targeted divesture" of a number of core assets outside coatings, including some for which the company was best known. Beginning in the late 1990s, PPG sold all its glass operations outside North America and downsized its holdings on this continent—a remarkable development for a company founded in 1883 as Pittsburgh Plate Glass. PPG retained a minority position in its North American successor, Pittsburgh Glass Works.
Next to go was the commodity chemicals business, acquired for $2.1 billion by Georgia Gulf Corp. and restyled as Axiall.
In 2014, the company shed its popular Transitions Optical lens business, selling its interest for $1.73 billion to its joint venture partner, Essilor International of France. Says Bunch: "In each case, as we made these tough decisions around businesses we didn't keep in the portfolio, we tried to use the opportunities, the proceeds, the resources to get even stronger in coatings. That's given us more capabilities, more scale and the opportunity to compete better in coatings."
Among those opportunities was the 2013 purchase of the architectural coatings division (the paints homeowners use) from the Dutch company Akzo Nobel—oddly enough, PPG's principal competitor in many markets—including Akzo's popular Glidden brand. PPG followed that up this year with another blockbuster—the $2.3-billion acquisition of Mexico-based paint producer Consorcio Comex, a deal that was approved in November.
"We've built our franchise so that we're the leading coatings supplier in the global automotive OEM business, the automotive after-market business and aerospace," Bunch notes, "and we're the No. 2 player in industrial coatings, protective and marine coatings and architectural coatings. We're in almost every end-use market for coatings and have built usually a No. 1 or No.2 position through this two-pronged strategy."
Pittsburgh: 'a great home'
Throughout this busy period of reinvention and growth, PPG has had plenty of opportunities to consider locales other than Pittsburgh for its corporate and R&D headquarters. Yet, even as other companies undertook so-called inversions—relocating their headquarters abroad to soften the tax bite—PPG has fortified its commitment to the region.
"For us, Pittsburgh has been a great home," Bunch says. "There's a core of workforce talent, especially in science and technology; that's a heritage of a lot of the industrial companies plus the universities. For a lot of reasons, but especially on the R&D side, Pittsburgh is a great place to be located. We did consider other locations in North America, but we felt this was the best combination for us."
Bunch adds that the company would consider relocation if shareholder interests demanded it, but the numbers suggest just how rewarding the marriage of western Pennsylvania and PPG is. Of PPG's approximately 42,600 employees worldwide, about 2,300 work in this region. The R&D centers for all its business units are here—in Allison Park, Harmar and Monroeville—as is the new center for its architectural coatings division, which is based in the new Cranberry facility.
Even when PPG exits businesses, Pittsburgh doesn't necessarily lose. For example, when Pittsburgh Glass Works purchased a controlling interest in PPG's domestic glass business, it kept many of those jobs here at PGW's North Side headquarters.
One consistent brand
Where does PPG go from here? Marcuse predicts that PPG will pursue additional takeover targets within coatings, although the biggest fish have been landed.
"I would fully expect all acquisitions or business investments going forward to grow their coatings business globally," he says. "Coatings is a consolidating industry. There aren't many large acquisitions out there, but there are many smaller, sub-$200-million-in-sales types of businesses. I expect PPG, along with other larger global coatings competitors, to take a look at those."
Even as it continues to expand its global leadership, PPG has launched a companion thrust aimed at a very different market—painting contractors and consumers. For decades, the company sold its paint to independent dealers who marketed the product under various private labels, such as Porter Paint in the Midwest or Masterwork Paint in Pittsburgh.
Over the years, as a number of those independent dealers retired or otherwise left the industry, PPG began buying their stores. Then came the acquisition of Akzo's Glidden and sister brands, which left PPG as the industry's No. 2 operator of company-owned paint stores, behind only Sherwin-Williams. It was a golden opportunity to gain a higher profile among consumers by unifying the stores under the PPG flag.
"Branding has become more important as part of our business strategy," Bunch says. "We think this will give us an opportunity to have one consistent brand and support it. I think you'll see more recognition, more advertising around our company."
PPG already has converted 17 of those outlets to Pittsburgh Paints stores and eventually will do the same for all 600 of its company-owned outlets. Far from abandoning such prominent products as Glidden and Olympic, PPG has rebranded them and reached distribution agreements with Lowe's and The Home Depot.
On both the global and the neighborhood levels, PPG's transformation will continue. And Bunch expects to be there to lead it.
"At some point," he says, "you may say it's time for other things you want to focus on, but I still like coming to work. There's still more to be done, and there will be for a long time to come."
Mad money's Jim Cramer, the sometimes-over-the-top stock market guru, once called Chuck Bunch "the best play in paints" and included him in his list of "21 bankable CEOs."
Ivan Marcuse credits Bunch with "doing what he said he'd do. He's stayed true to his and PPG's strategy of becoming a coatings company. He said he would go down the coatings road, and he's done that. He's been successful at getting some fairly substantial deals done. He's been successful in buying back stock, increasing dividends and growing earnings. That tends to make shareholders happy; I expect the board is happy, too."
To what does Bunch attribute his lengthy tenure? His success, he says, has been linked to that of PPG. "In many cases, the things I was able to do were based in large part on all the success we'd had under prior leadership," Bunch says. "PPG has been a successful company, so I've benefited from having a strong balance sheet and good businesses. Even if we were going to have to make some decisions, it wasn't as if we were making decisions from a position of weakness."
Bunch has guided PPG through a continuing transformation and a potentially crippling recession. How difficult is that? Consider that among the Fortune 500 companies headquartered in Pittsburgh in 2005, no chairman or CEO remains at the helm other than Bunch. Some of those leaders, of course, enjoyed long, successful rides that just happened to begin before 2005 and end before 2014. Nevertheless, if they had a meeting of incumbents in the 10-year-club, Bunch would be the only attendee.
In his quarter century at PPG before assuming the top position, Bunch held a number of key positions. He ran the coatings division for a time, was vice president of fiber glass and served the company in Europe for six years. That experience and the many contacts he made have helped him in his role as chairman/CEO.
"Having seen a lot of different businesses or had a lot of different roles early in my career," Bunch says, "it really helped round me out and give me an opportunity to be a little more confident in making the bigger decisions that we made. PPG was able to give me the right kind of experiences to get me ready for a role like this."