Escape to Gateway Lodge in Cook Forest
Photo courtesy of Gateway Lodge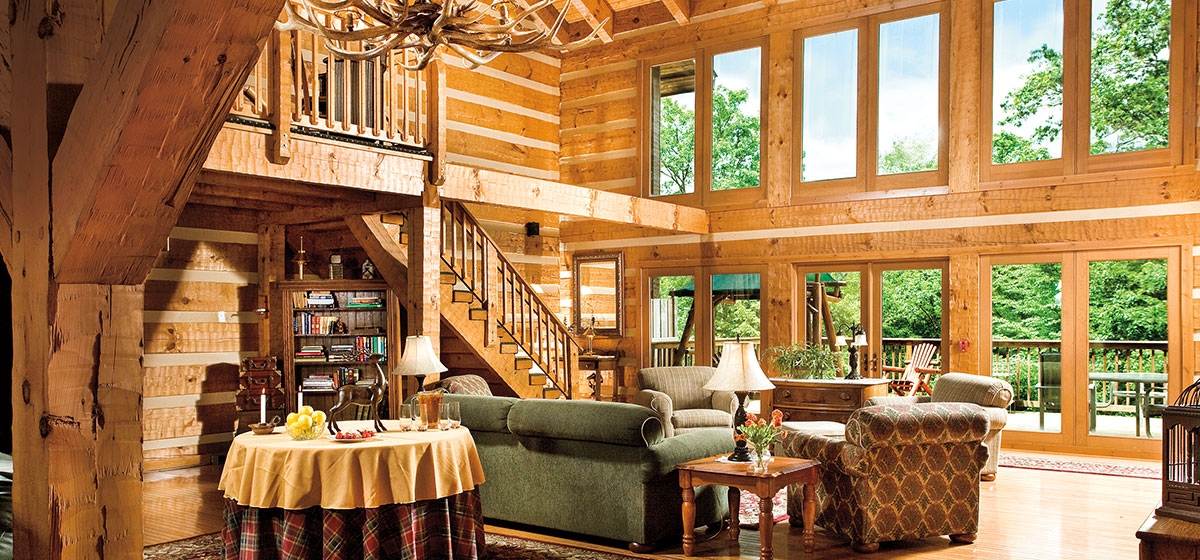 May 20, 2018
If you find the heat and noise of "summer in the city" oppressive, escape it all in an under-two-hour drive from Pittsburgh. Take the scenic trip to Cook Forest State Park, and stay at the Gateway Lodge.
Built in 1934, the Gateway Lodge is the perfect combination of woodsy charm and contemporary amenities. The family-owned and run destination offers a variety of rooms and cabins. The spacious accommodations in the lodge feature plush bathrobes and bedding, walls of bark shingles or rough-hewn timbers, and most have gas fireplaces, in-room Jacuzzis and large balconies overlooking the woods. For a more secluded feel, they have two new luxury cabins (think heated bathroom floors, hot tubs and loft bedrooms), as well as six more rustic cabins. All of the cabins have outdoor fire pits and picnic tables, and most have kitchens and indoor fireplaces. The lodge has several public areas, including the Great Room with cozy furniture, a crackling fire, games and puzzles, a huge deck and tea and homemade cookies and scones served every afternoon. Be sure to check out the billiard room, the centerpiece of which is a pool table made from juniper roots.
The Gateway Lodge has had several owners (and additions to the original log cabin) and was purchased in 2006 by Deb Adams. She and her family have preserved the historic and charming elements while making updates that are both appreciated by today's guests and mindful of the environment. While some may dispute this, an especially appealing aspect of the lodge is the lack of technology. Yes, they did break down and acquire high-speed wi-fi for guests who just have to stay "connected," but cell service is limited and only a few rooms have televisions. Instead of falling asleep to the news, the only sounds you will hear are chirping crickets or the hoot of an owl. It might take a bit of time to get used to the silence, but you will soon find yourself setting down your smartphone and having lots more conversation.
Covering 8,500 acres, Cook Forest State Park has been designated a National Natural Landmark. Lush with a diverse array of flora and fauna, it is unique in that about 2,300 acres contain old growth trees. The Forest Cathedral Natural Area has what is considered to be one of the best stands of ancient hemlocks and white pines in the northeast. Some are 450 years old and 200 feet tall. Now that the invasive Hemlock Wooly Adelgid has destroyed most of the giant hemlocks in the Great Smoky Mountains, those of Cook Forest have become even more precious. The Gateway Lodge staff is passionate about supporting efforts to control the insect and protect the trees. A portion of the proceeds from their "Gateway Lodge" scented Yankee Candle go to the cause. (The candle smells amazing, and will remind you of your time in the woods.)
Mindful of their surroundings, Adams and her staff have created a destination-worthy restaurant with a heavy focus on "farm to forest." It is unexpected to discover a restaurant of this caliber in the middle of the woods. The extensive wine collection has been recognized with Wine Spectator's Wine List of Excellence award since 2008. The bar features regional spirits, beers, ales and ciders, and cocktails. Local, organic and sustainable ingredients drive the dinner menu, incorporating whole foods with a made-from-scratch mantra. They can accommodate most dietary restrictions, and half the menu is gluten-free. Tasty options include hen of the woods crepes, venison backstrap with juniper rub and gin glaze and made-to-order warm sugar donuts served with house-made blackberry thyme jam. The lodge also serves an inventive breakfast, such as warm, grilled fresh pineapple topped with cinnamon whipped cream and orange-walnut-coconut muffins, followed by a local-egg omelet filled with organic vegetables and cheese with a side of home fries.
Activities in and around the lodge abound. There are summer campfires, with local musicians playing on most Fridays, an Aveda spa offering a variety of massages, and all sorts of outdoor options. Ranger-led or self-guided canoe trips on the Clarion River, biking, horseback riding and hiking can all be arranged through the lodge. There are loads of arts and crafts classes as well as summer theater in the round at the nearby Cook Forest Sawmill Center for the Arts.
With a conference center, the lodge is popular for corporate retreats, as well as family reunions and weddings. Group retreat packages in conjunction with local businesses range from wellness and spa (massages, yoga and meditation) to healthful living (cooking, wildcrafting and conservation) to PA wilds recreation (guided hikes, activities and eco-tours).
The lodge and surrounding forest is a great year-round getaway, from the cool forest temperatures in summer, to the explosion of color in the fall, to the quiet solitude of a snowy winter day to the bursting rhododendron blossoms in spring. The Gateway Lodge is the perfect escape.