Duck and the Defense Bring Home Another
NFL Week 14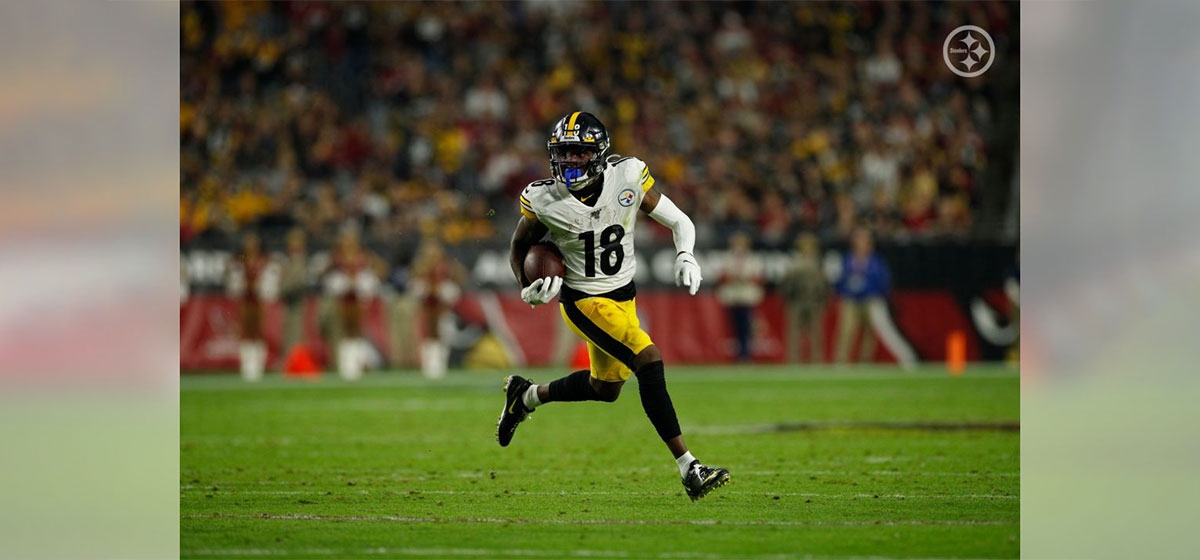 December 10, 2019
The fireworks were on full display Sunday. Through the first 13 weeks of the season, teams had scored 40 points or more on 19 occasions. This week alone, five teams accomplished that feat, with a handful of 30+ performances sprinkled in.

The Steelers have yet to eclipse the 30-point threshold, but the wins keep on coming. That's seven wins over their last eight games, thanks in part to a defense that has not allowed more than 30 points since their week one loss to New England. Sunday's 23 – 17 win in Arizona was business as usual for defensive coordinator Keith Butler's group, complemented by some young guns on offense rising to the occasion.
Steelers Corner
Have yourself a day, Diontae Johnson.
The 3rd round rookie out of Toledo came to play in Arizona, snagging six catches for 60 yards and a touchdown. He also weaved his way through traffic for an 85-yard punt return touchdown. Rookie receivers are not often thrust into action the way Johnson has been, but he continues to show promise. His route running is more refined than your prototypical rookie, and he separates from cornerbacks very naturally. He and quarterback Devlin Hodges have developed a nice chemistry, and Ben Roethlisberger must be excited to work with him in the offseason.
As for Hodges, what more can you ask about this young man? A rookie who all 32 teams passed on over the course of a seven-round draft got his third win over this year's #1 overall selection, quarterback Kyler Murray. Hodges' pocket awareness is well ahead of most rookies, not to mention his escapability when flushed from the pocket. There were a number of impressive throws on the day, none more so than the touchdown pass in the 3rd quarter. Johnson ran a great route in a tight space, but the throw was even better—Hodges rifled it into the one spot only Johnson could get it. Those types of throws don't happen overnight. They come through experience and building trust with your receivers to be in the right place at the right time.
In typical 2019 fashion, the game wasn't without a few hair-pulling moments. Midway through the fourth quarter, punter Jordan Berry received a snap in Steelers territory and proceeded to run with it instead of punting. Unfortunately for him, nobody else knew what he was doing, and he was swiftly obliterated. The post-game presser revealed a miscommunication—the fake punt was called off at the line of scrimmage, and Berry did not hear it. Arizona cashed in for a touchdown three plays later to make it 20 – 17.
That a miscommunication occurred excuses the play in and of itself, but does little to explain what compelled Tomlin to ever call a fake punt while up 10 points in the fourth quarter. Later, with less than two minutes to go, the offense stopped the clock for Arizona on an inexcusable incomplete pass. Tomlin is deserving of all the positive accolades revolving around this season, but would have undone many of them had this game come undone.
The defense would put that all to rest a minute later, as Joe Haden picked off Murray for the second time on the day. Christmas came early for T.J. Watt as well, who was gifted his third career interception in the end zone. The three interceptions bring the Steelers to 33 takeaways on the year, best in the league, most of which are coming at home. The takeaways from Sunday won't be averaged into the Heinz field calculation, but they probably should be—more often than not, it sounded like a home game at State Farm Stadium. The noise level traveling Pittsburgh fans brought was impressive.
The offense should get a boost when Buffalo comes to town, as Ju Ju Smith-Schuster will be back in the mix. His absence has spanned all three games since Hodges took over; it will be interesting to see if he can build a rapport the way Johnson has.
James Conner will likely sit out another game for a team sorely missing a consistent run attack. Benny Snell has looked serviceable in some games, sluggish in others. While he is relatively new, it is a bit confounding that Kerrith White Jr. isn't getting more touches. The rookie turned five carries into 41 yards against Arizona, compared to the 57 yards on 23 carries between Snell and Jaylen Samuels. The Bills have a stout run defense of their own, but White has proven to be a sparkplug in limited action—let's get him the ball a few more times in week 15.
With their 24-17 loss to Baltimore, Buffalo has allowed the Steelers to pull within one game of the top wildcard spot. This will be Pittsburgh's first true measuring stick for whatever postseason aspirations they may have. A win is a win, as they say, but this one would be much more significant. With the Tennessee Titans hot on their heels for the 2nd wildcard spot, this is Pittsburgh's moment to show the world they are to be taken seriously.
Around the NFL
Not a great week for NFL referees. In an age of football that employs people to sit in an office in New York to get plays right, the league continues to get it wrong. Ownership voted to deploy a pass interference review that has utterly failed, and the benefit of replay has proven not to be enough to clean up the game completely.
Week 14 was a particularly poor showing for the referees in New England. Cornerback Stephon Gilmore scooped up a Travis Kelce fumble and returned it for a would-be touchdown had the play not been blown dead. Head coach Bill Belichick challenged the fumble successfully, which would somehow come back to bite him. Later in the game, rookie receiver N'Keal Harry tiptoed his way down the sideline for another would-be touchdown had he not been whistled for stepping out of bounds. Replay showed him to be clearly inbounds, but the Patriots were out of challenges. It's not easy to feel sympathetic for New England, but they're owed an explanation by the league this week.
The blur between unnecessary roughness and a football play is also becoming blurrier. Ravens safety Earl Thomas was flagged for a roughing call for simply falling down next to Bills quarterback Josh Allen. In Arizona, running back Jaylen Samuels helmet was knocked from his head from a bone jarring helmet-to-helmet hit by Cardinals' Jordan Hicks—it was not flagged.
Perhaps the most egregious call of the day occurred in New Orleans. Scoring plays are automatically reviewed, and not even that was enough to overturn a terrible initial call. Tight end Jared Cook reeled in his second touchdown of the day and took an awkward shot to the head on the way down in the end zone. He appears to be unconscious as he hits the ground, the ball escaping his hands completely and rolling on the ground. The touchdown was reviewed, and somehow subsequently allowed.
That matchup between the 49ers and the Saints had looked to feature two of the league's top six defenses. When the dust settled, 94 points had been scored between the two of them in San Francisco's 48-46 win. There is a very real possibility one of these teams will represent the NFC in the Super Bowl. With a combination of creative offense and elite defense, they'll both be a tall task come January.
Finally, what in the world is going on in Cleveland? One of the most hyped teams of the preseason has come apart at the seams. Their 27 – 19 win against Cincinnati was sloppy, as quarterback Baker Mayfield was intercepted twice and completed only 11 passes. Had they lost, it's hard to believe head coach Freddie Kitchens would be employed today – it has been a hellish season for the Browns. With receiver Odell Beckham Jr. apparently wanting off the ride, the situation becomes more bleak. That Mayfield threw the Browns training staff under the bus while defending Beckham is the cherry on top—there are changes to be made in Cleveland before another talented roster goes completely wasted.
Fantasy Corner
If you're reading this, you're likely still alive in your playoff hunt—congratulations. Unlike the relatively healthy previous week 13, Sunday's slate saw its share of notable injuries. Fortunately, there are a few pickups to be had that may still serve useful.
Pour one out for the Mike Evans owners, who saw their stud wideout go down to a hamstring injury coach Bruce Arians has already deemed "not good." If you're one of the fortunate Chris Godwin owners, it's wheels up for you. Aside from that, the Tampa roster is void of talent that can immediately replace their Pro Bowl receiver.
Looking elsewhere, it's hard to argue that Ryan Tannehill hasn't found his favorite target in Tennessee. AJ Brown is dominating a market share opposite a former top-10 wideout, and it's not particularly close. The rookie finished the day with five catches on seven targets for 153 yards and two touchdowns, an outstanding performance. With a matchup against Houston in week 15 and a quarterback with no allegiance to the aforementioned Corey Davis, it may be time to fire up Brown as a high ceiling WR3.
Fellow rookie Dionate Johnson also had a nice day for fantasy purposes. The recent success with Hodges under center is a welcome addition to a stagnant offense, but a difficult fantasy proposition. Throw in the pending return of JuJu Smith-Schuster, and the situation becomes even less ideal. Johnson has future fantasy potential; it may take another year to see it consistently.
If you were one of the 30 percent of owners who took a flier on 49ers running back Raheem Mostert, take a bow. The one-time 4th string rotational back has turned into the team's most explosive option, no small feat—this is an extremely talented backfield. The carry dispersion isn't easy to predict, but Mostert is a strong flex play in week 14 against an Atlanta team giving up an average of 108 yards on the ground.