Donna's Dream and a Life of Roller Skating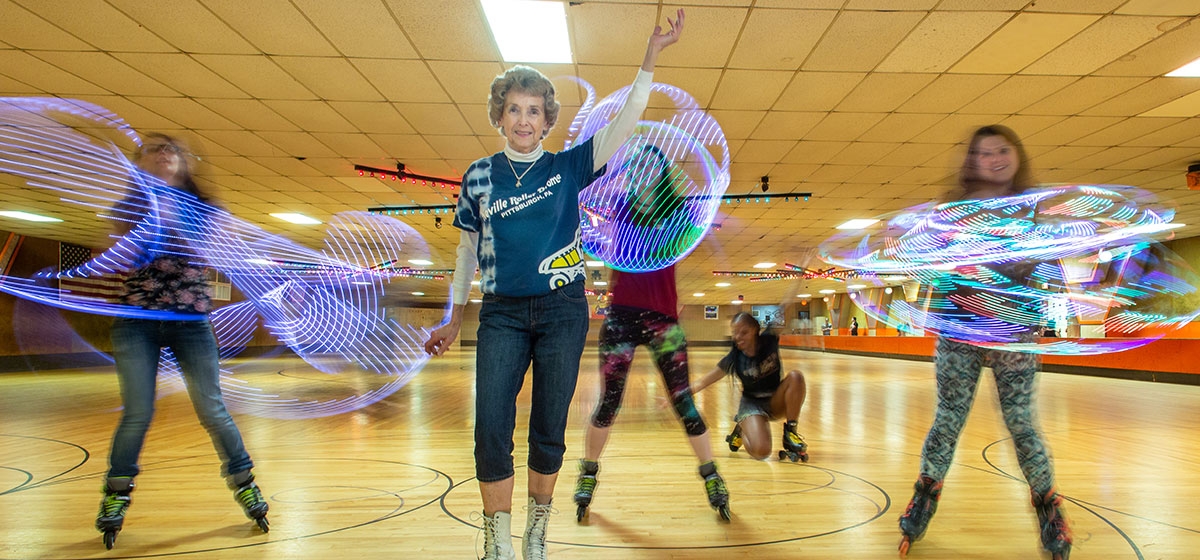 June 27, 2018
Donna's knee has been bothering her lately. Which is why she isn't lacing up her white roller skates right now, the pair her late husband bought for her in 1963 for, geez, it must have been five hundred dollars. The same pair she was wearing 10 years ago when she was 71 and broke her shoulder. While she was roller skating. Backwards.

---
---
"If I were your son," her doctor said, shaking his head, "I'd tell you 'No more skating."
"Well," Donna replied, looking him square in the eye, "if you were my son, I'd tell you that was up to me."
It's Thursday night at the Neville Island Roller Drome, just after nine o'clock. The parking lot is full. And Donna Park is standing inside, sterling silver skate charm dangling on a rope chain around her neck, standing behind the ticket window.
"How are you?" she asks from behind the glass as another person hands over seven bucks to get inside. "Glad to see you tonight!"
Donna started skating around 1955. She was dating Chuck. He was in the navy.
"He was a skater. I wasn't. And when he came home on leave, he'd say, 'We're going to the Diamond Roller Rink on Diamond Street, downtown. He had all of his skates booked with other girls. So, I said, 'Will you teach me to skate?' And this is the phrase that changed my life. He said, 'Donna, you're too clumsy. You'll never learn to skate.'"
When Chuck shipped out again, Donna got a job working at McCrory's 5 & 10, right down the street from the Diamond Roller Skating Rink. She was 17. Going to night school. Living on the North Side and walking to work every day because she couldn't afford cab fare. So, she went down to the Diamond Rink. Made arrangements with the owner to work there for no pay, just a free skate. During her lunch hour, she'd hurry down the street, change out of her dress and into a pair of jeans and skate. In the evening, she'd return to the rink to work. And in her letters to Chuck, she never mentioned skating, the practicing on her lunch hour, how she was getting so good that she was getting her skates booked, too: the Tango and the Flirtation Waltz. The Society Blues and the Tango Barn. Every skate, booked.
"Do you see that girl?" a fella named Jim said to everyone at the rink. Jim was learning to skate while Donna was. "If we don't get married," he told them, "I'm never getting married."
Which Donna didn't know about. Because there was Chuck. And when Chuck came home on leave, the first thing he said was, "We're going skating."
"Okay," she replied, bringing a skate skirt she had sewn by hand.
"Donna," he sighed. "Only the good skaters wear skating skirts."
"Well," she replied. "I'm wearing it anyway."
So, while she went and changed, they called the waltz. Dimmed the lights. And as Donna skated past Chuck in her white waffle pique skirt, turquoise top and white tights, he dropped the arm of the girl he was skating with.
"You didn't tell me you could skate!" he said.
"But Chuck," Donna reminded him. "I'm too clumsy to skate."
"You're going to skate with me then," he insisted.
"Oh no," she replied. "You can skate with the ones you have booked and I'll skate with mine."
Which, Chuck didn't like. But, oh well.
"I have to tell you," she says, leaning forward in her stool, smiling. "That felt good."
Eventually, she and Chuck broke up. And Jim got his girl. He married Donna on June 1, 1957.
Donna and Jim continued skating. When the Diamond closed, they went to Bethel Roller Rink on Indiana Boulevard and kept skating. They skated until Donna got pregnant in 1963 with their son, Jim, whom they brought to the Neville Island Roller Drome when he was six so that he could learn to skate. They skated after she took a year to recover from tuberculosis. They kept skating when Jim got cancer. When he was getting chemo. When he was just so sick.
"I'm gonna go down to the rink," he'd tell his wife.
Jim died on May 24, 1994. And Donna, well, it took her awhile to lace up the white skates he had bought her, way back in 1963 for five hundred dollars. But eventually, she got out there again. Taught her grandkids, Jonathan and Marie, how to skate. Taught her great granddaughter, Izzy, how to skate. She kept skating after she had cataract surgery a few years ago, and when her knee isn't bothering her, she'll skate at the Roller Drome, which her son, Jim, bought in 2011.
"If I were younger," Donna says as a line of skaters fly by in a shuffle skate, hip hop music blaring from the speakers. "I'd be out there trying that. I mean, this music; doesn't this make you want to get out there and move?"