Developing Young Minds
In early childhood, technology holds promise and pitfalls
Illustration by Daniel Marsula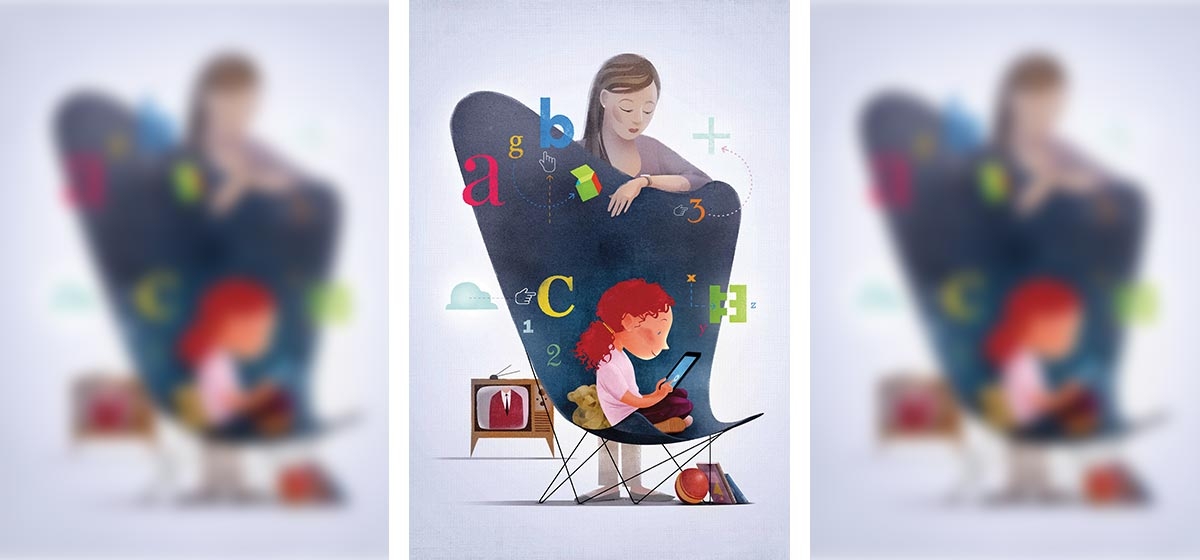 November 20, 2017
On May 1, 1969, a western Pennsylvania native with a relatively unknown children's program testified before the Senate Subcommittee on Communication. Public broadcasting faced having its $20 million budget cut in half, and policymakers were skeptical about the educational benefit of children watching television—until Fred Rogers spoke of his year-old show and television's potential to do more than entertain.

"I give a unique expression of care every day to each child, to help him realize he is unique," said Rogers, who created his public television show, "Mr. Rogers' Neighborhood," in Pittsburgh. "I end the program by saying, 'You've made this day a special day, just by being you. There's no person in the whole world like you, and I like you, just the way you are.'"
He spoke for six minutes. The subcommittee chair, U.S. Sen. John Pastore, admitted to getting "goosebumps." Funding for public broadcasting was restored.
Today, television isn't the only or even the most present screen in most young children's lives. With laptops, smartphones and tablets increasingly within a child's grasp, education, technology and entertainment play together in the home, in childcare and in the preschool classroom.
But, as in the early days of television, the impact of recent technologies on early childhood development is a topic of debate.
On one hand, research illuminates the potential of technology and interactive media to support key aspects of the development of children during their early years, including their relationships with adults in their lives.
Research also suggests what Fred Rogers understood well: Content and how technology is used matter. And, like any tool or toy, there comes a time when it should be put away.
Great expectations
Decades of scientific research have demonstrated the dramatic pace at which the brain develops in children, particularly in their first five years, when it is the most malleable. Studies also show that experiences during early childhood, such as a stimulating environment and nurturing and supportive relationships, can profoundly influence children's readiness to learn and outcomes later in life.
The role of technology in enhancing early childhood development has also become better defined. For example, the most effective strategies for using technology have been identified as those that encourage children to be actively involved, offer hands-on experiences, and are coupled with developmentally appropriate practice to support learning goals, according to a joint position statement by the National Association for the Education of Young Children (NAEYC) and the Fred Rogers Center for Early Learning and Children's Media at St. Vincent College.
Such strategies allow children to control the technology, connect learning in childcare, preschool and other education settings to experiences at home, and use technology at play or even in tandem with outdoor activities.
In Pittsburgh, there is a growing movement to build on such findings and expose young children to new and creative uses of technology in and out of the classroom. At the Children's Museum of Pittsburgh's MAKESHOP, for example, children play with materials and learn woodworking, sewing and circuitry by playing with mini wood circuit blocks that experts have specifically prototyped and refined for small hands. The idea is to provide young children with opportunities to interact with technology in ways designed to promote their development.
"The space we're trying to create is a social learning space," said Lisa Brahms, the museum's director of learning and research. "We never want to create experiences for visitors where they're doing something alone. Can it be something that can be blown up big so that more than one person can experience it at once? Or how do you design something so that people can sit together and do it?"
Digital technologies have the potential to help young children develop certain skills, according to a 2014 RAND report on using early childhood education to address disparities in technology use, an issue known as the "digital divide." The report found that using a technology device may help with motor skill development because computer use requires a specific set of muscle movements. Interactive software that encourages children to represent ideas through different media has the potential to promote cognitive skills. Software that leads children to create a story or encourages structured decision- making can enhance socio-emotional development.
Multiple studies also have shown that assistive technology, such as text-to-speech apps for tablets, can help English language learners and special needs students with reading and communicating more clearly.
Carol Barone-Martin, executive director of early childhood education at Pittsburgh Public Schools, agrees with those findings based on her experiences with students in the district's Early Childhood Centers and others. "I used to be against technology in the classroom about 10 years ago," she said. "But it's part of these children's world. That's where I turned the corner—technology is part of their world."
Balanced diet
Not all research about digital technology and young children reports shiny and promising outcomes. Since television found its way into the home, studies have presented evidence linking unwanted outcomes ranging from language delays to childhood obesity to the amount of time children spend in front of screens, whether on phones, TV or computers.
The American Academy of Pediatrics, however, last year softened its long-held stance of no screen time for children under 2 years in light of mounting evidence that suggests technology can benefit young children when it is interactive, designed for learning and encourages conversation. And the Academy recommends that doctors work with parents to come up with a plan for using technology alongside their kids.
The pediatricians group still discourages screen time for children 18 months and younger. One exception is the use of Skype or similar video chat programs, which studies suggest can benefit children by connecting them to relatives.
It is also important that parents and teachers use educational products or games that encourage children to put them down at some point and turn their attention to building relationships with people and objects beyond the digital device, said Junlei Li, co-director and Rita M. McGinley, Chair of Early Learning and Children's Media at the Fred Rogers Center at St. Vincent College.
But finding such products can be difficult. "I can think of very few products that are designed so that there are times that the children should stop engaging with them," he said. "Technology use is part of a balanced diet. No matter how nutritious a particular food, you don't eat it all day. You have to stop."
Technology poses other risks, most of which can be avoided with supervision. For example, its use should not come at the expense of early child developmental staples, such as physical play and child-to-child and child-to-adult interaction, said Cara Ciminillo, executive director of The Pittsburgh Association for the Education of Young Children (PAEYC), a nonprofit that supports quality early education in southwestern Pennsylvania with professional development and other resources.
"It's about how do we use technology thoughtfully," she said. "Do we have to do it? Is it going to enhance our program? Just because using an iPad can help with eye-hand coordination, it's not a replacement for other parts of play that have hand-eye coordination out in the playground with balls, full-body play, being rambunctious with other kids."
With young children, experts say, an active rather than passive interaction with technology is important. "With children we know the value of their interactions with raw materials, like clay and paint and cardboard tubes and how children can take those things and invent what they are," said Jeremy Boyle, assistant professor of learning, media and design at the Fred Rogers Center. "And so what could be possible if we thought about technology in that way?"
Boyle and colleagues designed programs at the Pittsburgh Public Schools Allegheny K-5 school that have children deconstruct wooden circuit blocks, electronic toys and other devices to understand how technology works. "They don't just fit together in one way. So, children learn as much about why things don't work as well as why things do work. And with the system being tactile and visual, they understand how things work by seeing and touching and making the parallels between things they play with, like blocks."
Such exploration of using technology in ways that enhance early childhood development is an ongoing challenge, said Roberta Schomberg, professor emerita, Carlow College and co-author of the NAEYC and Fred Rogers Center joint position statement. "We have to keep the dialogue going because technology is changing so fast. Keeping an open mind about how these experiences can be integrated in a classroom instead of being wedded to a particular device or program is important."
Knowledgeable adults
Perhaps no one plays a more important role in whether technology is harnessed in ways that benefit children during their early years than the adults they interact with the most, including child care providers and teachers. And, experts say, that starts by understanding the technologies and their potential, as well as effective strategies for using them to enhance children's development.
In Pittsburgh, there's a growing bank of resources to help teachers navigate the tech-enhanced classroom. PAEYC, for example, offers professional development for educators around incorporating technology, science, engineering and math education in the classroom, as does Pittsburgh public television station WQED and the Carnegie libraries, where teachers can also borrow digital tools and training kits.
But with education software companies pumping out apps, it's often difficult for teachers to stay on top of the latest products and which, if any, can aid their teaching.
"There's certainly still a knowledge gap," Ciminillo said ."Some people are comfortable with technology and have an interest in learning more. Some don't. And then there are some who are taking longer to warm up with it."
A strong need for tailored professional development and support when it comes to learning how to use technology and effectively integrate it into the classroom was one of the key findings of a report released by Northwestern University, the Fred Rogers Center and NAEYC in 2015. Also, educators surveyed in 2014 had less positive attitudes toward the value of technology in early childhood education than educators surveyed two years earlier, suggesting they grew skeptical of its effectiveness in promoting critical thinking and individualized learning.
But while training has increased in the past decade, the income that early childhood educators earn has faltered, complicating the recruitment and retention of quality teachers, according to a recent U.S. Department of Education and Health and Human Services report. In Pennsylvania, the median annual income for childcare workers is $19,590. For preschool teachers, it's $25,970.
The latest technology may get the attention, but studies have long shown it's the people charged with guiding young children who have the greatest impact on their development, Li said. "On one hand, the science is so clear—if you invest in people they are the most powerful factor on children. On the flip side, the science of how technology benefits children is unclear."