The Corner Barber Shop
Photography by John Altdorfer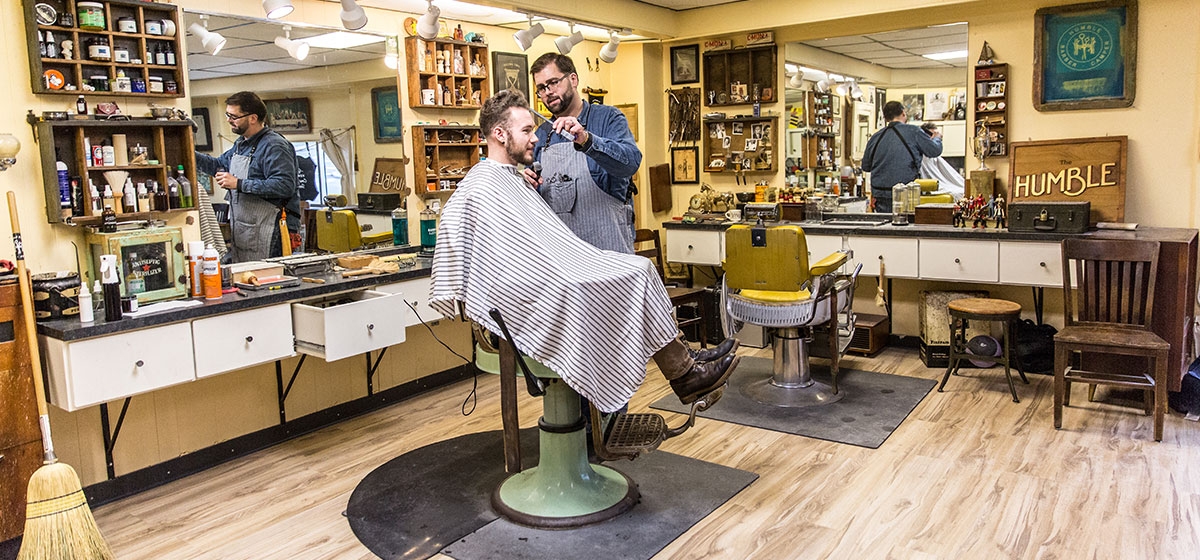 May 22, 2017
The guy currently occupying the Emil C. Paidar barber chair circa 1932 showed up at 11:30 a.m., half an hour before the Humble Barber Co. opened for the day. He thought he'd be the first in line. Turns out, he's second.

Which might have seemed odd. But the last time he walked through the doors at the corner of Brighton Road and Termon Avenue in Brighton Heights, he waited even longer: two and a half hours.
All for a shave and a haircut.
It's a Wednesday afternoon. Five people are waiting for their turn. Hanging on the wall above them reads a sign: Killing time is killing me.
There are a lot of things that hang on owner Bradly Richards' walls: his record of birth from North Hills Passavant: 12:17 p.m. on Saturday the 25th of January, 1975, Johnny Cash memorabilia, Credentials of Ministry…
"From the church of the Internet," Bradly says, electric shears humming, the smell of Clubmen talcum powder wafting through the air. "My friend asked me to marry he and his wife." So, Bradly got certified online, paid $17 for the certificate, but because of conflicting obligations, never got to perform his ministerial duties.
"It wasn't a big deal," he says, wiping his hands across his striped cloth cape. "The hardest part about getting certified was spelling my name correctly."
The shave and haircut is going to set the guy in the chair back about $30; $15 for the hair and $15 to do something with the curliness of his beard. A relaxer maybe, it just looks weird today. Silently obliging, Bradly steps over to the counter where the 1952 Campbell's Lather King spits out a handful of creamy foam.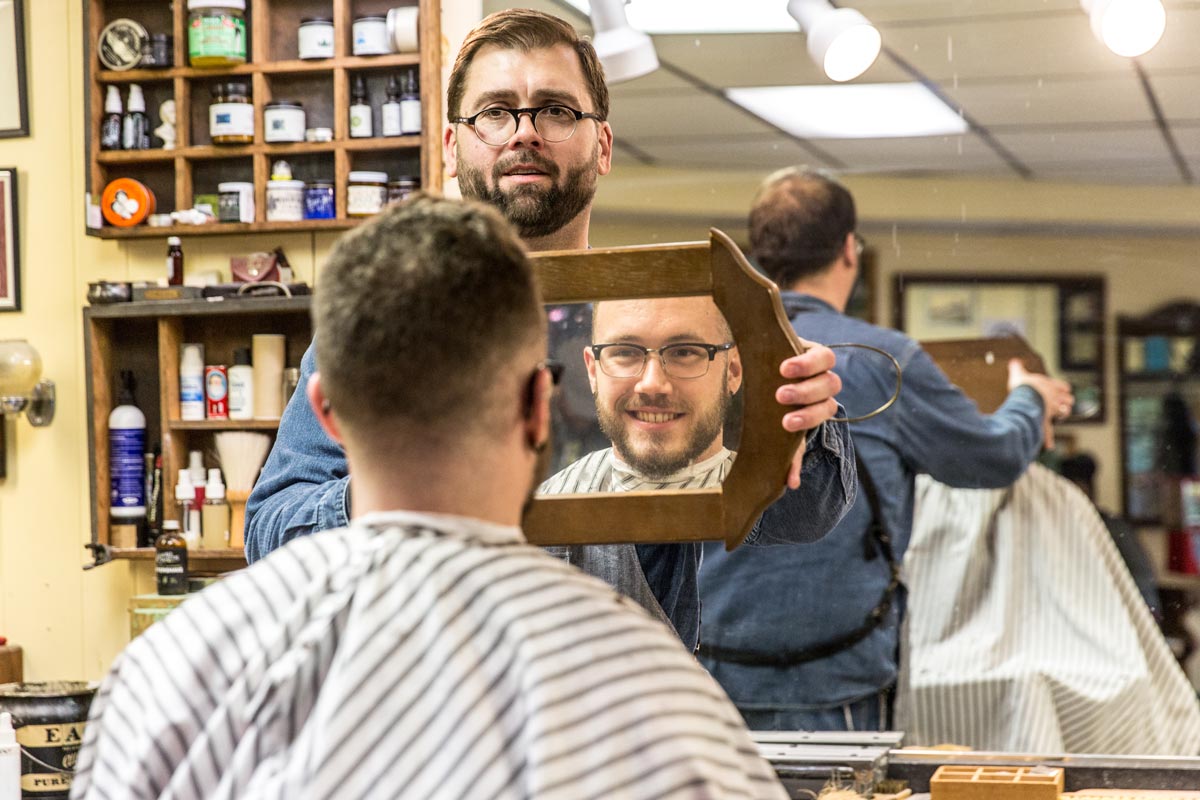 Photography by John Altdorfer
As he shaves methodically with a straight razor, the topic of the speakeasy comes up again. It'd be a good idea, the guy in the chair argues. After all, the place is kind of like a social club anyway. "It could be a Sweeney Todd Speakeasy," Bradly says, mulling. Yeah, the guy agrees. That's it: a Sweeney Todd Speakeasy. Once a week they'd roll out the kegs downstairs, tap some moonshine…
Bradly likes to describe himself as a "late in life Barber." He poured specialty coffee for 17 years. When it ended, he had one thought: How can I find a job where I get to listen to music that I like? Around that time, it just so happened that the barber he had gone to for most of his adult life, Ray, was getting ready to retire.
So, Bradly signed up for 1,250 hours of supervised instruction at the Pittsburgh Barber School and spent four months learning the ropes from Ray.
"I just wanted a humble little shop," Bradly says, wiping his blade. Which is exactly what he got a few months later when the space at Brighton & Termon became available.
Customers are frequently repeats. Although he won't remember your name the next time you come in, he will remember all the stuff you talked about.
Satisfied, the guy in the chair checks out his new 'do from all angles, heads to the counter where an iPad sits next to a National Cash Register from 1917, and promises to be back in a month.
"So… something?" Bradly asks the next customer as he settles into the Paidar chair. Yeah, something. Keep it tight, okay?
"Cool," Bradly agrees, pulling out a pair of silver shears from his cape.
"If I have a comb and a pair of scissors, I'm not retired," he says, pumping the chair. "I can do this anywhere at anytime to anyone willing to sit still."