Controversy Waiting in the Wings? Steelers Bye and a Look Around the League
NFL Week Seven
Karl Roser / Pittsburgh Steelers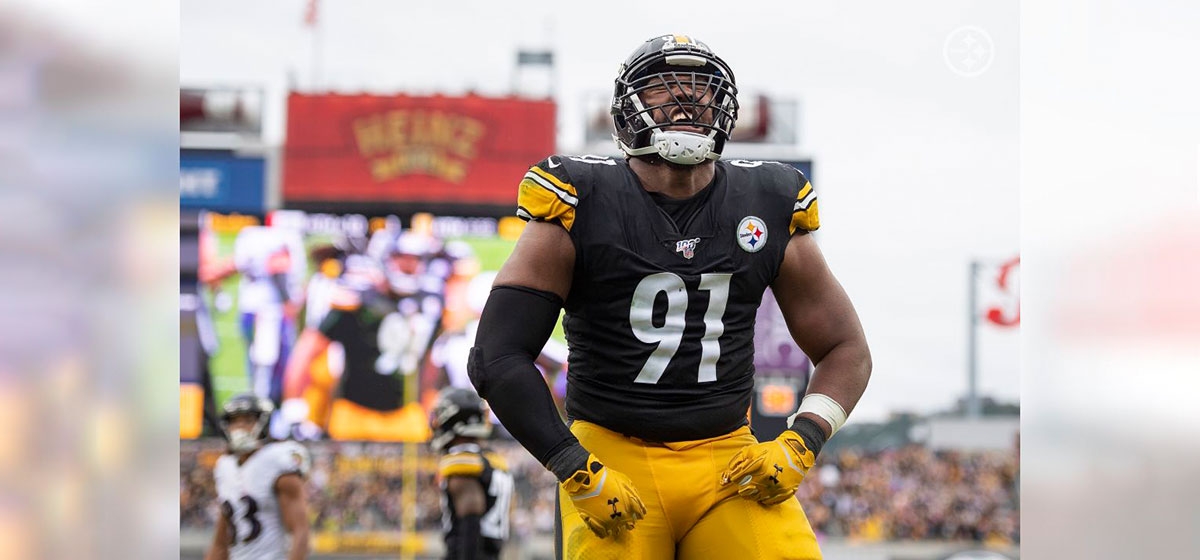 October 21, 2019
Week seven is in the books. Injuries piled up, and a few rainy cities produced some sloppy results. The 49ers trudged through the mud in Landover to remain perfect against Washington while the Falcons continued their free-fall in Atlanta against the Rams. The Steelers were off, but are now heading into their Monday night tilt.

Steelers corner
While the well-timed bye week will help this banged up defense get healthy, it will not be enough for Stephon Tuitt. With official word of a season-ending torn pectoral muscle, the Steelers lose arguably their best player on the line right as their momentum was starting to shift. How those shoes are filled remains to be seen; former 2010 first-rounder Tyson Alualu will get a chance to carve out a more significant role, and up-and-down Daniel McCullers will get plenty of action. While both are better options than a lot of backups around the league, neither will be able to replicate Tuitt's tenacity—he was in the midst of his most impactful season.
The mostly quiet bye week had its drama: LB Anthony Chickillo was arrested in the wee hours of Sunday morning, charged and eventually released on bail after his girlfriend claimed assault. After signing a two-year, $8 million contract in March, the Steelers may be thinking twice about bringing him back for the second year. This incident, compounded with getting outplayed for most of the summer, may make it difficult to justify. In the meantime, the team has informed him not to report to the practice facility.
The Steelers must maintain focus in the interim. While the 0 – 6 Dolphins may seem like an appetizing opponent, Bills fans might remind us not to count our chickens. Buffalo took down Miami 31 – 21 on the heels of three fourth quarter touchdowns, but were down by one at halftime.
Much of the team's focus should remain on keeping pace with the Ravens one game at a time, but there is a distraction that could start to simmer over the coming weeks. If Mike Tomlin is going to keep this team locked in, he must anticipate the impending quarterback controversy on the horizon.
Thus far, Tomlin has remained steadfast in his commitment to Mason Rudolph as the starting quarterback. Three weeks removed from his concussion against Baltimore, Rudolph is indeed expected to be ready for the Monday night bout versus Miami. Said Tomlin: "That guy is our quarterback when he clears the protocol, and it's as simple as that."
The problem with Rudolph's return isn't that he makes the Steelers worse—remember, Pittsburgh actually took the lead against Baltimore on the drive Rudolph was knocked from the game. Instead, the problem lies in the question yet to be answered of whether or not Rudolph makes the Steelers better.
Insert the legend of Devlin "Duck" Hodges, which seemed to grow by the day leading up to his debut against the Chargers in week six. A win only added fuel to the fire, and the undrafted rookie has captured the hearts of Pittsburghers.
The winning result was not typical of the 1 – 4 start to the season, but the passing game very much was. While Hodges maintained a decent completion percentage, the 132 yards of passing offense is very reminiscent of previous games with Rudolph under center. Part of this was certainly related to game flow; Pittsburgh was in the lead through three quarters and did not need to throw. The run game was working, and offensive coordinator Randy Fichtner continued to find ways to get the ball into the hands of his playmakers without having his undrafted rookie quarterback take risks. Indicative of this is Hodges' 6.9 yards per attempted pass, which ranks near the bottom of the league.
Rudolph will get a huge ovation when he takes the field on Monday night. He'll pick up where he left off, and that's much the same as Hodges: an identical 6.9 yards per attempted pass on a simplified offense. What remains to be seen is Tomlin's dedication to Rudolph should he get off to a shaky start. If the Steelers find themselves trailing at halftime to Miami as Buffalo did, will they stay the course? The schedule doesn't get any easier thereafter—the Colts and Rams will be coming to town in subsequent weeks, followed by three divisional games.
The Steelers don't want a quarterback controversy, but it may be unavoidable. The waters will get choppy at some point and, for better or for worse, the backup quarterback has a shiny 1 – 0 record. Pittsburgh is cheering for Rudolph, but will it remain similarly loyal? We'll find out soon enough.
Around the NFL
There's one place with absolutely zero quarterback controversy: Green Bay, Wisconsin.
When new head coach Matt LaFleur came to Green Bay, he was expected to scrap a boring offense in favor of something more fitting for a Hall of Fame quarterback.
Mission accomplished.
Not only has LaFleur already helped match the six total wins from last season, he's also taken QB Aaron Rodgers to new heights. Rodgers surgically dismantled the Raiders in their 42 – 24 blowout win, throwing for 429 yards and an absurd 5 touchdowns. Oh—he ran a touchdown in, too.
While the Raiders couldn't keep pace with Rodgers and company, they're showing some signs of life in the AFC West. QB Derek Carr is playing with more confidence this year, and the breakout of TE Derek Waller has had a lot to do with that. Rookie RB Josh Jacobs has also begun to look worthy of his first-round pedigree, having now strung together his second consecutive 100+ yard performance on the ground. The passing game is still a work in progress, especially with WR Tyrell Williams injured. It's a rotating door at the position right now, as undrafted WR Keelan Doss lead all receivers on the afternoon.
Oakland didn't win on Sunday, but they certainly seem to have taken the lead in the $30 million-dollar battle with former WR Antonio Brown. The organization has turned over text messages from Brown sent to team owner Mark Davis, which revealed Brown actually requested the owner release him from his contract. The disgruntled wideout is currently in a legal battle in an effort to get back some of the money the Raiders voided upon his release; the text messages will not help in his quest.
While the Steelers and Browns remained idle this week, the Ravens hit their top gear in Seattle. Newly acquired CB Marcus Peters made his presence known right out of the gate; the former Ram took an interception from QB Russell Wilson for a 67-yard touchdown in the second quarter. Ravens QB Lamar Jackson remains on his torrid rushing pace, leading them on the ground with 116 yards. There's still a lot of football to be played, but his current 82.3 yards per game pace has him on track to absolutely shatter Michael Vicks 2006 record. He's an exciting player to watch, and his competitive intensity is a stark contrast to a decade's worth of the unexcitable Joe Flacco.
It appears Vikings QB Kirk Cousins has shaken off his early season funk. Winning four of their last five, Cousins has the offense humming to the tune of 80 points over their last two games. Disgruntled WR Stefon Diggs seems to have quieted his requests for a trade amidst Cousins' early woes, and will have the passing attack all to himself when co-star Adam Thielen misses their Thursday night game against Washington.
When NBC sportswriter Peter King suggested earlier this year that Colts QB Jacoby Brissett could be the AFC MVP, Twitter set his take aflame. It's still an unlikely scenario, but he's certainly making a strong case for it. Brissett has played beautifully thus far, notably on a pinpoint toss to the outreached hands of TE Eric Ebron in the back of the endzone against Houston. Sitting atop the AFC South at 4 – 2, Indianapolis is completely outplaying its original projected win total in the wake of Andrew Luck's retirement, and Brissett deserves a lot of that credit.
In the NFC East, the Eagles have got to be the most confusing team in the league. They've lost to the 1 – 6 Falcons, beaten the 6 – 1 Packers, and have now been completely embarrassed in prime time by the Cowboys by a score of 38 – 10. Playing behind for the entire game, QB Carson Wentz and the Philly offense managed a single field goal over the final three quarters. The absence of Desean Jackson is one possibility, but there's been virtually no spark in an offense that was expected to take a step forward this year. They remain only one game out of first place, but looked like a team that shouldn't be so fortunate. With games upcoming against Buffalo, Chicago, New England, and Seattle, it will be difficult to stay on pace with Dallas.
Fantasy forecasting
Alex Erickson, come on down! This week's high volume Bengals WR (2% owned) hauled in eight catches on 14 targets. While mainstay Tyler Boyd was also targeted similarly, it was Erickson who outperformed in the box score to the tune of 137 yards. Last week's target darling Auden Tate fell back to earth—Erickson will likely do the same. Despite AJ Green's continued delayed return from ankle surgery, this entire offense should be avoided until more consistency surfaces.
On the other hand, Detroit WR Danny Amendola (5% owned) is worth monitoring. The 11-year veteran hauled in an efficient eight catches on 11 targets in a shootout loss to Minnesota. When on the field, QB Matt Stafford has been looking Amendola's way. Should he stay healthy over the coming weeks, it's reasonable to assume similar performances; injuries have been his adversary his entire career. With favorable matchups against the Giants and Raiders upcoming, Amendola's not a bad flex option for teams bit by Sunday's injury bug.
Speaking of flex plays: Kudos to the 9% of you that threw Cardinals RB Chase Edmonds (48% owned) into your lineups on Sunday. The immediate payoff is obvious: the second year back cashed in on three touchdowns along with 126 yards on the ground. The long term implications are perhaps even more enticing. With star RB David Johnson seemingly on the mend on a week to week basis, it's fair to start projecting a nice uptick in usage moving forward regardless of Johnson's status. A waiver claim is in order here; He's been efficient on the limited touches he's gotten so far, and showed what he can do with a full workload against the Giants. It's an offense on the rise, and Edmonds will be one of the beneficiaries if head coach Kliff Kingsbury decides to get Edmonds more than the typical 24 snaps per game he's been allotted.