Consol CEO: J. Brett Harvey
Consol Energy's CEO sets out to make mining no accident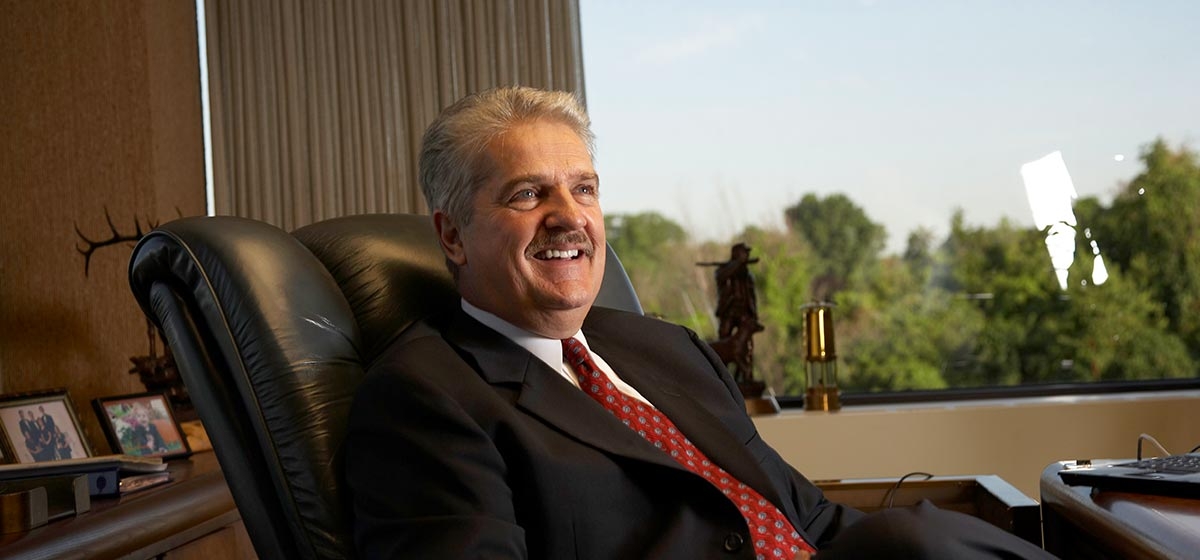 November 19, 2007
If you find yourself driving east across Pennsylvania on I-80 and want to take a detour to the mining industry's grim past, consider taking the tour at the Lackawanna Mine near Scranton. First opened in the 1860s and active until 1966, the sprawling underground maze of tunnels gives sobering insight into the wrenching conditions miners faced.


It was enough to make my then 9-year-old about a seven on the young Marxist scale.
In case of an explosion or collapse, the rescue priority was the mules, not the men and boys. Mules were more expensive to replace. And when a miner was killed, his family had just days to move out of the company-owned shack, with no financial support.
Fast forward a century-plus, and things are very different in the mining business. Today's miners are reasonably well paid and can support a decent living standard for their families. But as anyone in coal country will tell you, mining remains a dangerous job. Many in the industry accept accidents and deaths as a fact of life.
J. Brett Harvey, a fourth-generation miner and CEO of Consol Energy (the country's largest operator of bituminous coal mines with 2006 revenue of $3.7 billion), is on a mission to change that. Since becoming CEO in 1998, he has pushed an initiative, called "Road to Zero," that seeks to make accidents the exception, not the norm.
In 2006, 22 miners were killed on the job in the U.S., and last summer, two separate collapses in Utah's Crandall Canyon killed nine. Harvey, a Utah native, was scheduled to give the keynote speech at the annual meeting of the Utah Mining Association just days later. He used the occasion to call again for zero tolerance of mining deaths.
Part of his talk was televised, with Harvey's 87-year-old father watching at home. "He called me up and said I was wrong, that mining would always be a tough business," Harvey said. (The text of Harvey's Aug. 23 speech may be read by clicking on "About" and then "Speeches" at www.consolenergy.com.)
With advances in safety and communications, Harvey believes that achieving the goal is at hand."We're so close," the 57-year-old CEO said. "This is going to be the legacy of my generation."
Besides the safety issue, the other big problem many have with coal (which generates about half of America's electricity) is its impact on the environment, especially the role that burning fossil fuels plays in global warming.
But Harvey thinks big.He can see a day in which burning coal is green. "Global warming has shifted into the political arena, but solving it remains a question of technology. Give us 10 years, and we can do it."
Mining is in Harvey's blood.His great-grandfather immigrated to Pennsylvania from Wales and worked as a miner, later earning a degree through correspondence school to quality as a mine safety manager and moving to New Mexico. His grandfather was a mine manager. His father worked as a manager at a U.S. Steel-owned mine in Price, Utah, where he met and married the Consol CEO's mother, a Mormon.
Harvey grew up as a Mormon and, he says, a lifelong Steelers fan in the desert of southern Utah.He graduated from the University of Utah with a degree in mine engineering. He held a series of increasingly senior positions at different mining companies, including stints as president and CEO of both PacifiCorp Energy and Interwest Mining.
He said he never expected to achieve as much in his career, but a factor in his success was a gap in the ranks of the previous generation of mine managers. "I had opportunities to advance quickly."
Now, Harvey tells up-and-comers at Consol to focus on the work, not worry about the next big move. "If you do a good job, the good jobs will come to you," is a favorite Harvey maxim.
For years, he and his family lived near the famed ski resorts Alta and Snowbird, on the outskirts of Salt Lake City, where he took up the sport in his 30s. Another passion is hunting; Harvey hunts quail in Georgia and elk in Colorado. A South Hills resident, Harvey's weekends here often include driving explorations. He's active in Pittsburgh's small Church of the Latter Day Saints community, joking that when he moved here in 1998, he "only brought one wife with me."
Young Mormon men do missionary work as part of their coming of age, and at 19, Harvey lived for two years on a Navajo Indian reservation in Northern Arizona, learning the language fluently. "I grew up fast," he says of the experience.
And while he doesn't have much opportunity to practice his Navajo any more, he remains proficient enough to converse. He said that during a recent visit to his sister, who operates a store, he overheard two Navajo girls talking about shoplifting."I told them, in Navajo, 'don't do that.'"
Alas, Harvey is likely to be the last in the line of Harvey miners. His son has a landscaping business in Utah, and neither of his two daughters work in the industry. (Another son was killed in a car accident.) Harvey and his wife have five grandchildren — all girls.
As one might expect, the upbeat and surprisingly soft-spoken Harvey remains keen on both his adopted hometown and the mining industry." I think the next renaissance of Pittsburgh and this company are just beginning."