Choose Wisely
Selecting a retirement residence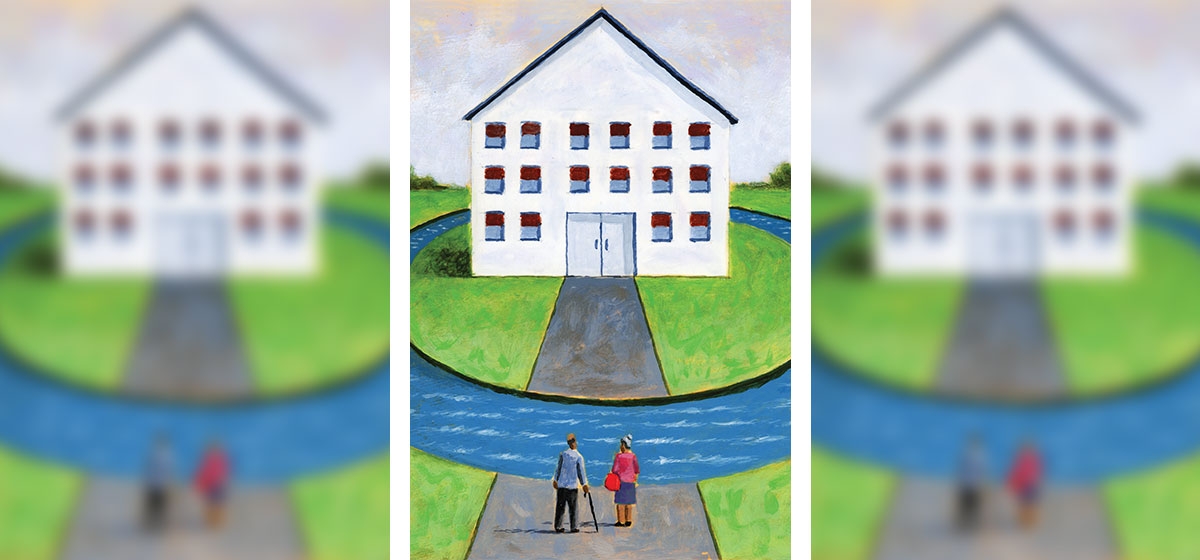 November 20, 2009
For Dee Strunk, it came down to the screened-in porch. She was touring retirement communities when she saw a charming porch in a carriage house at The Woodlands at St. Barnabus, and she knew this was it.

The porch reminded her of the one she loved at her old house in McCandless. "It's my own little place in the world," the 78-year-old says of the retirement home she rents in Valencia.
For Marion and Robert Karl, the decision to buy a two-bedroom apartment in Friendship Village in Upper St. Clair was the culmination of four years of visits to retirement communities. "It was the total package," says Marion, 83. "There was flexibility with meals, free maintenance, and the balcony did not cost extra. And skilled nursing was in the same building as the apartment. If one of us would be in the health center, the other person could visit without leaving the building."
Harriet and John Burress were also methodical. They devised a chart of pros and cons of the five retirement communities they visited and revisited. Sherwood Oaks, their new home in Cranberry, came out on top of their system of rankings. They visited the skilled nursing facilities and asked detailed questions such as the number of baths health care residents receive every month. "We hope we never have to use the skilled nursing care, but that is part of the package deal," says Harriet, 74.
Choosing a retirement community is often a big and complicated decision. "For many seniors, it is their last move," said Steve Maag, director of assisted living and continuing care for the American Association of Homes and Services for the Aged.
Maag advises people to tour retirement communities the way a high school student tours college campuses. "There really is a culture and ambiance about retirement communities," Maag says. "First and foremost, you need to visit the community and talk to people. Try to have a meal."
Tracy and Sandra Miller, 66 and 68 respectively, ate in the dining rooms of the five retirement communities they visited, and they liked the food and presentation best at Sewickley's Masonic Village. They chose to move into the retirement community three years ago for other reasons, including the wooded setting, the atmosphere of the nursing facility, and the Masonic affiliation, because Tracy is a Master Mason.
There is a saying in the industry: If you've seen one retirement community, you've seen one retirement community. Each has its own ambiance and set of activities.
To get an honest appraisal of a retirement community, talk to both residents and their relatives, advises Kathy Cameron, chair of the Consumer Consortium on Assisted Living. "Often family members are more honest than the resident. Sometimes the older person doesn't want to get anyone in trouble or they don't want to say anything bad for fear that the person giving the care might retaliate and not do it as well."
Look at the condition of the grounds, lobby and health center. "It's not just window dressing," Maag says.
With news of some retirement communities running into financial problems nationwide, it is important to ask for annual reports and other documents to determine whether a community is on sound financial footing, experts say.
Another measure is whether a facility has accreditation from the Commission on Accreditation of Rehabilitation Facilities. "If a community is accredited, it does not mean they are the best. But at least they have made a significant effort to meet generally accepted standards," Maag says.
Seniors also have to decide whether they want to invest in a Continuous Care Retirement Community (CCRC). Typically, that involves significant upfront fees, but gives security down the road, since the monthly fees usually remain the same if the person is moved to assisted living or skilled nursing, which often can cost more than $6,000 a month.
Pat and Dick Hamilton moved into Longwood at Oakmont, a CCRC, because they did not want to be a burden on their two children. "We felt very strongly about this," Pat says. They picked Longwood for the picturesque campus, just a few miles away from their home, and classes on everything from astronomy to Mark Twain. "I said, 'Dick, we are going away to college,'" she said. They liked it so much they did not look anywhere else.
Vinny Butz, 80, signed up for Providence Point in Scott two and a half years ago, based on blueprints of the retirement community, which opened this year. "It was a matter of faith. It was just a pile of dirt. I didn't know it was going to be as beautiful as it is. It's exquisite. It's like living in the Ritz Carlton. I chose it because it was brand-new and was going to be ergonomically well done for someone my age. My daughter doesn't have to call me every day."