Chimney Swifts
Artful, darting fliers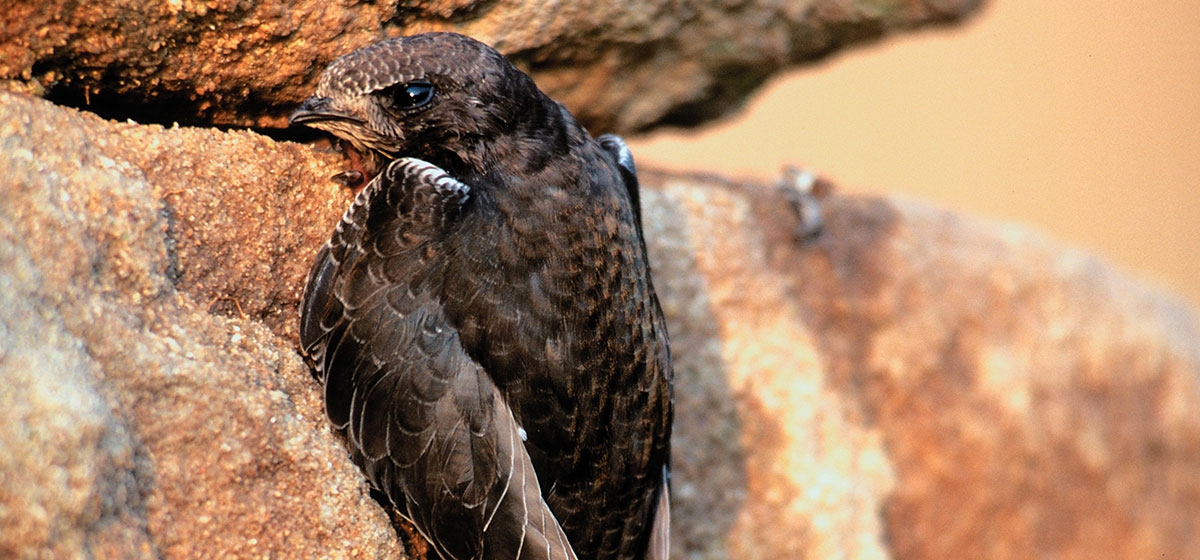 February 17, 2011
Chimney swifts twitter, but they do not tweet. These are creatures not of the virtual world, but of our vernal skies. When warm weather returns to Pittsburgh and the new green of spring washes over the hills, Chimney Swifts will soon appear.

The bird itself is unfamiliar to most, for it never comes close to earth but remains aloft from dawn to dusk. This is no mere feeder bird, no denizen of the boughs. The Chimney Swift is found always on the wing, twisting, gliding, and yes, twittering, with tight turns and in rocking arcs, feeding on tiny insects above the rooftops of East Liberty and Oakland, Fox Chapel and Shadyside. More bat-like than bird in its movements, Chimney Swifts are often found in small groups of a few pairs to a dozen, though if you know when and where to look, hundreds can be counted in one fell swoop.
Equally at ease in locations urban or bucolic, this bird needs only blue sky and a high, hollow shaft in which to plummet at day's end. Chimneys, uncapped and unlined, are welcome nest sites, as are their ancestral, hollow-tree homes. There, with dead twigs plucked from arboreal crowns, swifts build a sling-like nest, half round, cemented with saliva to the wall of a flue or carved-out trunk. Three to six small, white eggs hold the next generation. When my wife, Anna, and I lived on the campus of Shady Side Academy, Chimney Swifts raised their young inside our living-room fireplace, just above the closed damper. I could hear the nestlings chitter as the parents dove in to feed them mouthfuls of bugs. One spring, there were so many swifts beating their wings that it sounded like thunder was rolling down from the clear sky straight into the room, the visitation of a god.
Divine, or at least ethereal to most, Chimney Swifts are described in more colloquial terms by birding legend Roger Tory Peterson as "cigars with wings." Their bodies are grayish black, five or so inches in length, with a wingspan of a foot, though they look quite small from the ground. It's not as much their plumage that's distinctive as it is their movements and silhouettes. Once you match the flittering profile and twittering flight calls, nothing else in the spring and summer sky comes close.
Chimney Swifts come to the bounty of western Pennsylvania to feed and breed, drawn by the seasonal eruption of insects; they fly up from Peru, through Central America, along the Gulf Coast, northward to us. Once young are feathered and fledged, Chimney Swifts flutter and fatten until fall. They'll mass up to move south again, a wonderful time to witness their aerobatic evening descents into the old industrial chimney at East Liberty's Motor Square, across from Whole Foods (the upper parking deck provides a bird's-eye view), or the brick shaft near the Sharp Edge's Beer Emporium on South St. Clair Street in Friendship (Birds and beer. This is the 'burgh, after all.) If you happen to be driving on Route 28, check the stack just behind the Penn-DOT district office across from the Fox Chapel Road BP station; a wonderful place to see birds. No matter the spot—and these birds are so widespread you might see them and hear their twinkling calls anywhere—Chimney Swifts remind us how beautiful yet fleeting spring can be.