Bryce Glass
A beautiful exhibit at the Southern Alleghenies Museum of Art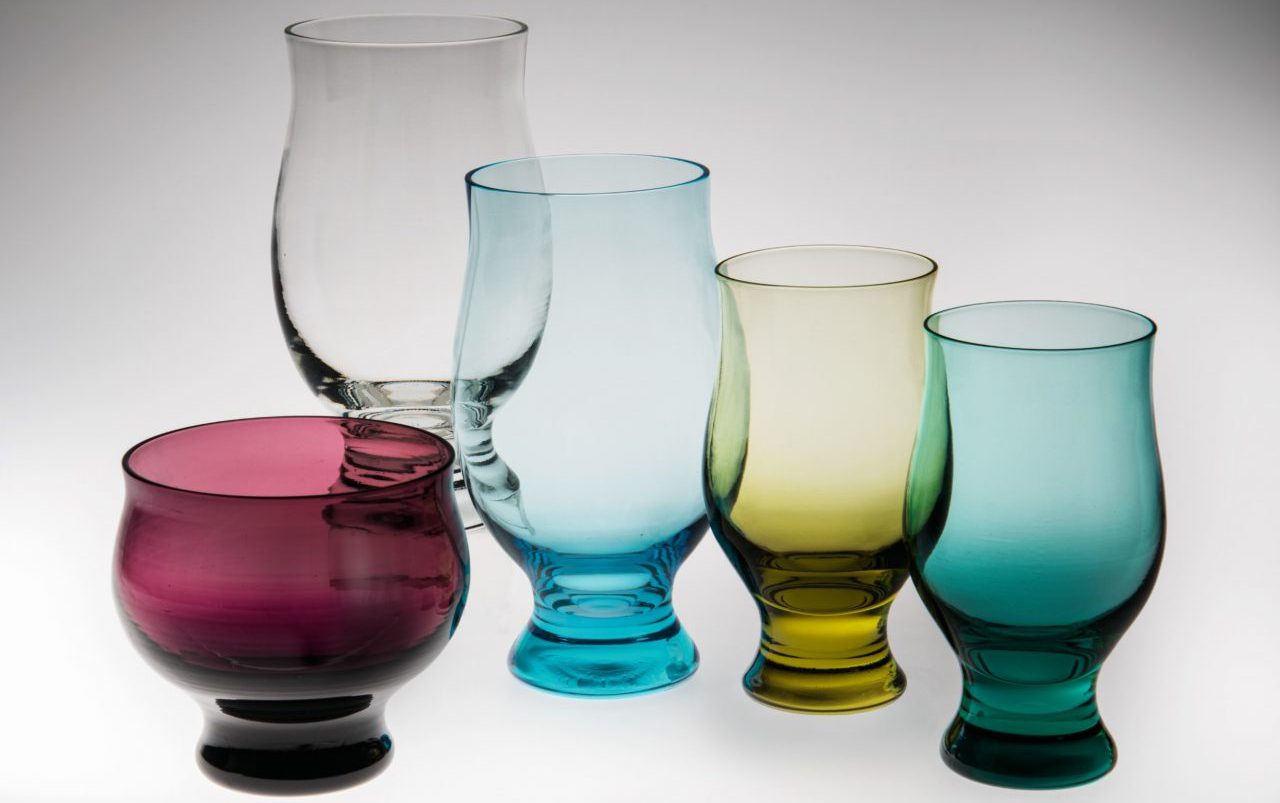 September 5, 2023
After his father died and his eldest brother disappeared, James Bryce became, at age 14, the head of a large family. So, he began learning the "art, trade and mystery" of glass blowing at Bakewell, Page & Bakewell in Downtown Pittsburgh. The year was 1827 and by then, the Scottish immigrant had four years of experience because he was 10 when he started working on the shop floor, earning $1.25 a week.


When Bryce signed his apprenticeship contract, he agreed "not [to] absent himself, day nor night, from his said masters service, without their leave; nor haunt ale-houses, taverns, or play-houses; but in all things behave himself as a faithful apprentice ought to do." (all punctuation is taken from the actual contract.)
Fueled by that experience, James Bryce and 14 partners opened Bryce, McKee & Co. in 1850 on the South Side. Initially, the business made clear pressed glass tableware and opal glass, often called milk glass by collectors.
By the 1880s, colored glass was fashionable and Bryce Brothers produced vivid hues such as amber, amethyst, blue, canary and ruby. Celery boats with pointed ends, glass oil lamps and novelties like glass shoes rounded out the 30 tableware patterns that included compotes, decanters, goblets and tumblers.
More than 150 stunning examples of this decorative, functional glass are on view at the Southern Alleghenies Museum of Art in Ligonier. As recently as 1962, Bryce Brothers made an elegant space needle champagne glass for the Space Needle Restaurant during the World's Fair in Seattle, Wash.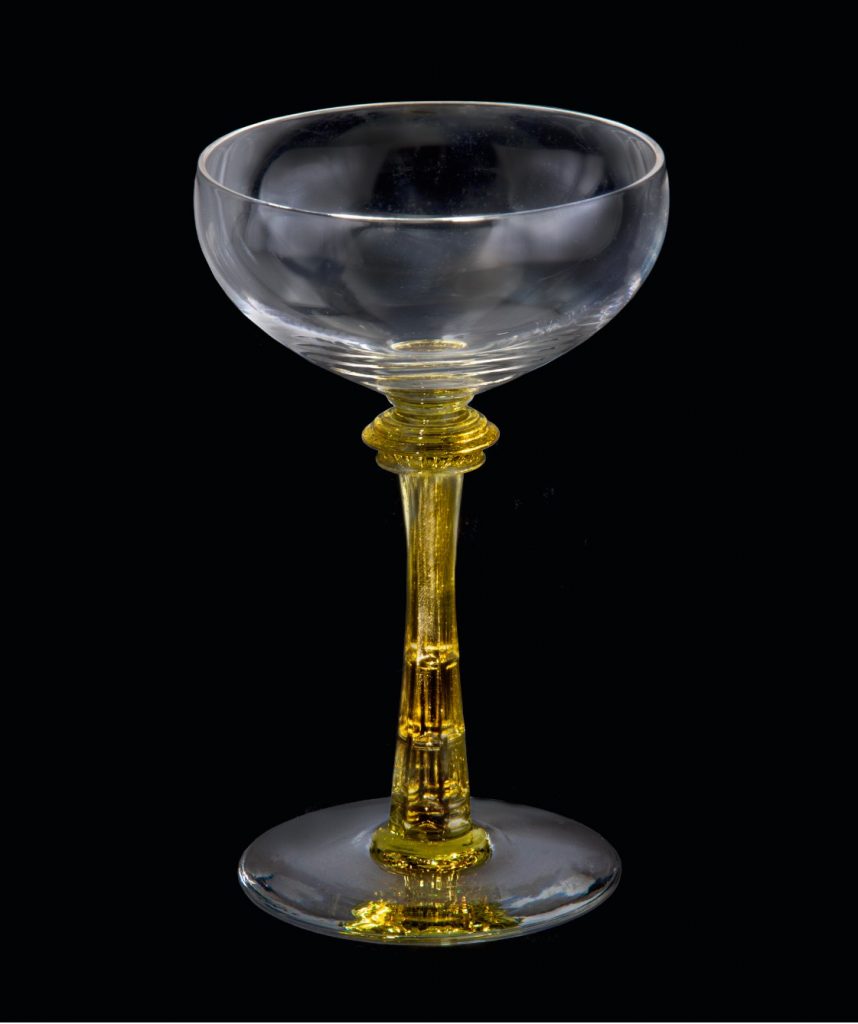 The exhibition, which runs through Nov. 5, was inspired by a beautifully produced book published this year. "Bryce Glass: Art And Novelty in Nineteenth-Century Pittsburgh" was written by two Western Pennsylvania attorneys, Harley N. Trice and Debra M. Coulson, both retired from Reed Smith. Through his maternal line, Mr. Trice is a great-great grandson of James Bryce.
Coulson and Trice spent decades collecting Bryce glass and researching the company's history. The book features outstanding images by Gavin Ashworth, an internationally known fine art and architectural photographer.
Long before coal, iron or steel dominated local manufacturing, glass was Pittsburgh's first major industry as of 1797. By 1869, the city produced nearly half of all the glass made in America.
One exhibition vitrine is filled with canary glass, but when visitors switch on a black light, the glass turns green because it has uranium in it, Mr. Trice said.
Also on view are gently curved, strikingly contemporary glasses called Silhouette. The pattern was created in 1952 by Eva Zeisel, a renowned modernist designer of ceramics and glass. A native of Hungary, Zeisel was the first female designer ever featured in a solo show at New York's Museum of Modern Art.
Documenting the Bryce company history was daunting, Coulson said, because, "There is no comprehensive catalog record of Bryce production. What we have is one page from 1854."
Coulson and Trice examined trade journals and wholesale catalogs to document individual pieces of glass. Luckily, James Bryce began keeping a handwritten journal in 1834 and its 391 pages cover his life through 1876.
"He was 5 years old when he came to this country. He basically had no formal schooling. If you are working 12 hours a day starting at age 10, where do you learn how to read and write? There was a little bit of education and he mentions going to school in Pittsburgh," Coulson said.
In 1896, Bryce Brothers opened a new brick factory in Mt. Pleasant. Orders poured in because the company's employees were skilled at many decorative techniques, including cutting, needle etching, sand blasting, engraving and gilding in bands.
Bryce Brothers glass made in Mt. Pleasant was used at the White House, the United Nations and U.S. embassies worldwide. The exhibition includes a photograph of Franklin Roosevelt and Harry Truman lunching at the White House at a table set with a Bryce glassware pattern called Ardmore. Consumers could buy it at local department stores, Mr. Trice said. Lenox Inc., the china manufacturer, purchased Bryce in 1965.
Coulson and Trice also brought their research into the 21st century. In 2017, they took a 40-pound glass pressing mold from the 1890s to the Pittsburgh Glass Center. There, artisans made a red glass cordial that was indistinguishable from its 19th century counterpart," Mr. Trice said.
One of the last images in the book shows the "Happy Thought Night Lamp," which was made in amber, clear, blue and opaque white around 1890.
Some collectors really like this lamp. In January 2022, an opaque white version of the lamp sold for nearly $2,673.00 at Jeffrey S. Evans and Associates, a glass auction company. Made around 1890, the lamp's original price was a mere 25 cents.
The Southern Alleghenies Museum of Art is at 1 Boucher Lane in Ligonier. Hours are Wednesday through Sunday from noon to 4:30 and admission is free.