Kurtz, Irwin, Cangiano, Duncan, Casey, Hudson, Bonte
Professionals new to Pittsburgh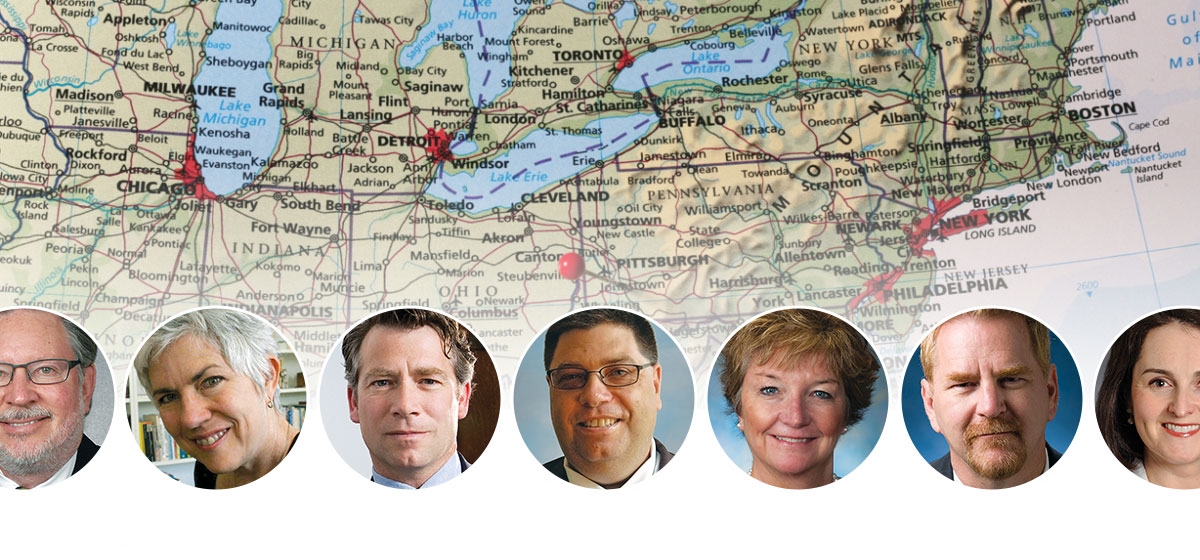 November 20, 2009
Dr. Sanford Kurtz is executive vice president, chief medical officer and president of the Physician Organization at West Penn Allegheny Health System. He comes to Pittsburgh from the Lahey Clinic in Burlington, Mass., where he was chief operating officer and executive vice president. At WPAHS, Dr. Kurtz will be responsible for designing, building and leading a multi-specialty physician organization. He received his medical degree at the Boston University School of Medicine, interned at Boston City Hospital and was a resident at New England Deaconess Hospital. He is a past chairman of the American Medical Group Association. Dr. Kurtz and his wife Merry have two grown sons and two grandchildren. They will live in Shadyside.

Terry Irwin is the head of the Carnegie Mellon University School of Design. A native of Phoenix, Irwin has worked in university-level design education for more than 20 years at such institutions as the Otis Parsons School of Design and the California College of the Arts. She comes to Pittsburgh from the University of Dundee in Scotland, where she was completing research for a Ph.D. from Duncan of Jordanstone College of Art and Design. She is the co-founder and former principal and creative director of the San Francisco office of MetaDesign, an international and multidisciplinary design firm with clients such as Sony, Apple and the Bank of America. Irwin received a master's in design from Allgemeine Kunst-gewerbeschule in Basel, Switzerland. She and her husband, Gideon Kossoff, a social ecologist, live in Friendship.
Thomas Cangiano will become President of Shady Side Academy. A native of Medford, Mass., he will move to Pittsburgh in the summer from Bulgaria, where is president of the American College of Sofia. ACS is a private day and boarding school of 700 students in grades eight through 12. Prior to ACS, Cangiano spent nine years at The Lawrenceville School in New Jersey, serving as history master and dormitory housemaster and coaching lacrosse and football. Previously, he chaired the history department at The Trevor Day School in New York City. He has an undergraduate degree in American literature from Middlebury College, a master's in teaching from Tufts University and a master's in history from Columbia University. Cangiano and his wife Linda have three children who will enroll at Shady Side. The family will live on campus.
Christopher M. Duncan is dean of the McAnulty College and Graduate School of Liberal Arts at Duquesne University. He comes to Pittsburgh from Dayton, Ohio, where he chaired the political science department at the University of Dayton. His research includes the relationship between religious belief and political activism in American politics. Previously, he was associate professor of political science and coordinator of distinguished external scholarships at Mississippi State University. He has authored the book, "The Anti-Federalists and Early American Political Thought." Duncan has an undergraduate degree in philosophy and political science from the University of Michigan, and a master's and Ph.D. in political science from Wayne State University. He and his wife Laura have three children.
Loretta Casey is the director of nursing at UPMC Presbyterian. A native of Newport, R.I., she came to Pittsburgh from Portland, Ore., where she was division director, patient care services for the Oregon Health and Science University Hospital. She received a bachelor of science degree in nursing from Salve Regina University and in physical education and another in health education from the University of Rhode Island. She has a master's in public administration and health administration from Portland State University. Casey is living in the Strip District.
Timothy Hudson is the first dean of the new School of Communications at Point Park University. A native of Lavern,Tenn., Hudson comes to Pittsburgh from Greenville, N.C., where he was founding director of the School of Communications at East Carolina University. Previously, he was associate director of the School of Journalism and Mass Communication at the University of Oklahoma and assistant professor of communication and director of television at Elizabethtown College in Lancaster County, Pa. Hudson is a graduate of Eastern New Mexico University with a double major in theater and communication and a master's in communication. He has a Ph.D. in mass communication from Temple University. Hudson has three grown children and will live Downtown.
Kathleen Bonte is in charge of Leadership Annual Giving at Carnegie Mellon University. A native of Westerville, Ohio, she comes to Pittsburgh from Athens, Ohio, where she was the senior director for donor relations and stewardship at Ohio University. Bonte earned her undergraduate degree from the Scripps School of Journalism at Ohio University and an MBA from the Fisher College of Business at Ohio State University. She and her husband Troy have two young children and expect to live in Franklin Park.