Clemente, Davidson, Stewart, Liozu, Childs, Shiner, Nelson
Professionals new to Pittsburgh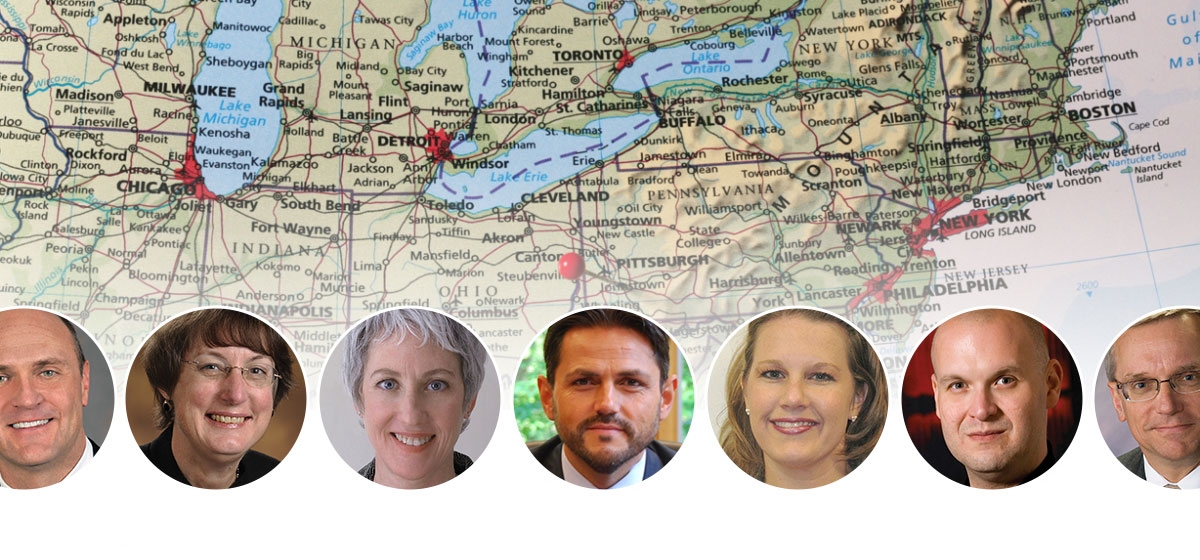 May 20, 2009
James Clements is the 23rd president of West Virginia University. He comes to Morgantown from Towson, Md., where he was provost and vice president at Towson University. He was at Towson for 20 years, starting as a visiting assistant professor, earning tenure and becoming provost last year.He earned a bachelor's degree in computer science from the University of Maryland, Baltimore County; a master's and a doctorate in operations analysis from UMBC; and a master's in computer science from Johns Hopkins University. Clements and his wife, Beth, have four children.

Dr. Nancy Davidson is the director of the University of Pittsburgh Cancer Institute. She comes to Pittsburgh from Baltimore, where she served as professor of oncology at Johns Hopkins University School of Medicine and director of the Breast Cancer Program at the Sidney Kimmel Comprehensive Cancer Center. She is the immediate past president of the American Society of Clinical Oncology, and has an international reputation, primarily for her contributions to the understanding and treatment of breast cancer. Dr. Davidson is a native of Denver and is a graduate of Wellesley College and Harvard Medical School. She did her residency in internal medicine at Johns Hopkins Hospital before serving a fellowship at the National Cancer Institute.
Sarah Stewart has joined Boyden as a principal with the executive search firm's board practice. Prior to joining Boyden, she was a senior associate, executive director and partner with New York search firms Spencer Stuart and Boardroom Consultants. She has placed more than 300 directors, about a third of whom were diversity candidates. She has worked in several industries, including healthcare, life sciences, and financial services, and has consulted on corporate governance issues, including board evaluations, management succession and board effectiveness. She has also managed searches for CEOs, CFOs and general counsels. A graduate of Colorado College, Stewart also studied at the University of London. A native of Fort Wayne, Ind., she will most likely be moving to Mt. Lebanon or Squirrel Hill with her 10-year-old daughter. She also has an older son living in New York.
Stephan Liozu is president & CEO of ARDEX Americas, a manufacturer of high-performance building products in the Pittsburgh Airport area. A native of France, Liozu is fluent in English, French and Spanish, and has worked and lived in six countries on three continents. Before joining ARDEX, he was vice president and general manager of Freudenberg & Company, where he managed the North America Spunlaid Division/Automotive & Building Segments. Prior to that, he worked in the building materials/ construction industry for the Saint-Gobain Group and Owens Corning. Liozu has an MBA in marketing from Cleveland State University and a European master's degree from Toulouse IAE School of Management in France. He and his wife are expecting their first child.
Holly Childs is the executive director of the Green Building Alliance. She comes to Pittsburgh from Cincinnati, where she was the city's director of economic development and developed a LEED tax incentive program. Previously, she was director of economic development in a suburb of Phoenix, and president of the Greater Logan County Area Community Improvement Corporation in Bellefontaine, Ohio. Childs has a B.A. in economics from Wake Forest University and a master's in environmental and natural resource economics from West Virginia University. A native of Beckley, W. Va., Childs will be living in Deutschtown on the North Side.
Eric Shiner is the Milton Fine Curator of Art at The Andy Warhol Museum. He comes to Pittsburgh from New York City, where he was an independent curator and adjunct professor in art history at Cooper Union, Pace University and Stony Brook University. His scholarly focus is on the concept of bodily transformation in postwar Japanese photography, painting and performance art. A native of New Castle, he received a bachelor of philosophy in the history of art & architecture and Japanese language & literature from the University of Pittsburgh's Honors College; an M.A. in the history of art from Osaka University; and another M.A. in the history of art from Yale. Shiner is living in Lawrenceville.
Jeffrey Nelson is vice president of marketing and communications for UPMC Health Plan. Before arriving in Pittsburgh, Nelson was director of marketing for Blue Cross and Blue Shield of Kansas City. In his new post, Nelson leads marketing and communications for the health plan, as well as its relationships with members, providers, customers and staff. A Kansas City native, Nelson has a degree in political science and English from Washburn University in Topeka, Kan. He and his wife, Cathy, have three grown children and are living in Aspinwall.