Approchable, Original
Old is new: Spring fashion trends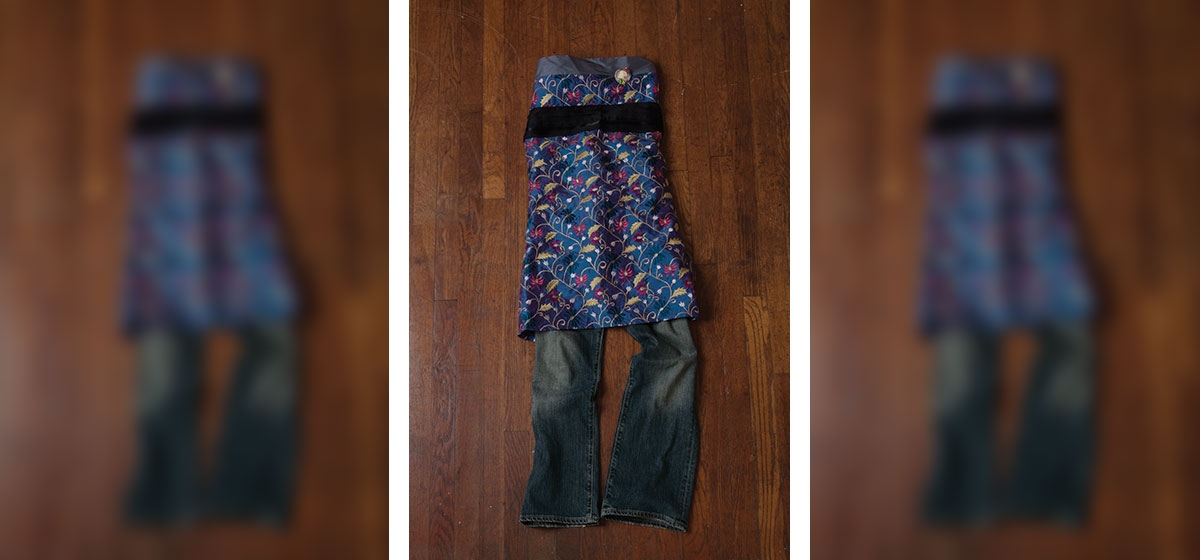 November 20, 2005
After a long winter bundling under layers of wool, braving icy sidewalks in slippery heels and cuddling under blankets beside the fireplace, nothing tempts like the promise of spring for dreaming of tropical colors, bare shoulders and skirts that flirt with the breeze.

Easier said than done. It takes nothing to fantasize about better weather in Pittsburgh. Streets without slush, a skyline without clouds and fans without black and gold spring immediately to mind.
But when it comes to actually visualizing yourself tooling around town with the top down, the thought of mixing picnics at the park with your old parkas is enough to hurl your imagination right back into the hot cocoa you've been nursing.
Luckily, the owners of the region's small boutiques who make a living turning spring dreams into real outfits have been hitting the fashion shows in L.A. and New York, stocking up and spreading the word. They handpick every item sold in their stores and advise their most loyal customers on how to make a statement that stands out each season. And, based on the styles they've bought and the designers they're hawking, spring 2006 is full of promise and ideas.
The good news for women's fashion in the months ahead is that the look is approachable, embracing tried-and-true standbys from past seasons. The short, pant and skirt shapes first seen in Pittsburgh last year will show up everywhere. City shorts — slim, fitted walking shorts that hit right above the knee. Gauchos — wide-legged cropped pants hitting just below the knee, in swingy jersey knits or clean, tailored denim. Full skirts that are the easiest shape for any woman to wear. Jeans hold strong for spring despite skyrocketing price points and near-saturation on the streets.
"Pittsburgh women shop for comfort, fit, quality, and price," says Angie Pansmith, owner of Perfect Boutique in Sewickley, which feeds customers' denim cravings with the newest from favorite designers Earl Jeans, Reo Starr, and It! "But people do spend money on jeans."
And not only are those had-to-haves from last spring still welcome on the scene, but reintroducing your classic investment pieces or digging into vintage shops helps to retain your signature style and makes your look stand out.
This evolution of past and future is one of the reasons that the year-old boutique Sugar, on Butler Street in Lawrenceville, has found a loyal audience of Pittsburgh shoppers looking to combine old and new in what they wear. As a co-op of emerging designers from across the United States, Sugar stocks only handmade items, most of which are one-of-a-kind.
"Pittsburghers are starting to realize grandma's closet is really cool," Sugar owner Jamie Rivers says, citing timeless pieces like pencil skirts and classic A-line shapes as well as vintage fabrics used as appliqués on scarves or incorporated into collages with silk-screening and velvet.
The touch of vintage retains some luxury for spring, too. Burning Torch, an L.A.-based line that's a favorite of South Side boutique Original Cin, recycles vintage cashmere into tiny tanks or cut-and-paste details on more signature pieces.
But this appreciation for the classics is not about being stuck in the past. From new dresses for day to new accessories, there's always a chance to update. And the easiest way to update for spring is by taking everything down a level. The embellishments that glittered and sparkled their way through fall and winter will take on a tamer, subtler sheen for spring. Nautical-inspired suiting will show off cleaner, more tailored lines. Even those ubiquitous chandelier earrings will make room for simpler, more delicate jewelry.
"People are trying to buy a few better things," says Elsa Cabiya, co-owner of Bailey & Bailey in Sewickley, which carries, hip, preppy styles from top lines like Chaiken, Tory by TRB, and Tibi.
And while the volume on the glitz that glittered recklessly through the holiday season gets turned down a notch, that doesn't mean that spring is going serious. Take color, for example. The bright colors marking spring's arrival this year have a rainforest feel, from vivid neutrals like banana, orange, and mocha to tropical greens like kiwi, guava and turquoise. The comeback of '80s tastes that sensible women in Pittsburgh have resisted for several seasons finds a place with black leggings, cowboy boots and tunics that add a sense of humor and are easy to wear, no matter what your age.
For the cautious customer, spring wardrobe updates can be as easy as trying out a new designer, which local boutiques are always eager to hunt down and introduce.
"My customer is really becoming an educated consumer," says Angela Kachonik, co-owner of the recently opened Original Cin. "With the Internet and so much great shopping online, they are really researching designers and who does knock-offs well."
Kachonik, who co-owns Original Cin with her mother Cindy Casteel, says they expected to draw younger shoppers when they opened in the South Side in August, but are focusing for spring on what turned out to be the bulk of their customer base: 35- to 45-year-old career women and baby boomers shopping for their daughters in college. Still, their original mission to help women achieve a distinctive look through mixing and matching, layering and accessorizing, remains.
And everyone deserves a distinctive look to help banish winter blahs after a seemingly endless season of salt-coated shoes. Whether you're venturing into uncharted color territory or sticking to your tailored and timeless comfort zone, most important in conjuring up your dreams of a spring wardrobe is keeping it light and easy. Spring in Pittsburgh is just around the corner, after all.
New on the block
Original Cin
1922 E. Carson St., South Side. With an environment spun off the concept of the Garden of Eden, this highend specialty store caters to a target customer base of 35- to 45-year-old women and prides itself on bringing have-to-have clothing and accessories that aren't available anywhere else in Pittsburgh. Price points range from $14 bracelets from India to $600 recycled cashmere jackets; product lines include Burning Torch, Chick by Nicky Hilton, and Tarina Tarantino.
B & B Studio
5417 Walnut St., Shadyside. The first of its kind in Pittsburgh, B & B Studio opened in November, offering custom-made handbags. Customers choose from 10 bag shapes—from totes and diaper bags to clutches and cosmetic bags—then choose fabrics for the lining, trim, pockets, and exterior. Priced under $100, the final product is finished in about a week. Coming in spring 2006: Skirts in silhouettes including tulips, circles, and pencils.
American Apparel
5511 Walnut St., Shadyside. The first Pittsburgh location from progressive L.A.-based clothing chain American Apparel took over the former weisshouse space and offers simple cotton garments, all made sweatshop-free in the United States. The company started out selling solid-colored T-shirts wholesale in 1997 and has since grown to include nearly 60 stores throughout the world. Labeling itself "Vertically Integrated Manufacturing," the company designs all of its T's, socks, sweatshirts, jackets, dresses, baby clothes, dog clothes, and swimwear without logos, ornamentation or baubles.
Gardell Designs
804 S. Aiken Ave., Shadyside. Owner Graciana Fennell first fell in love with jewelry while growing up in Argentina, where girls and young women receive jewelry as gifts for their 15th birthdays, their weddings and other special occasions. After practicing medicine in Pittsburgh, Fennell committed to designing jewelry full time and opened her shop and studio in October. The one-of-akind pieces she makes feature semiprecious stones and gems including sapphires, emeralds and rubies, and are priced between $180 and $2,000.
Harrison's Café
Brilliant Ave., Aspinwall. Serving up cheesecake from Brooklyn and coffee from Chicago, Harrison's Café gives the employees and residents of Aspinwall an intimate yet convenient option for lunch or just coffee and conversation. Exotic teas from around the world are served alongside sandwiches and salads with ingredients from the neighborhood's delis and markets. Owner Jennifer Bates says she decided on the menu for the coffee shop by choosing her favorite things to eat, such as ice cream and meals with a Middle East influence.