An Art Full House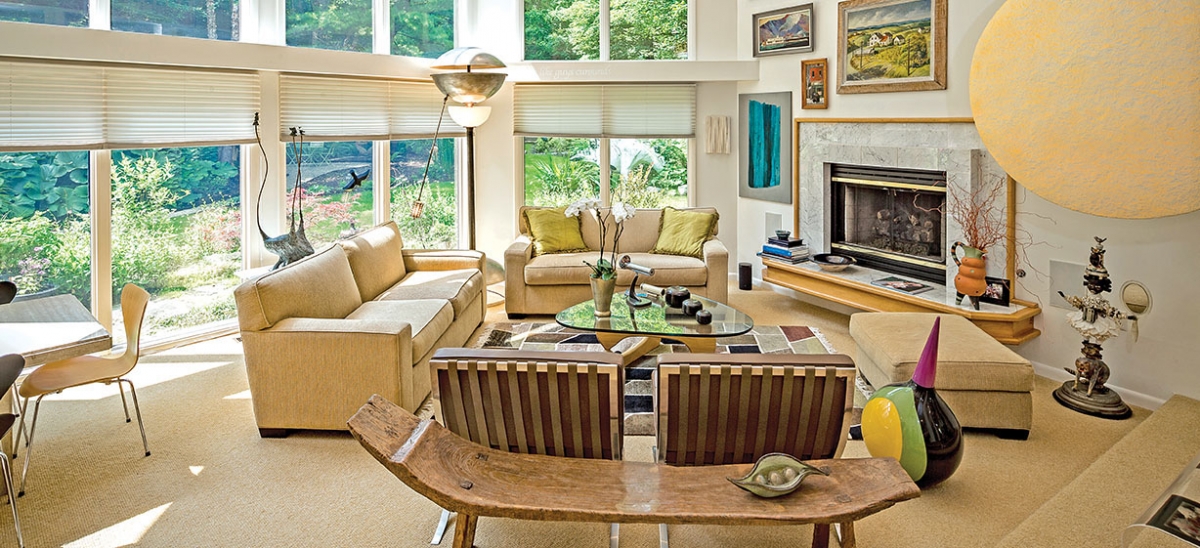 February 21, 2016
"We're art addicts so we're always buying stuff, " says the owner of a wood-clad modern home in Fox Chapel, laughing. She and her husband are just back from a major art fair and the question, as usual, is where to put the new piece. From the outside, no one would suspect that the discreet residence houses an extraordinary collection of contemporary art. So much so that paintings are everywhere—still crated in an office, stacked in the exercise room, hung on every surface.
---
---
There is also sculpture, inside and out, in an extensive garden that surprises behind the house. Video installations are projected on blank walls while smaller video pieces command their own private spaces. Look up, look down, look anywhere and some work of art will look back. By the time you reach the guest room on the lower level, it's somehow not shocking to find the walls crammed with the Gorsons and Hetzels the couple used to collect in their early days.
How many pieces are in their collection? "I don't know… several hundred," says the husband. "It's like a museum. We don't have everything up but we are getting more committed to saying we want to move forward towards finding a place that has more space to show what we have."
It wasn't always like that. Though the husband had been collecting since college, when he bought inexpensive antique prints from a gallery off Craig Street, the wife simply bought art to decorate her home. When they married that changed, and a 25-year art-hunting adventure began to unfold.
The first step was building a house together when they weren't able to find anything with enough wall space. "We told the builder what we wanted—I've always heard that, because I was overly involved, there was never a mudroom," jokes the husband.
"Part of the joy of building this house was we had [Swiss artist] Not Vital come, and he measured and made notes of what we wanted and 'World Animal' was commissioned for the house. As my wife would say, we had no furniture but we had art."
The couple knew they wanted a soaring, open space with a bridge connecting the two upstairs wings—the master bedroom suite and the children's rooms. The ceilings are 20 feet high in the entrance hall and sunken living room, while the flanking rooms have an intimate scale for daily living. Open the front door and you can see straight through the house to the glass walls that frame the garden. The giant windows and the light they provide illuminate the artworks that dominate the décor.
"We want the furnishings to be comfortable and attractive," says the wife. "We don't collect decorative art. For the most part, our furniture is furniture. People walk in and they are surprised by the quantity of art. It's not traditional art. It's art of the moment. We see things that we like and we buy them and either figure out where they can be shown or we store them. My husband and I agree on the art that we buy, but we don't always agree on where and how it should be placed!"
To that end, the couple calls upon Concept Art Gallery owner Sam Berkovitz, a longtime friend, to advise them on hanging their art. "Sam has an excellent eye—he really is good. But on the other hand, I sometimes like to argue with him.
"He comes in and we battle back and forth," the husband says with a laugh. "It's frustrating that we buy stuff we can't get up, that is still crated."
Says Berkovitz: "They have seriously studied and looked at fine art for many years. When an artwork resonates with them, they have been willing to pull the trigger and buy. I think their willingness to acquire difficult artwork has served them well."
The owners are getting ready to rehang their collection—they've only done it once before—but they're also thinking the house may have outgrown the art. A trend among many major collectors is the personal museum—Eli Broad has built four—and in many ways it's a logical progression. The husband is on the board of the Carnegie Museum of Art while the wife sits on the Mattress Factory board, and their purchases are both informed and daring.
"We usually buy emerging artists," says the husband. "It's much riskier but we like the art. With less established artists, it's more of a gamble but less of a price. We're considered to have a good eye, but with the amount of money we have to buy art, we aren't even on the radar among the super wealthy. Collecting art has become trendy."
The odds have been good for the couple. Their collection, bought locally and nationally through galleries and at art fairs, includes work by Sadie Benning, Nicole Eisenman, Vanessa German, John Bock, Joseph Kosuth, Matthew Monahan, Peter Saul, Charles Long and Robert Morris. Early on they bought a Christopher Wool piece for a modest price, but when approached by Christie's they decided to sell it in the fall New York auction for a very significant gain. "But we're buyers, not sellers," says the husband. "They're all like kids. We sold art one other time and it was not a good experience all around. We didn't like parting with it in the end."
Instead, the owners are considering moving to a warehouse kind of space that would allow them to live on one level and exhibit their collection on the other floors. "I've always been amazed at what Barbara Luderowski and Michael Olijnyk have accomplished at the Mattress Factory," says the husband of the installation art museum that contains a residence on the top floor. Actually, it's six floors, which might be dangerous for the couple.
"We're art hoarders," admits the wife. "We're an art shelter," adds the husband with a laugh. Indeed, a painting would be lucky to land in such an appreciative environment—even if it ends up waiting its turn in a stack against the wall.