An Answer from Abroad
Looking to immigrants when local population falters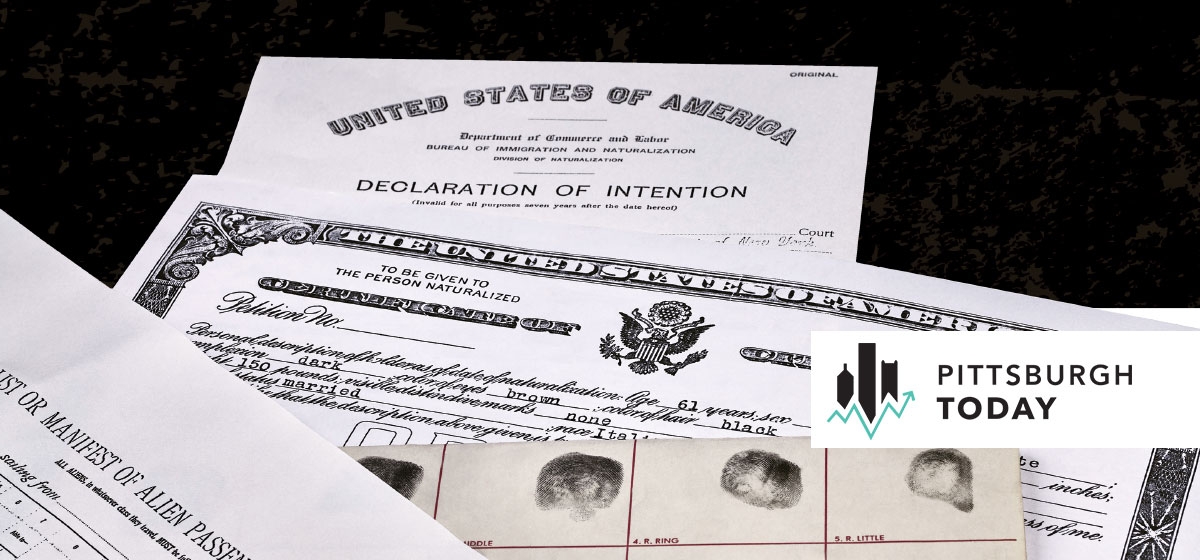 November 20, 2019
If southwestern Pennsylvania is going to pull out of its long population slump, it's likely going to happen with people like Khara Timsina. He arrived in Pittsburgh 10 years ago, one of fewer than 300 Bhutanese refugees resettled from camps in Nepal, where they had lived after being driven from their homeland during a period of ethnic strife. Today, some 6,000 Bhutanese live in the city, most having chosen to relocate to Pittsburgh after living somewhere else in America.

An increase in people from other nations has emerged as one of the few bright spots in recent U.S. population trends, which show native populations slipping into stagnation and decline. And cities and counties are taking notice, drafting strategies to grow their foreign-born communities in the hope of easing population woes and concerns over their future workforce and economy. Pittsburgh and Allegheny County are among them.
It's happened before in southwestern Pennsylvania. In 1910, danger was spelled "veszely" and "pericolo" and "opasno" and "nebezpecno" on signs inside Carnegie Steel's Homestead Works. Still, warnings posted in Hungarian, Italian, Serbo-Croatian and Slovak didn't cover all of the languages spoken in the mill. More than one in five residents had been born in another country. And the foreign-born population peaked that year at 448,000, which represented 25 percent of the total population of what is today the seven-county Pittsburgh Metropolitan Area.
But the region's foreign population contracted with the passing of generations as surnames such as Babic, Maravich, Rizzo and DeVita were woven into the community fabric. Today, 88,300 people in the Pittsburgh MSA were born in other countries, accounting for 3.8 percent of the population—one of the lowest rates of foreign-born residents in metropolitan America.
Reestablishing the region as a destination for immigrants won't be easy. Word of mouth tends to drive newcomers to regions and positive reviews depend on whether foreign-born residents feel a place is safe, affordable and offers opportunities to succeed, economically and otherwise. Creating such a place demands the attention of not only local government, but businesses and local institutions, to say nothing of the willingness of neighbors to accept newcomers whose customs and languages are unlike theirs. It comes at a time when anti-immigrant sentiment is rising in American public discourse and federal policy is hardening against those seeking asylum, education or a better life in the U.S. And competition among regions is intensifying as more places seek to fill holes in their population with immigrants.
"We realize if we don't open our arms to our diverse communities, we stand the chance of not having a vibrant city for years to come," said Feyisola Alabi, special initiatives manager for the City of Pittsburgh.
People wanted
U.S. Census Bureau data suggest the nation has entered an era of population stagnation. The U.S. population grew only 0.62 percent from 2017-2018, the lowest rate since 1937, when financially strapped Americans hunkered down under the weight of the Great Depression. Births are falling, deaths are increasing and the migration of Americans from one region to another has slowed.
Nearly half of the nation's 3,100 counties have less population today than they did in 2007, according to an analysis done by the Economic Innovation Group, a Washington D.C.-based economic policy think tank.
In southwestern Pennsylvania, all of the counties in the Pittsburgh MSA have fewer people today than in 2010, with the exception of Butler County. And no major U.S. metropolitan area has shed more population since 1969 than southwestern Pennsylvania, which lost 400,000 people. The region's migration trends struggle to stay in positive territory. More residents have left for other places in the country than have settled in southwestern Pennsylvania in five of the last 10 years.
By comparison to white residents, African Americans represent a much smaller factor in the region's overall population picture. They account for about 24 percent of the City of Pittsburgh population, slightly less than in 2010. About 13 percent of the Allegheny County population is black, the same as in 2010. And black populations are tiny outside the urban core. In Butler, African Americans account for less than 1 percent of population. They make up 4 percent of the population in Fayette County, 3 percent in Washington and 2.4 percent in Westmoreland County.
Recent studies report conditions that make it hard to sell African Americans on coming to or staying in the region. They find better income and employment opportunities in most other U.S. cities compared with Pittsburgh. The general health of African Americans is better in most other cities. So are their chances of avoiding poverty. And while southwestern Pennsylvanians as a whole tend to give the region high marks for the quality of life it offers, such perceptions are harder to come by among African Americans. Nearly 74 percent of non-African American residents describe the quality of life in the region as excellent or very good. But only 29 percent of African American residents describe it the same way. And nearly 1 in 4 say they'll likely leave the region in the next five years, according to a 2018 Pittsburgh Today-University of Pittsburgh Center for Social and Urban Research survey.
Only the region's foreign-born population has shown consistent growth in recent years, helping to hedge losses among U.S.-born residents and offering a largely untapped source of hope for turning around southwestern Pennsylvania's chronic population decline.
Although their numbers are growing more slowly than they did 20 years ago, people from other countries have become a stable source of residents across the nation. In most counties that have gained population since 2010, immigration accounts for 20 percent to 50 percent of the increase. In more than half of counties that have lost population, foreign-born residents trimmed those losses by 20 percent or more, Brookings Institution researchers report.
Allegheny County is one of them. The county experienced a total population loss of 8,200 people from 2014 to 2017, according to Census Bureau five-year estimates. Had the county not added 6,100 foreign-born residents, total population losses would have been that much worse.
From an economic development point of view, foreign-born newcomers offer a much-needed infusion of workers and entrepreneurial potential, particularly in places such as southwestern Pennsylvania, where expanding the workforce is a struggle and large numbers of workers are nearing retirement. The region's foreign-born population is well educated. More than 53 percent have a bachelor's degree or higher, one of the highest rates among metropolitan areas. In the U.S., immigrants are inventors or co-inventors of about 25 percent of all technologies, the Economic Innovation Group reports. And 43 percent of Fortune 500 companies were started by first- or second-generation immigrants.
Competitive disadvantage
For decades southwestern Pennsylvania has failed to attract enough immigrants to overcome the region's low birth rates, higher death rates and tepid domestic migration. As a result, total population has declined rather than grown.
Changing its attractiveness to immigrants is a tall order. When U.S. immigration began to soar in the 1980s, Pittsburgh was in the throes of an exodus of jobs and people in the wake of the collapse of the region's steel and sister industries, which had been the cornerstone of the economy. The immigrant waves flowed elsewhere, robbing the region of the chance to build a broad base of foreign-born residents, whose success could beckon others to come.
That's left southwestern Pennsylvania trying to catch up with places that have larger established immigrant communities, including many places not among the nation's coastal cities.
The Minneapolis region, for example, accepted Hmong refugees fleeing war-torn Laos following the Vietnam War, enacted strategies for nurturing them and today enjoys steady population growth fueled by foreign-born residents, whose share of the local population is three times larger than what immigrants account for in the Pittsburgh region. In Philadelphia, where immigrants make up 11 percent of the population, social and family ties to the region's existing foreign-born community are the main reasons nearly half of new immigrants come, a city survey reports.
"Whether people realize it or not, it's a competitive environment. When you're starting from behind, it's a challenge," said Rachel Peric, executive director of Welcoming America, a Washington, DC-based nonprofit that offers technical assistance and help to cities and counties interested in supporting foreign-born populations. "People move to the places where they think they're going to feel at home. What make us feel at home are things like having family there, having a support network."
Coming to America
The experience of Bhutanese refugees suggests that rebuilding such a critical mass is possible in the Pittsburgh region, but it will likely take time.
Favorable word of mouth is largely the reason why Pittsburgh's Bhutanese population is 20 times larger today than when the first wave of refugees arrived in 2008, said Timsina, executive director of the Bhutanese Community Association of Pittsburgh. He estimates that 75 percent of local Bhutanese residents came from other U.S. regions where they were first resettled.
Timsina came from New York City, where he lived as a refugee for eight months after arriving from a camp in Nepal. "I found it difficult to afford," he said. "My job was not full time and I had to travel two hours one way to a five, six-hour job. Having to live in the worst part of New York City, I wasn't able to afford the rent." For him, finding a two-bedroom apartment in Pittsburgh for half of what he was paying for a one-bedroom in New York was a powerful lure, as were the ridges and valleys of southwestern Pennsylvania that reminded him of his homeland.
For others, it was the opportunity for work for businesses flexible enough to employ newcomers from other countries. "Some companies in the food packaging industry offered jobs that didn't require English," he said. "When a couple of people found those jobs, word spread to other cities." And as the Pittsburgh Bhutanese community grew, the culture-specific support it offered grew with it, attracting others. "We had people coming from Albany and Erie. I asked them why they moved. They said they no longer had priests, who are important for all family rituals. The priests had moved, so they had to move, too."
Work in progress
Rebuilding the region's immigrant population has gotten considerably more attention in recent years. Allegheny County and the City of Pittsburgh joined about 100 other U.S. municipalities large and small in 2015 to develop and implement new strategies for making their communities more attractive to immigrants under an initiative organized by Welcoming America.
The city is working toward becoming only the fifth U.S. city certified by the nonprofit as having a set of policies and programs to make public safety, local government, education, economic development and other aspects of the community more immigrant-friendly.
The strategies being put in place piece by piece include ideas which other places, such as Dayton, Ohio, have explored to smooth the transition of newcomers to life in America.
There is a language access plan to help city departments accommodate people who speak little or no English, including a dial-up translation service. Multicultural training is being rolled out for police and other first responders to help them understand the cultural differences they may encounter, including subtleties that can result in misinterpreting even passive behaviors. "If someone isn't looking you in the eye, it may be because it's not their cultural norm, not because they're guilty," said Alabi, who directs the city's Welcoming Pittsburgh initiative. "As a Nigerian American, it's rude to look at an elder in the eye. It's as if you are disrespecting them."
The Allegheny County Department of Human Services organized an advisory council to identify and address issues affecting immigrants. Members range from nonprofits and government agencies to foreign-born residents themselves, including Timsina's Bhutanese association. Having a seat at the table, he said, not only gives Bhutanese residents a voice in issues important to them, but sends the signal that the door to community participation is open.
Private sector support for growing the region's foreign-born population includes a broad range of stakeholders, from those who've long been engaged, such as universities, businesses, law clinics and refugee agencies, to nonprofits such as Vibrant Pittsburgh and Global Pittsburgh, who work to attract internationals and foster conditions that encourage them to stay.
Pittsburgh wants to leverage such strategies to add 20,000 foreign-born residents, which would almost double the size of what the city's foreign-born community was in 2014, the year before the city initiative was launched. Since then, the number of foreign-born residents has increased by 13.4 percent in the city and by nearly 10 percent in Allegheny County, according to the latest five-year census estimates.
That still leaves the city with much ground to cover at a time when national debate over how to manage U.S. borders and the flow of immigrants who want to come to America is reaching a boiling point.
In Pittsburgh, the city's efforts to stimulate its foreign-born population have included publicly disputing federal policies and proposals restricting immigration. Mayor Bill Peduto, for example, has defended the federal Deferred Action for Childhood Arrivals (DACA) policy, opposed a White House proposal to cut public aid to immigrants, and reassured immigrants they are welcome in the city when the debate over immigration has turned caustic and violent. It is not lost on Timsina that the man charged with murdering 11 worshipers at the Tree of Life synagogue in Squirrel Hill last October published hate-singed social media posts against immigrants and organizations that help refugees, like himself, resettle in America. "We did feel insecure," he said. "In the back of the mind, there is always a fear. It is human tendency, irrespective of ethnic nationality, to want to live in a place that offers peace and security."
Places left out
Population growth is not evenly spread across the U.S. Nearly half of the nation's counties are losing population and the dilemma tends to be worse for those outside urban centers.
Many of the same counties, meanwhile, attract few immigrants and are seeing the number of foreign-born residents they do have steadily decline. Foreign-born populations tend to cluster in urban cores, with coastal cities being the largest magnets. In southwestern Pennsylvania, nearly 80 percent of foreign-born residents live in Allegheny County or the City of Pittsburgh.
And the gap is widening. Four of the six Pittsburgh MSA counties outside of Allegheny have lost foreign-born residents since 2010. In Armstrong County, where total population has fallen 4.5 percent, the number of foreign-born residents has dropped by 28 percent to a little more than 400 people, census data show.
One solution proposed this year is a "heartland" visa program to direct skilled immigrants to places struggling with chronic population loss and economic malaise. Immigrants would be required to have a job or start a business in a town, city or county and commit to living there for a certain period of time. It would be contingent on both the municipality and immigrant agreeing that is what they want to do.
"When you think about demographics, there aren't that many levers that the federal government has to pull to help more places enjoy that spring in their economic step that population growth provides," said Kenan Fikri, director of research and policy development at the Economic Innovation Group and one of the authors of the proposal. "Why not create a new class of visa that would have voluntary matches on both sides and allow people to put down roots and work in local labor markets to bolster the human capital and start new businesses in communities that are experiencing a decline or stagnation in the prime working-age population?"
Allegheny County can take some solace in that conditions don't appear dire enough to qualify for such a program, despite its recent steady drip of population loss. But other places in the region are possible candidates.
Drawing skilled immigrants could help address a number of ills places face when population sags, such as broadening the customer base for local businesses and resupplying the talent pool. "A place-based visa could allow companies facing shortages or skills mismatch to still grow in place and remain an economic driver and employer in their communities, rather than go to a place where the people and skills they need are plentiful," Fikri said. And an injection of skilled workers and budding entrepreneurs might help extend the innovation economy to communities beyond urban centers.
Having communities buy into the program in order to tap the heartland visa pipeline is one way to prompt them to embark on the kind of soul searching that determines whether any strategy for attracting and keeping foreign-born newcomers succeeds. "Policy comes downstream from the public will," Peric said. "There may be a deep imperative, but how do the people in the community feel about it? If they can't envision a future that looks different from the present, it's going to be difficult to summon the energy to rebuild the community and make it a better place to live for everyone."