Allegheny County Parks Celebrate 90th Anniversary
January 10, 2018
Photos by Renee Rosensteel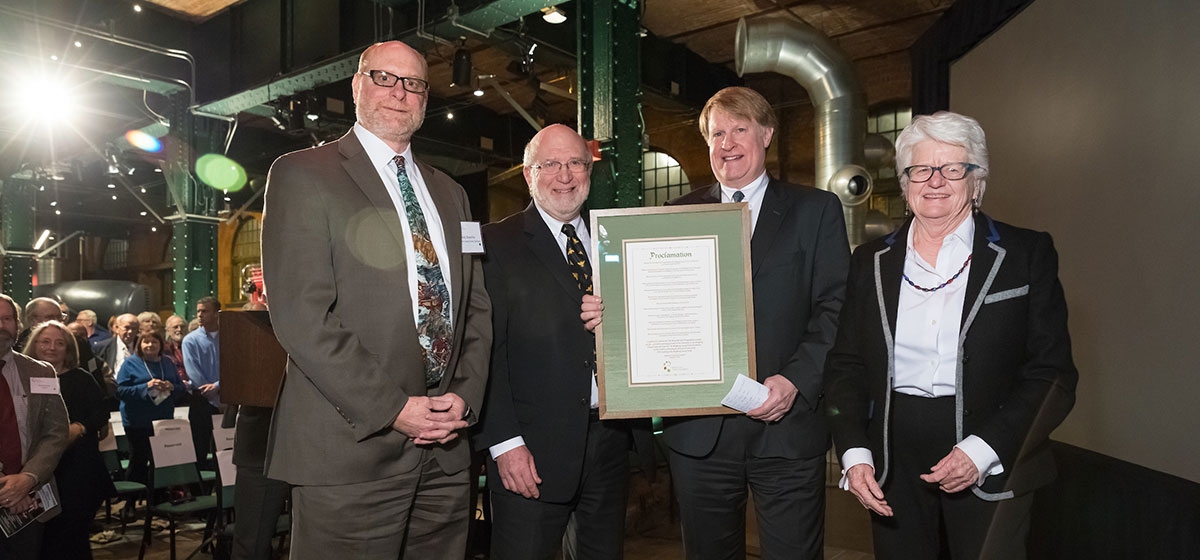 January 15, 2018
More than 200 guests celebrated the 90th anniversary of the Allegheny County Parks January 10 at an evening reception at the Heinz History Center. "90 Years of Allegheny County Parks: Celebrating their Legacy, Imagining their Future" brought acclaimed landscape architect Thomas Woltz to Pittsburgh to envision the next era for our nine county parks. Woltz, principal of Nelson Byrd Woltz in New York and Virginia, has worked in the region previously as a consultant on the Flight 93 National Memorial in Somerset.
---
---
Allegheny County Executive Rich Fitzgerald was awarded a proclamation by the Allegheny County Parks Foundation for his longtime commitment to improving the Allegheny County Parks. Mr. Fitzgerald has long recognized the key role the nine county parks, conceived as the "people's country clubs" at their founding in 1927, play to the vitality and growth of our region.
University of Michigan Professor and landscape architect Robert Grese spoke about the works of Jens Jensen, the Prairie Style landscape architect whose naturalistic aesthetic inspired the early designs of North and South Parks. The nine county parks now total 12,000 acres.
The event was made possible through sponsorships from Babcock Charitable Trust, ALCO Parking, the Heinz History Center, Allegheny County, Joy Borelli-Edwards and be galleries.