All Quiet on the Ohio—Just the Way He Likes It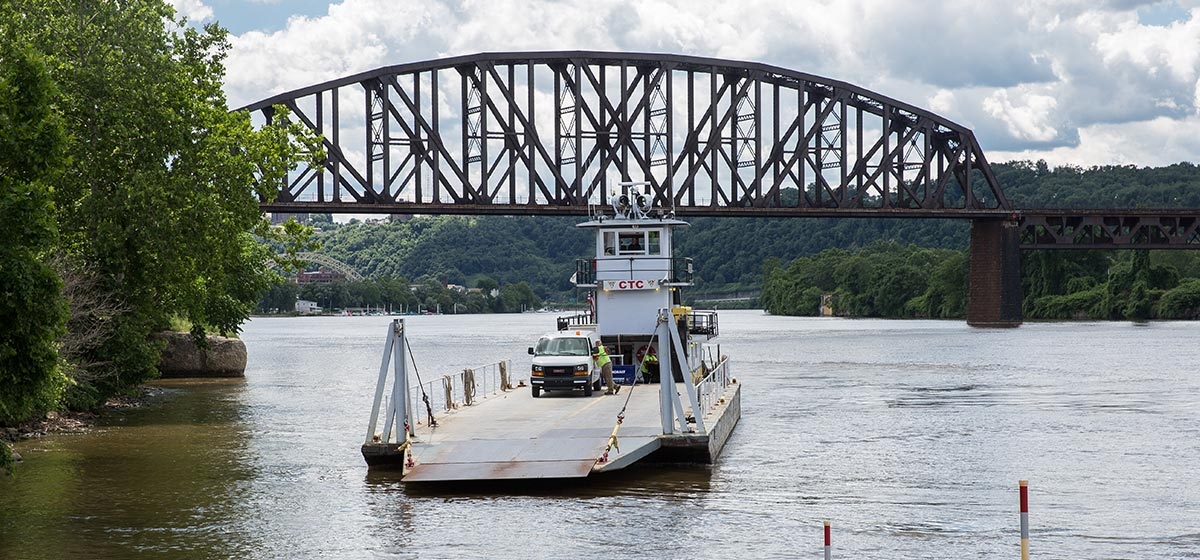 September 25, 2017
There's a lot of sitting and waiting, on a day like this. The water in the Ohio is calm, running chocolate-brown like something out of Willy Wonka's Factory. Clear, blue sky. A handful of cottony clouds skirting by. Nothing like the winter, when the damned ice ensures you can barely move. When you worry about it damaging the equipment on the 55-ft. long vessel, The CTC, which is actually 144-ft. long if you count the ferry flat.

Today is kind of boring, really. Which is good. Very good, actually. "Excitement isn't any fun," says Cory Mick. An exciting day means a long day of even longer paperwork to fill out. Cory is the captain or pilot or what are they calling it now? Master. The Master of the CTC! "We call ourselves pilots," he says evenly from behind a pair of Ray Bans.
The CTC is a tug boat operated by the Campbell Transportation Company. Technically it's a push boat, but everyone likes to say, "Tug Boat." It's currently idling in front of a concrete ramp on Brunot Island, 500 or 600 feet across the water from another concrete ramp that sits in the shadow of the Western Penitentiary on the North Side.
The sitting and waiting is for a cargo van or box truck from the Duquesne Light or NRG plants that will need to be taken to the other side and then back again to get to work on the island, deliver a package on the mainland, head out for lunch, clock back in, and then clock out for the day. On some days, Cory, and his two deck hands, Shane Hamilton and Dan "Kook" Richter (spend time with him and you might understand the nickname, Shane laughs) will shuttle, oh, like 30 times back and forth across the river from about 7 a.m. to 3 p.m. or so, American flag flapping in the wind.

Shane, Cory and Kook. Photography by John Altdorfer.
Cory's realm is his pilot house, an immaculate room with oak wainscoting that rises 29 feet above the water. He keeps an eye on either of those concrete ramps, waiting to give someone a ride. Sandwiched between the McKees Rocks Bridge and the Ohio Conn Railroad Bridge, the one where that lady drove her car off about a month ago.
Cory's brother worked on the river. "He didn't like me very well and got me a job," he smiles. But it's a good paying job, one he's been doing for more than two decades now. He, Shane and Kook have stuck together for six or seven years now. Combined, they have about 60 to 70 years of experience on the water. A job that you try to romanticize, that you want to equate to some sea captain cliché about a man not feeling one with himself unless he's on the water!
"I'm a land lover," he says.
"Really?"
"Yes."
"So, you don't own a boat?"
"No."
"Do you want one?"
"No."
This is a good paying job. Period. It keeps him local, pays the bills, is steady. It doesn't matter that he never imagined himself doing it or that he went to school to be a mechanic. And it doesn't matter that today is kind of boring, either. He's glad that he, Shane and Kook are not dealing with 3-foot-high wind waves or battling the current, which can be deadly. And the high waters, well, that's down the lower Ohio, a couple of locks down. They get the high water. Here, they suck the pool down. The Emsworth Locks and Dam controls the levels. They'll open their gates and suck the water right down if it gets too high.
People think the Ohio River is like, 100 feet deep. But really, it's more like 20 to 50 allowing for barge traffic, of which there is none today, and push/tugs like the CTC to shuttle back and forth. When the day ends around 5:30 p.m, Cory, Shane, and Kook will head to Neville Island and tie down.
Hopefully, the day will end a boring one. And the next and the one after that. No wind waves or deadly currents because it's not the water levels you have to really worry about. It's the currents. No fires, nothing sinking, no injuries. No one driving their car off the railroad bridge. No motor boats whizzing by. You'd be surprised at how many parents think it's a good idea to tie a rubber tube to their boat, put their kid in it, and try to beat you across the river.
"You get home in one piece," Cory says, "It was a good day."