Aaron Smith Takes on Big Issues in Readable "Primer"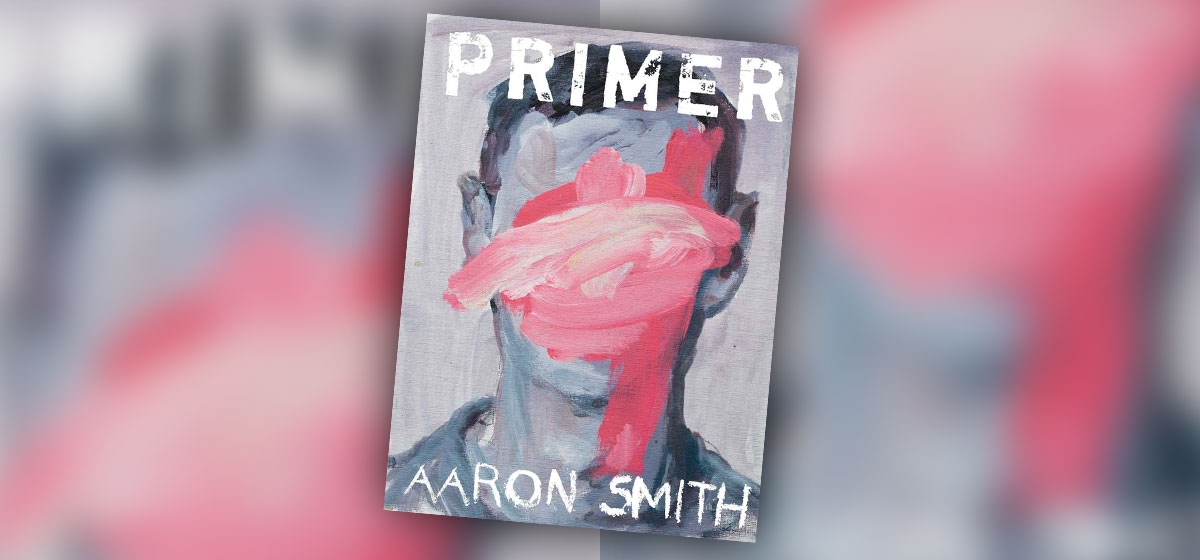 June 9, 2017
Dualism, a philosophical concept, asks thinkers to consider the relationship between mind and body, often leading to inquiries such as: What is the self? What is consciousness? Do the physical and mental influence one another? Plato and Aristotle pondered the topic centuries ago, their questions often leading to more questions as humans continue to be a riddle unto themselves. In his third poetry collection, "Primer" (University of Pittsburgh Press), Aaron Smith further explores the mind/body split in compellingly personal ways over 94 very-readable pages.
A favorite in many Pittsburgh poetry circles, Smith, a native West Virginian, is an Assistant Professor of Creative Writing at Lesley University in Massachusetts. He earned his Master of Fine Arts in Poetry from the University of Pittsburgh, and Pitt's Press has previously published his two other well-received volumes, "Appetite," and the 2004 winner of the Agnes Lynch Starrett Prize, "Blue on Blue Ground." His newest work remains stimulating and insightful, with the speaker's candid attention to the physical and mental prevailing.
In the opener, "Ruined," Smith contemplates the mixed messages of the body when he writes: "I'd never been in a fight, but I knew / I could take him. I punched Kenny Roth // on the playground. My fist smashed the bone / in his nose. A week before he'd stayed at my house, // tried to kiss me, touch my underwear. I wanted more / like he did, but didn't know what that would mean about me //… I liked the way his lip opened under my fist. / I liked what it felt like to be a man." The work here continues in this narrative vein, revealing challenges the speaker encounters in coming to terms with his sexuality.
While the subject matter of "Primer" may not be for everyone, Smith's sharp writing will be impactful and empathic for open-minded readers. He's also skillful with metaphors as evidenced in "Homosexuality," the full text of which reads: "Dad said someone shot / the albino deer, with // a gun, out of season. Eyes / pink, white fur, a reverse // shadow in dusk against / the hillside. Not in all // the years I've hunted / have I ever seen an animal // like that. It's cruel, he says, / for nature to make // such a thing, unable / to hide when hiding // is how it survives. He looks / through my eyes, then // away, he wants us to stay / ordinary men." The poem's power coming through use of enjambed lines and by smartly utilizing a sense of ventriloquism in the father's ironic observations.
With the emphasis in many poems here being physical desire and the shame it seems to bring his speaker, Smith also considers the mind's willingness to destroy the body in the long-ish "Blue Exits." It begins powerfully by stating, "I think I would take pills. // …I have a storehouse of / blue exits in my bathroom." The writing here goes from Anne Sexton-like confessionalism to a collage of famous poets' suicide notes before delving into the existential realities of suicide which include leaving behind a pet and a beloved sister. Rather than being romanticized, the tone here is rather matter-of-fact, with the reader being walked through the thought-process depression can render on sufferers.
Thankfully, Smith follows up with something more upbeat in the life-affirming "This Exact Sky," which has him ruminating on adulthood. Here, he writes, "It's summer, and you're grilling out / with friends. Everyone is love- / buzzed on red wine or beer-slurring // lame jokes about when you had hair / and T's waist size was greater than his age. / You're stoned on medical marijuana– // not your prescription—but still / this feeling is more than that." The familiarity of the scene and its message to live in the moment is a nice counterpoint to the complexities Smith explores elsewhere. The poem concludes with "It's not that you understand // your life any better, or know how / you woke up, started again. It's that / you want to be here, right here, in this // backyard under this exact sky with these / good people, and you don't want / your stupid tiny life to end." The well-crafted images here evoking a message of thanks we'd do well to consider.
The collection rounds out with popculture-influenced poems on River Phoenix, David Beckham and Jennifer Lawrence, the perspectives here further allowing "Primer" to educate readers with its big-hearted instincts and honesty, skillfully rendered, again and again.