A Well-Deserved Drue Heinz Prize-Winner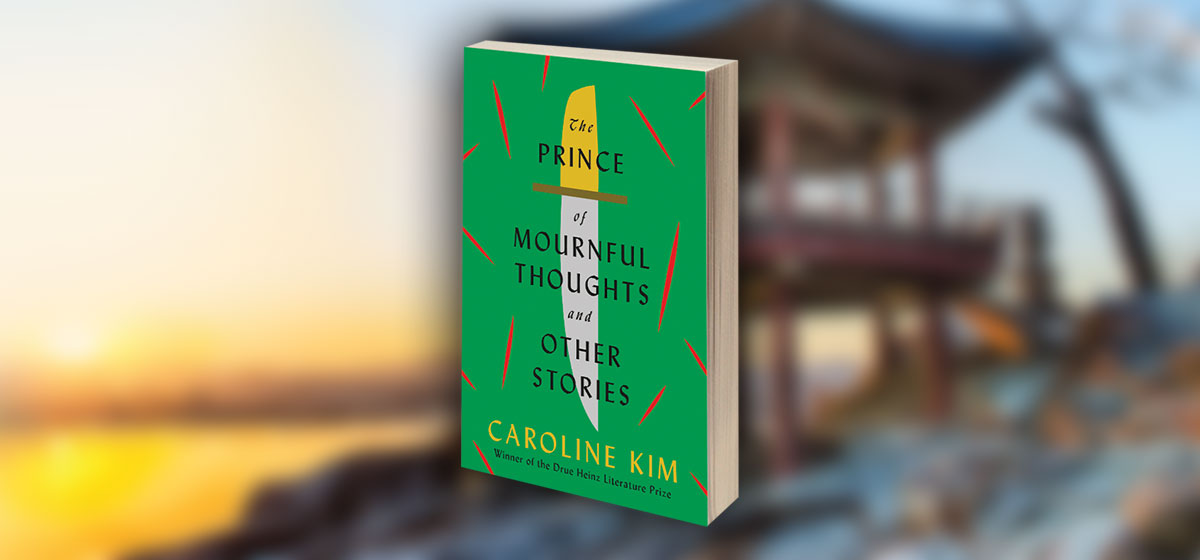 May 12, 2021
In The Prince of Mournful Thoughts and Other Stories, winner of the 2020 Drue Heinz Literature Prize, Caroline Kim offers an expansive debut collection of stories that transports the reader across continents and centuries. Kim is a gifted writer of tremendous range—each story conjures a world unto itself. Throughout the collection, settings shift from the Korean War to contemporary America, and from the Japanese occupation of Korea to New England in the 1980s. The title story, which is based on a well-known piece of Korean history, takes place in the 18th century during the Joseon Dynasty.

There are themes that bind all of the stories together, regardless of setting or era. Language and cultural barriers, the yearning for acceptance and home, and parenthood are explored in stories such as "Not Usual for Korean," about Korean immigrants grappling with the failings of their American-born children, and "Goodbye Goodbye," about a young girl's final days in Korea before immigrating.
In a collection of 12 equally strong and distinct stories, it's difficult to pick a favorite, but standouts include "Airrang" and "Lucia, Russell, and Me." The former, at its heart, is about the complexities and intimacies of female friendship and motherhood. The second-person narrator, referred to only as 'Unni' (meaning older sister) is an unhappily married woman who lives on her in-laws' farm in a small village during the Korean War. Desperate to become a mother and rebuffed by her gay, closeted husband, Unni reconnects with an old childhood friend, Suoyan, now pregnant with her fourth child. The reunion dredges up a lot of resentment in Unni, which is only exacerbated when she finally manages to get pregnant only to miscarry. Despite her jealousy of Suoyan's good fortune, Unni comes to her aid during Suoyan's own difficult labor.
In "Lucia, Russell, and Me," Kim trains her sights on a wholly different world, focusing on a young unnamed narrator who lives in a run-down apartment complex with her mother. The story follows her exploits with her best friend and neighbor, Lucia. Kim masterfully captures the narrator's irreverent teenage voice and the ache of being a teenager, filled with paradoxes: excitement and boredom, longing and aversion, brash confidence and crippling insecurity. When the duo befriends Russell, an older boy and drug dealer, the girls grow up fast, gaining new insights and a new language for their feelings. At one point the narrator observes, "I thought of what it must feel like, to live in a place that had been settled by your people for generations, to feel rooted into one spot in this whole big world." This sentiment beautifully captures what's at the heart of the book: a longing to know one's history and culture, to feel at home somewhere.
These wide-ranging stories aren't only connected thematically, but are also tied together by the thoughtful, associative ordering. Each story seems to take a small suggestion from the previous one and develop it further. Another stunner centers on a flirtatious amateur painter who is rumored to have an affair with a priest in a small Korean community ("Magdalena"). Following this, there is "Picasso's Blue Period," which begins with a father who contemplates the merits of Picasso's Self Portrait, which hangs in his pregnant daughter's apartment. And after this comes "A Change is Gonna Come," about a recent widow visiting Paris, renting a room in a house filled with paintings she finds ugly and "that don't look like anything."
Reading has always been a way to promote empathy in us for people and experiences that are different than our own. In this time of intense isolation and social injustice, where empathy seems to be in short supply, The Prince of Mournful Thoughts and Other Stories offers readers a gateway into better understanding the immigrant experience and the Korean diaspora by highlighting the universality of themes across a wide range of circumstances.