A Touch of Gray
Pittsburgh seeks new residential talent in a pool of Baby Boomers
Illustration by Stacey Innerst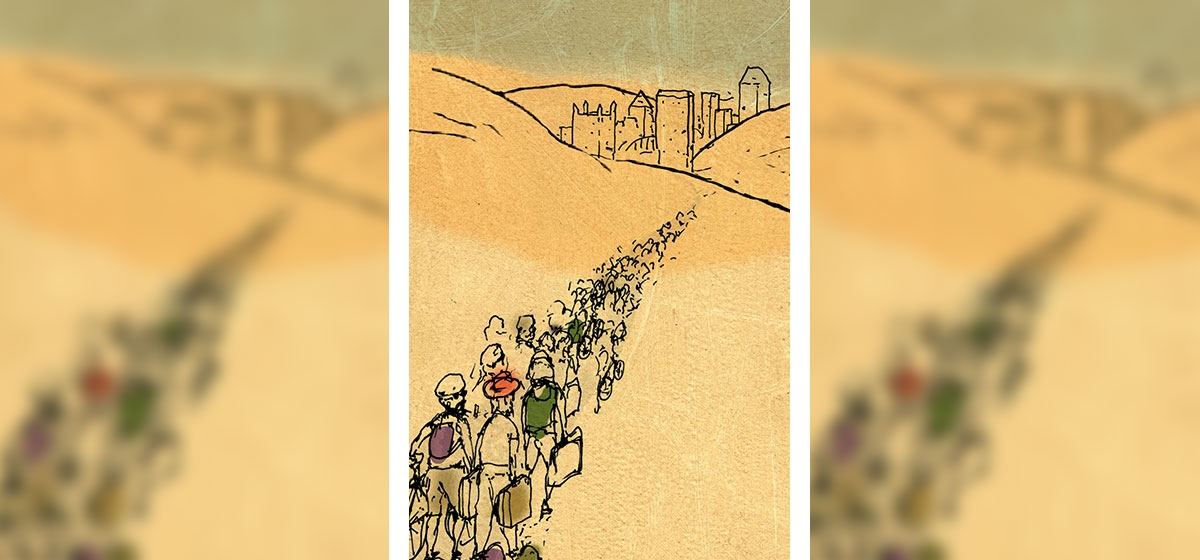 February 28, 2011
A thick report called "Boomers in the 'Burgh" arrived the other day, proposing that the city pitch AARP candidates on retiring here. The newest twist on the most-livable-city theme rang a bell.

Back in the day, I wrote copy for a local inventions marketing firm, detailing the vast potential for improbable new ideas at $25 a pop (just about what so-called content providers make now). Practically every concept, from roll-on shingles to instant wine, got the same optimistic treatment: "There are millions of Americans who ____ (insert 'own roofs' or 'drink wine'), creating a massive demand for your product! Riches are right around the corner!"
The upbeat study by Scott Frost and Steve Zecher for the Jewish Healthcare Foundation reminds me a bit of those days (10,000 Boomers retire every day! Over two million will relocate while between age 45 and 64!) But to its credit, the report commissioned by JHF and the Buhl, Benedum, and Pittsburgh foundations thinks small. It supposes that only a modest number of Boomers could relocate to the Burgh, but that they'd bring boatloads of income and ideas to the local scene.
"I'm the evil force behind this—my wife and I will retire here," says Fred Thieman, Buhl's president. "I need to be around a city." Over the past few years, Thieman, age 59, has become fascinated by college towns that attract retirees for their affordability, cultural connections and safety. "Asheville, State College, Ann Arbor, Princeton," he says, ticking off some genteel examples. When Kiplingers.com named Pittsburgh last June as one of five great cities for retirees (along with sunnier Charlottesville, Va., Melbourne, Fla., Dothan, Ala., and San Francisco, Calif.), Thieman wasn't surprised.
The Kiplinger ranking was one more leaf for Pittsburgh's livability laurels: great for families, entrepreneurs, working mothers, outdoor adventurers, and relocating business types. Clean? Affordable? We knew that. Low crime? "Pittsburgh is the safest city in the United States," says Thieman, former U.S. attorney for western Pennsylvania. "If [luring retirees] can happen in an urban center, where better than Pittsburgh?"
The JHF authors tested the basic premise of the idea. "Is an effort to interest older people in relocating here detrimental long term, or viable? The study answered that in spades," says Thieman, "for two gigantic reasons."
The first: it ain't just sunshine. In national surveys, 39 percent of Boomers say that family and friends, not climate, are their No. 1 reason to relocate. Second: remember that pesky diaspora? The region lost nearly 50,000 people a year, many of them young workers, during the early 1980s. Because it lost more people then, Thieman theorizes, Pittsburgh could draw a bigger pool of older returnees now.
Meanwhile, the recession has hit former retirement havens such as California, Arizona and Florida with particular force; Florida's population is actually shrinking for the first time since World War II. As their economies tank, higher taxes are inevitable. Pennsylvania, by contrast, looks fairly stable, particularly for older taxpayers. With pensions untaxed, plus homestead, school, and property tax exemptions, Pennsylvania ranks in the lowest third for state tax bites on retirees.
But not all prodigals—or Boomers—are equal. The folks worth pursuing, suggests the JHF report, are those with incomes over $70,000 a year who were born later than 1955. The JHF report says Pittsburgh could reasonably attract about 1,250 people, or 0.27 percent of the cohort. But their above-average spending, an estimated $3.6 billion over the next 20 years, will fuel the local economy and add one job for each new Boomer household.
Wealthier young elders will contribute more than money. Though they may not need the income, they'll be more likely to keep working, start new businesses, or volunteer, as well as consume the cultural/recreational scene.
This may mean a lot more wide loads in spandex than we'd prefer to follow on riverfront bike trails, streets paved with gold in the Cultural District, or a sudden tsunami of more restaurants. It's done all that and more for Asheville, N.C., which has coordinated the growth of its University of North Carolina campus with a strategy to welcome Boomers.
"It was intentional. We wanted a differentiator for the university itself, which is relatively young," explains David Brown, the former UNC-Asheville chancellor who proposed the North Carolina Center for Creative Retirement (NCCCR) there in 1987. The program, similar to the Osher Lifetime Learning Centers at the University of Pittsburgh and Carnegie Mellon University, offers classes, events, and opportunities for civic engagement, and has helped speed the arrival of newcomers to the mountain town of 77,000.
"We're wealthier," he says of the results. "For cultural events, the ticket buyers are predominantly older adults. They're also on [arts] boards, giving 80 percent of the support. That's incredibly significant. And we now have 600 restaurants in the county—this is a population that is more prone to eat out." Old-and-restless CEOs have also plunged into new business roles as investors, advisors and entrepreneurs.
Unlike a certain post-industrial town, Asheville is what Brown terms "a discretionary living location—kids living off their grandparents' trust funds, college students, tourists. But they all chose Asheville because of the diversity of culture here, all different kinds of people." Twice-a-year pre-retirement weekends sponsored by the NCCCR convince nearly half the attendees to retire in the area.
Maxwell King, a former Philadelphian who led The Heinz Endowments for nine years before retiring in 2008, likes Pittsburgh's chances in the retirement game. He says working people relocating to Pittsburgh find a compelling sense of community that convinces them to stick around later. "It's a beautiful city in a beautiful part of the country. It's got a great arts and culture environment, as strong as there is in any city I know, with great universities and colleges. But those aren't the things that keep people here. While mobility, media, and the breakdown of families have lessened the sense of geographic community, it's still really, really strong in Pittsburgh. It's quite distinctive."
Leadership Pittsburgh has been tapped to run the $100,000, one-year pilot to create a buzz about Pittsburgh's retirement virtues. Thieman envisions an agile, high-tech effort (bye bye, Border Guard Bob) that takes advantage of Internet search engines and social media and carefully measures the response. Nathan Martin of DeepLocal and some affiliates of Maya Design are advising, and alumni of the Leadership Pittsburgh program (some 1,600 in the target demographic) will be invited to help.
Does the city need a new chorus to recite the litany of Pittsburgh's charms? Aradhna Dhanda, CEO of Leadership Pittsburgh, says it's not the message, but the audience, that differs. "Every product markets itself differently to different segments, [though] the product remains the same," she says.
Thieman says outreach to Boomers won't cancel out ongoing efforts to woo Millennials. "For young people, it's all about jobs. They have debt, and not much spare time. Attracting them here is a long-term strategy. For the short-term, say, five years, Boomers bring money and volunteer time, and there's no requirement for jobs. It's the way to go," he says. "Every city across the U.S. wants to attract young people. In Pittsburgh, the young people want to attract the old."
And those kids living off their grandparents' trust funds? Sure. We'll take them, too.