Fit vs. Fat vs. Finances
Fit vs. Fat vs. Finances
Illustration by Cathy Rubin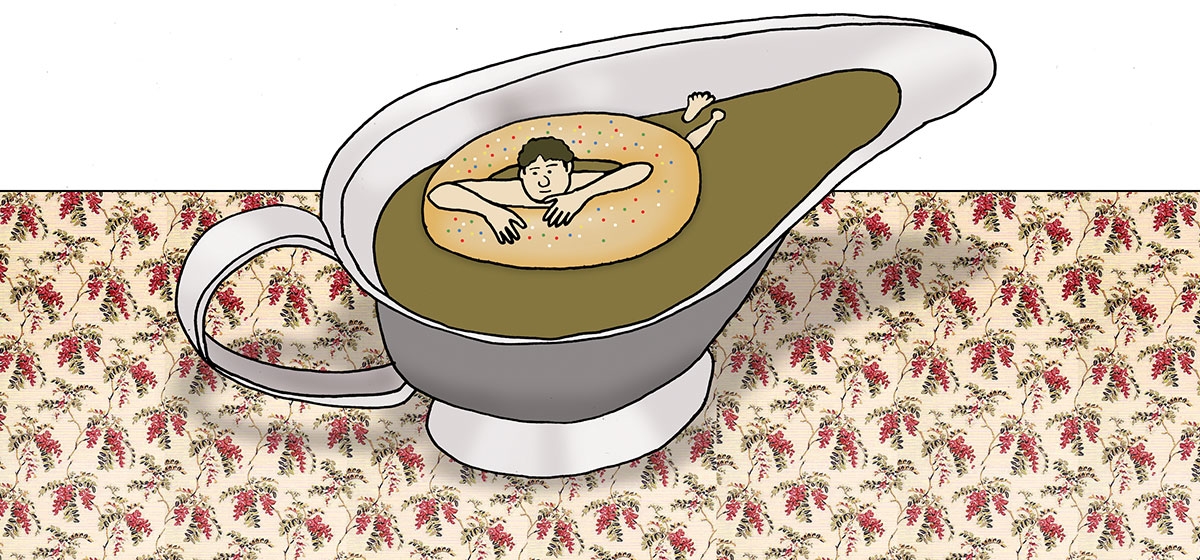 November 24, 2008
Every saturday, I sit in somber amazement and watch some tattooed, wide-body pile on his body weight in eggs, biscuits and sausage gravy onto a plate fresh out of the warming tray. My favorite part comes when he douses the whole monstrosity in cheese sauce.

My incredulity is only matched by my waitress's when I order one poached egg and rye toast.
"Is that it?" she asks in utter disbelief. "Yeah, that's it. I really don't want the postal service to issue me my own ZIP code."
So it goes in Pittsburgh family dining establishments, as well as every other such restaurant across the country. If you want evidence, just watch a couple of episodes of "Diners, Drive Ins and Dives" featuring your spiked-haired and body-art-adorned host Guy Fieri as he describes anything dripping in pork fat as "money."
Let's face it, Pittsburgh is a tubby town. According to an analysis in Forbes magazine, Pittsburgh is the 14th most sedentary city in the nation: 23 percent of Pittsburghers don't exercise, and 62 percent are either overweight or obese.
Conventional wisdom says poor people are more overweight and sedentary because they lack the means to eat right and work out. In his book, Fatland, health journalist Greg Critser says fat "disproportionately plagues the poor and the working poor."
According to CityData.com, Pittsburgh's per capita income of $38,717 ranks 48th among the top 50 cities in the U.S. Memphis, Tenn., which Forbes cited as the No. 1 fatty city, has a per capita income of $33,234. So, it seems to follow that the lower the per capita income, the fatter the people.
But are we really chunky because the cost of healthier food is much higher than a super-sized diet? I wondered and thought I'd check it out.
Of course, after years of paying attention to health news and the latest diet crazes, I have learned a few things. For instance, it's clear that you can stay pretty healthy if you eat one third veggies, one third grains and one third protein—keep away from the red meat and fried foods. It's also pretty clear that losing weight is basically a math problem. Burn more calories than you eat.
In this regard, the USDA's online calorie calculator says that an average man in his mid-40s who exercises moderately should consume about 2,700 calories a day. Sorry ladies, but a woman with those characteristics should consume about 2,050 calories a day.
Would it be more expensive to live that way—i.e. healthily? I visited Giant Eagle for a random and admittedly unscientific shopping trip, and when I finished, I was surprised. It seemed to me that eating healthy food costs no more than eating unhealthy food. In fact, the lower-fat, lower-sugar versions of food seemed to be priced almost exactly the same as their less-healthy brethren.
A tube of regular chips was the same price as a can of fat-free chips. Diet soda was the same price as regular soda.
Fish was cheaper than red meat, ranging from $6.99 to $14.99 per pound, compared with roughly $14 and up per pound. Chicken was the cheapest, at $1.99 per pound.
A gallon of whole milk was a little more expensive than fat-free milk. Packaged, sliced cheese was a little more expensive than its fat-free counterpart.
The sugary kid's cereal and raisin bran were almost exactly the same in price. But they were close in calories. The fiber content was much higher in the bran cereal, which makes it more desirable from a health standpoint.
And plain vegetables were less expensive than those doused with cheese and butter. Dolled-up veggies were selling for a little over three bucks. The healthier yet more boring version of the same vegetable was selling for a little more than two bucks.
I also visited Eat 'N Park, McDonald's, Subway and Au Bon Pain. Salads and salad bars seemed to be within the same price range as burger meals or meat sandwiches. The meals all seemed to hover around $5 to $6, whether they were healthy or high fat.
A healthy bowl of oatmeal at Au Bon Pain was pretty close to the cost of an egg and cheese breakfast sandwich.
So it doesn't seem to be the food costs that are the problem. In fact, eating healthily may cost a little less. Maybe it's access to exercise, or the cost of it here.
Greater Pittsburgh is pretty much a land-locked city with more than 900 highway bridges and a population spread out over Allegheny County. So we are not a walking city, such as New York, Chicago, Toronto or Boston. But we do have a lot of public places to run or walk, such as North Park, South Park and Schenley Park. In fact, western Pennsylvania has more than 200 miles of operating trails. The biggest of those are five major running trails in the area: the Montour Trail, the Steel Heritage Trail, the Three Rivers Heritage Trail, the Youghiogheny River Trail North and the Youghiogheny River Trail South.
A $120 investment in running shoes, a jogging suit, shorts and T-shirts can get you going on that. Not to mention the fact that you can walk to the bus and back from home and take the stairs.
Swanky health club memberships might be out of the question for lower-income folk, but community YMCAs offer some pretty nice deals. Monthly YMCA memberships can be obtained for a little over $40. And the Greater Pittsburgh YMCA also has a financial assistance program. So while Pittsburgh isn't the most affluent city in the U.S., economic station doesn't seem to be the reason why we are so broad in the beam.
Maybe the culprit is our traditions. The Steel City was one of the true melting pots of this melting pot nation. Different cultures came here to work the mills and the mines, doing back-breaking work that burned thousands of calories a day. According to a calorie burn calculator on nineMSN.com, seven hours of pick- and-shovel labor burns almost 3,000 calories; seven hours of unloading freight cars almost 4,000 calories; driving and unloading a truck 4,200 calories. In contrast, sitting at a desk all day only burns 820 calories.
In a lot of ways, our food culture never left us. We're a shot-and-a-beer town that likes its pierogi, cheese-steak sandwiches and hot sausages.
But we stopped doing hard-labor jobs a long time ago. We are now a center of technology, financial services and health care. And we're going to need it as our chubby offspring grow into adulthood and face diabetes, heart disease and cancers that are brought on by obesity.
So let's make a New Year's resolution that we'll actually follow. For such a sports-centered town, instead of watching the games, maybe we ought to become part of it.
Just do it! And easy on the cheese sauce, OK?