Word Brains
Meet the experts at Scrabble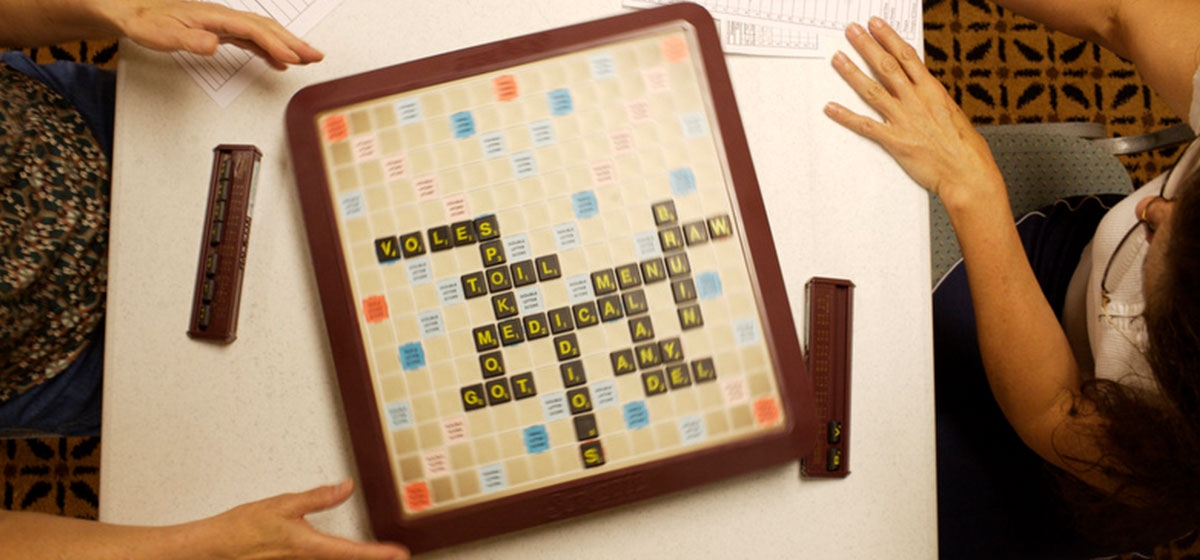 November 20, 2009
No two games of Scrabble are ever the same. But when the Pittsburgh Scrabble Club convenes on Wednesday nights, there's a scene that replays itself over and over again. "Someone will show up for the first time and say 'I'm here because nobody in my family wants to play me. They're all tired of me beating them,'" said Stan Angrist, 76, co-director of the Pittsburgh Scrabble Club.

"Sometimes they're cocky. But usually, when they sit down and play one of our members, they end up losing by a big margin. A lot of them just don't come back. Playing Scrabble at the kitchen table with family members isn't what we do."
For someone looking to play a more competitive brand of Scrabble, however, the Pittsburgh Scrabble Club probably is the place to go—provided you're willing to take your lumps in the beginning and are willing to do plenty of studying.
"If you want to get good at Scrabble, you have to study," said Angrist. "You don't become a good player because of natural ability. You don't know enough words. To get good, you need to know a lot of words, you need to know a lot of Scrabble strategy."
To help new members with the study part, the Pittsburgh Scrabble Club hands out a "cheat sheet" and a list of 101 two-letter words with definitions from the National Scrabble Association's Official Word List for tournaments and clubs—everything from "aa" (a rough, cindery lava) to "za" (a pizza).
Co-directors Angrist, a Squirrel Hill resident, and Terry Schroeder, of the South Side, will tell you it's imperative to memorize all the two-letter words, as well as get used to playing with a clock. During club and tournament Scrabble games, each player has 25 minutes to make all their moves.
The cheat sheet contains a list of three-letter words, short j words (like "jo" and "haj"), as well as short q, x and z words. The letters j and x (8 points) and q and z (10 points) are worth the most in Scrabble.
The cheat sheet also contains words with a lot of vowels (like "eau" and "aalii"), words with a lot of i's and u's and the most common seven-letter words. In Scrabble, when you use all seven of your letters during a turn, it's called a bingo, and an extra 50 points are awarded. The top Scrabble players average almost two bingos a game.
In the Pittsburgh area, the top two players are Brendan Sullivan, 25, a graduate math student at Carnegie Mellon University, and Dorcas Alexander, 48, coordinator of technical training for the business center at the law firm of Reed Smith.
Sullivan, a Shadyside resident, is ranked the fourth-best player in Pennsylvania by cross-tables.com and 273rd nationally by the National Scrabble Association, while Alexander, a mother of three from Bethel Park, is 10th in the state and 352nd nationally.
So, how did these two become so adept at the popular board game (more than 100 million sets sold in 121 countries) that was invented by New York architect Alfred Mosher Butts in the 1930s and now is found in one out of every three American homes?
Sullivan said he liked Scrabble from an early age, playing against family and friends while growing up in Shrewsbury, Mass. Then, as a sophomore at Hamilton College (Clinton, N.Y.), he showed up one night at the Mohawk Valley (N.Y.) Scrabble Club, where he received a rude awakening.
"I lost all three games I played the first day, two of them to these older ladies," remembers Sullivan. "It was demoralizing. I wanted to keep playing, so I knew I had to get better." He began playing Scrabble online, memorizing words and reading up on strategy. He now averages better than 400 points and has had three games of more than 600, with a high-game of 660. In June 2008, Sullivan finished first and won $450 in the top division of Pittsburgh's Three Rivers Revival Scrabble Tournament, besting 11 other players, including a player from Michigan, ranked 261st nationally. He previously competed in the lower divisions of national championship tournaments in Reno, Nev., in 2005, and Phoenix, Ariz., in 2006.
Sullivan, who is working toward a Ph.D. in applied analysis for mathematics, is a Scrabble player to keep an eye on as far as the national scene is concerned. He has been steadily moving up in the rankings. Although his play has been somewhat limited in recent months because of school studies, his overall record in Pittsburgh Scrabble Club matches is 141­–3 (98 percent wins).
"One of the advantages that Brendan has is that he is a grad student in math," said Schroeder, 61, who took on her duties as co-director with the Pittsburgh Scrabble Club three years ago. "When you start to play in the upper echelon [national] tournaments, it is as much a game of statistics and probabilities as it is word knowledge."
Alexander, who like, Sullivan, averages better than 400 points a game, joined the Pittsburgh Scrabble Club nine years ago. "When I first started out, I wanted to play the best [players] because I knew they were the ones I'd learn from," she said.
Obviously, that strategy has paid dividends.
"I have a math brain and a word brain," said Alexander. "The two combine to make me a good player."
While luck in picking letters is a factor in Scrabble matches, "a really good player beats you almost every time, no matter what letters you get," said Dennis Gallagher, 62, of Bellevue, a Pittsburgh Scrabble Club member for about two years.
Both Sullivan and Alexander use Web sites that help improve their word knowledge, anagram ability and game strategy.
Among the top players, "word knowledge" doesn't necessarily mean knowing the definition of a word, but recognizing that it is a word. Under Scrabble rules, a player who puts down letters that aren't an official word can be challenged, lose their points and next turn. Bluffing is part of the game at the club and tournament levels, but Sullivan said he doesn't try it very often. "Brendan puts down words and I'll ask him, 'What does it mean?' And, he'll just shrug his shoulders. Then, I'll end up going home and looking it up," said Schroeder. "I remember after one of Brendan and Dorcas's matches, they were sitting around doing this postmortem. I came over and was looking at their board. There was a seven-letter word—flokati—that Brendan had used. I knew it was a rug. So I said, 'Brendan, do you know what flokati means?' He didn't have a clue."
Sullivan readily admits he doesn't know the meaning of some of the words he uses. He said he can see where a casual Scrabble player might look at words like "ka," "sh" and "pht" and say 'This is a word? I can't accept that.' "
But in the world of club and tournament Scrabble, every word on the Official Word List is valuable.
"I relate it all to chess. You pick up the rook or the knight and you move it this way or that way," said Sullivan. "Instead of playing chess pieces, I'm playing words. That's how I think." Sullivan adds, "If you have a big vocabulary, you'll do better. Beyond that, it comes down to memorizing long lists of words, shuffling letters in your head, problem solving, logic, probability. What separates the best players is their strategy."
Right now, the best player in the world is Nigel Richards, 42, of Kuala Lumpur, Malaysia, the reigning world champion. He took the title in November 2007, topping 103 other competitors in Mumbai, India. He pocketed $15,000 after 24 exhausting rounds and four days of competition. Richards has career earnings of $135,567.
Dave Wiegand, 35, of Portland, Ore., captured the U.S. national championship this past August in Dayton, Ohio, and won $10,000. He has career earnings of $87,374.
Alexander said she has no illusions about ever moving up to No. 1. With a full-time job and family, she said, "I don't have time to be No. 1 in the country."
She said when she first started playing with the Pittsburgh Scrabble Club she studied much more, but that playing the game is still a challenge and the "primary challenge is to do better."
Sullivan does dream of one day climbing to the top of the Scrabble mountain, or at least making a big impact in the national rankings. He points out that most national and world champions at the Division I level had years of experience under their belts before striking it big.
"If you play golf, the ultimate is getting a hole-in-one," said Sullivan, who did play for his college golf team. "If you do get a hole-in-one or make a great shot, you want to come back and play more golf so you can do it again. In Scrabble, I can remember these great moves of mine. The more I play, the more chances I have of doing it again."
The Pittsburgh Scrabble Club meets Wednesday nights in Squirrel Hill. For more information contact Stan Angrist (412) 422–7878. The South Hills Scrabble Club meets Saturdays (1–3 p.m.) at the Mt. Lebanon Public Library. For more information contact Bob Hagerty (412) 417–5415.