Voter Registration High Despite Pandemic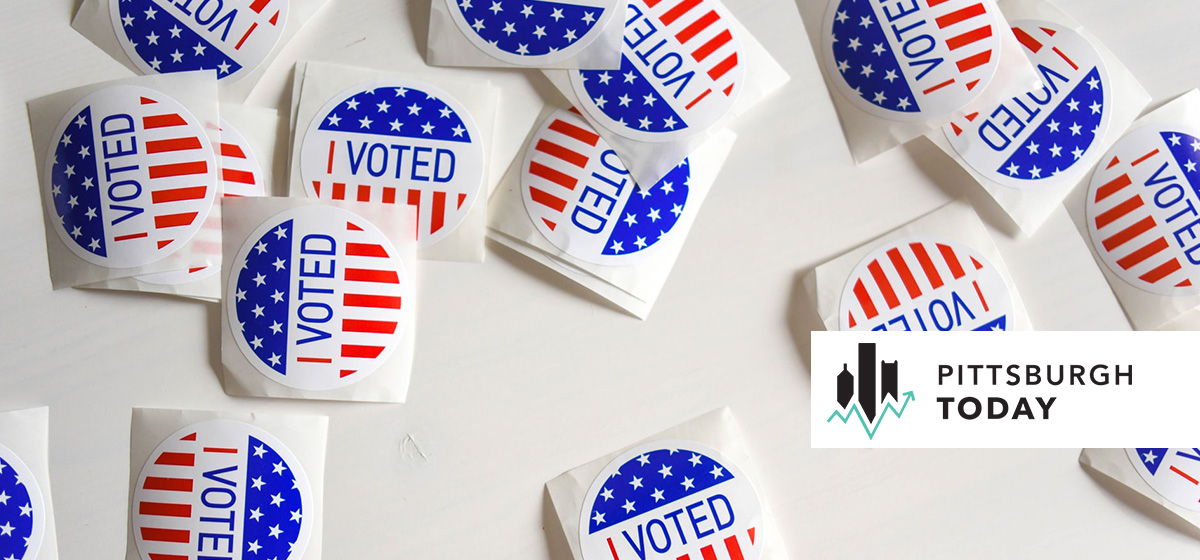 August 3, 2020
Voter registration in southwestern Pennsylvania and across the state could surpass totals seen in the last presidential election year even as the coronavirus disrupts tried-and-true tactics for reaching and registering new voters.

With three months left to register, Pennsylvania is 80,000 voters shy of surpassing the total number of registered voters who were eligible to cast ballots in the November 2016 general election.
Pennsylvania ended July with 8,643,015 residents registered to vote, which is greater than the total number who registered for presidential-year general elections in 2000, 2004 and 2012, according to Pennsylvania Department of State data.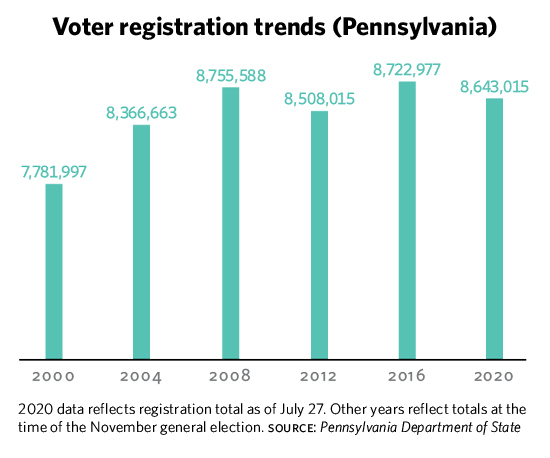 In southwestern Pennsylvania, 24,000 residents need to be added to the voter rolls in the seven-county Pittsburgh Metropolitan Statistical Area to surpass the region's 2016 registered-voter total.
By August, nearly 1.66 million had registered to vote in Allegheny, Armstrong, Beaver, Butler, Fayette, Washington and Westmoreland counties.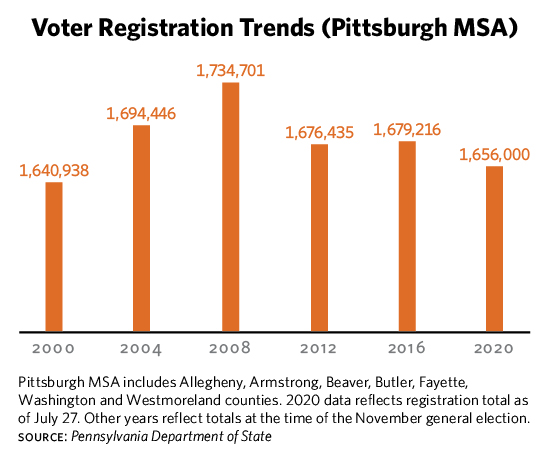 Home stretch
Some 90,000 voters were added to statewide registration rolls from April through July of this year. At that rate, statewide registration would top 2016 totals by the time the November general election rolls around.
It would also stand an outside chance of surpassing the 2008 presidential election, when a record 8.76 million Pennsylvanians registered to vote in the race that featured Senators Barack Obama and John McCain. To do so would take adding more than 112,000 registered voters statewide before November.
In a presidential election year, registration rolls tend to get a healthy bump in the fall from increased get-out-the vote efforts and last-minute applicants. But this is not a typical year.
The coronavirus has complicated new-voter registration efforts and raised concern over how the pandemic will influence voter participation. Social distancing restrictions on public gatherings, for example, have limited canvassing of high-traffic areas such as farmer's markets and college campuses, which had been one of the most effective tactics for engaging unregistered voters.
The deadline for registering to vote in Pennsylvania was extended to the end of October under election reform legislation signed into law last year. The state also enables residents to register online.
Democrats hold a registration edge in Pennsylvania, accounting for 47.5 percent of registered voters as of July 27. Another 38.4 percent are registered Republican and 14 percent are affiliated with other political parties or have no party affiliation.