Van Wyk, Hackler, McAllister-Lucas, Behler, Dalling
Professionals new to Pittsburgh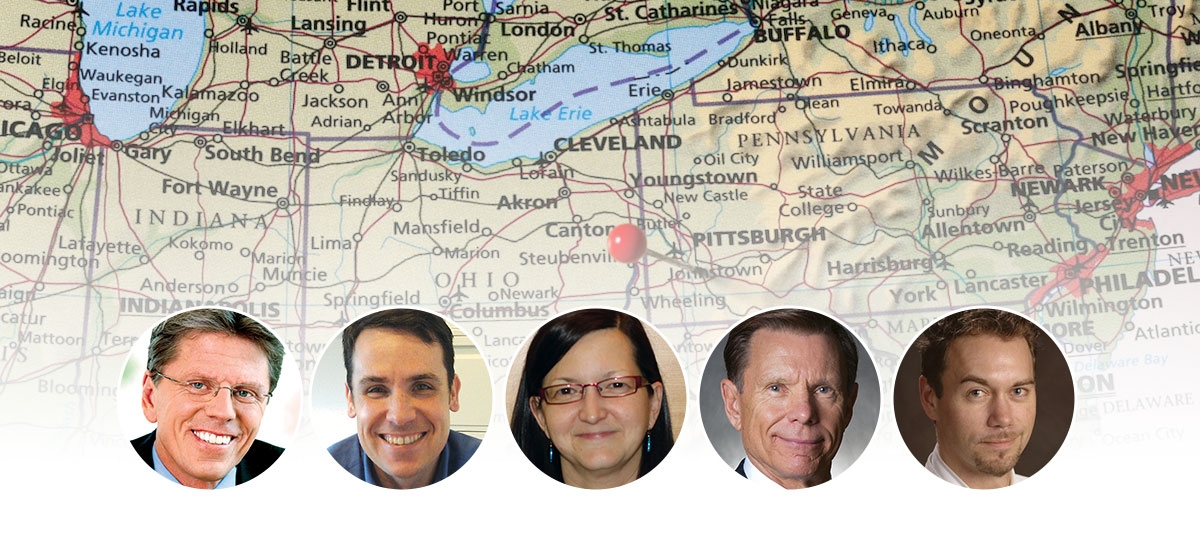 February 21, 2013
Steven Van Wyk is head of operations and technology at PNC Financial Services Group. He succeeds Tom Whitford, who will retire in March. A native of Iowa, Van Wyk comes to Pittsburgh from Amsterdam, where he was global chief operating officer for ING. Previously, he held several positions at Morgan Stanley including global CIO and global head of operations & technology for the retail division. Van Wyk earned a bachelor's degree in business management and accounting from Central University of Iowa. He is a CPA and a certified internal auditor. Van Wyk and his wife, Shelia, expect to live Downtown.

Matt Hackler is director of development at the Carnegie Museum of Art. A native of Lafayette, La., he comes to Pittsburgh from Dallas, where he was director of development at REAL School Gardens, a nonprofit that helps teachers in low-income schools improve learning by engaging students outdoors as part of their regular instruction. He has a bachelor's degree in English from the University of Minnesota, a master's in arts administration from Columbia University, and a Ph.D. in English from the University of Louisiana. Hackler lives in Dormont.
Dr. Linda McAllister-Lucas is chief of the division of pediatric hematology and oncology at Children's Hospital. A native of Northbrook, Ill., she comes to Pittsburgh from Ann Arbor, Mich., where she was on the faculty of the University of Michigan Medical School. She has a bachelor's degree in chemistry from Carleton College and an MD and Ph.D. in molecular physiology from Vanderbilt University. She completed a pediatric residency and pediatric hematology and oncology fellowship at the University of Michigan. Dr. McAllister-Lucas lives in O'Hara with her husband, Dr. Peter Lucas, and their son.
Robert Behler is the COO and deputy director of the Software Engineering Institute, a federally funded research and development center operated by Carnegie Mellon University. Previously, Behler was president and CEO of SRC, a nonprofit research and development corporation with a for-profit manufacturing subsidiary. He retired as a major general from the Air Force in 2003, after 31 years of service; he was the principal C2ISR advisor to the secretary and chief of staff of the USAF, and the Deputy Commander for joint NATO headquarters in Norway. He was an experimental test pilot and flew more than 65 aircraft types including the SR-71 Blackbird and U-2. A native of Rome, N.Y., Behler has a bachelor's and master's in aerospace engineering from the University of Oklahoma and an MBA from Marymount University. He and his wife, Naomi, live Downtown.
Jason "JD" Dalling is the executive chef of the Fairmont Pittsburgh. A native of Vancouver, he comes to Pittsburgh from the Fairmont, Washington, D.C. He began cooking professionally at age 14. He joined Canadian Pacific, the precursor to Fairmont Hotels & Resorts, in 1992 and also has worked at The Fairmont Hotel MacDonald and The Fairmont Jasper Lodge. Dalling got his Journeyman's Red Seal Certificate from the Northern Alberta Institute of Technology, in Edmonton, Alberta, Canada. He lives with his family in Dormont.