Vaccinations, Fewer Cases Brighten COVID Outlook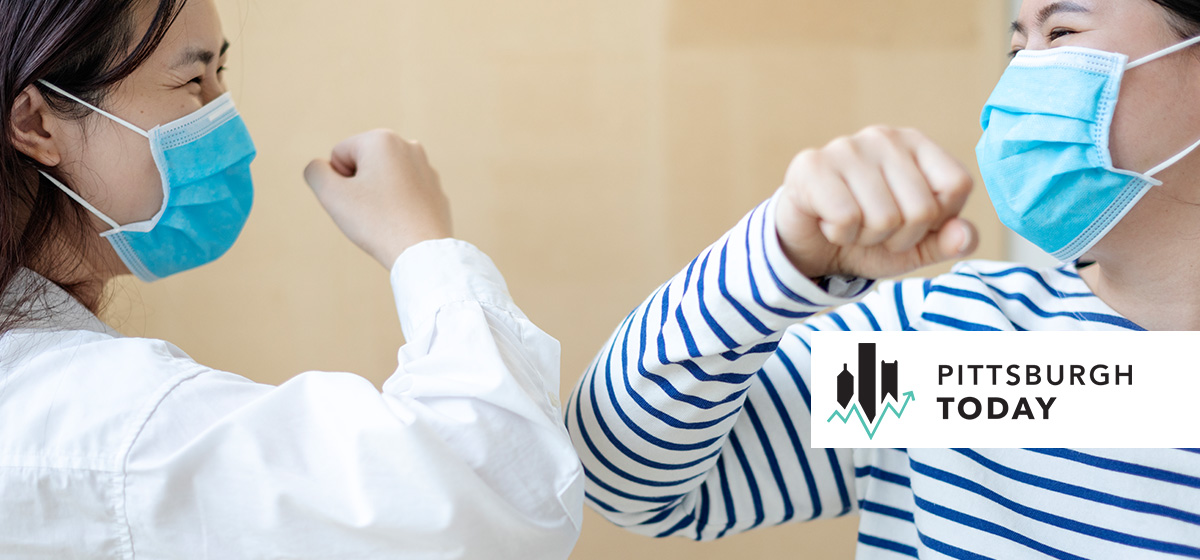 May 12, 2021
Last month saw more encouraging signs that southwestern Pennsylvania is turning the corner in the battle to regain normalcy after a year of living under the COVID-19 pandemic.

More than 2 of 3 people have been vaccinated against COVID in Allegheny County, one of the highest rates in Pennsylvania, according to state Health Department data.
With more people vaccinated, COVID cases in the region have recently slowed. New COVID cases reported in the seven-county region fell 15 percent at the end of April from the numbers seen two weeks earlier.
Meanwhile, southwestern Pennsylvanians are increasingly resuming pre-pandemic behaviors, local surveys suggest.
Shot in the arm
Nearly 67 percent of people aged 15 years and older in Allegheny County were at least partially vaccinated at the start of this week. Only Chester County in eastern Pennsylvania had a higher rate. Statewide, vaccinations had been given to 52.5 percent of that population.
The willingness to get vaccinated has changed dramatically in southwestern Pennsylvania in the seven months since the first vaccine trials suggested effective shots could be manufactured.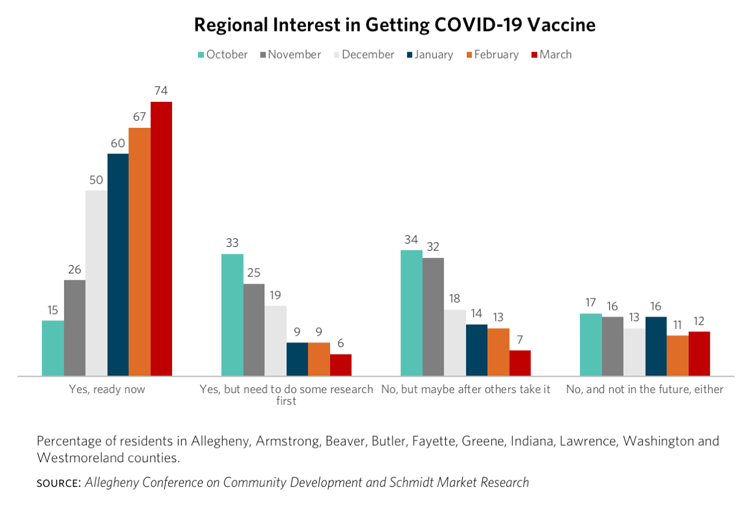 Last October, 15 percent of people in the region wanted the vaccine, according to a regional survey done by the Allegheny Conference on Community Development and Schmidt Market Research. By March, 74 percent wanted it without hesitation and only 12 percent said they won't get vaccinated no matter what.
All but two counties in the region have a vaccination rate above the statewide average. As of this week, only Beaver and Fayette counties continue to struggle to vaccinate at least half of their 15-years-and-older population.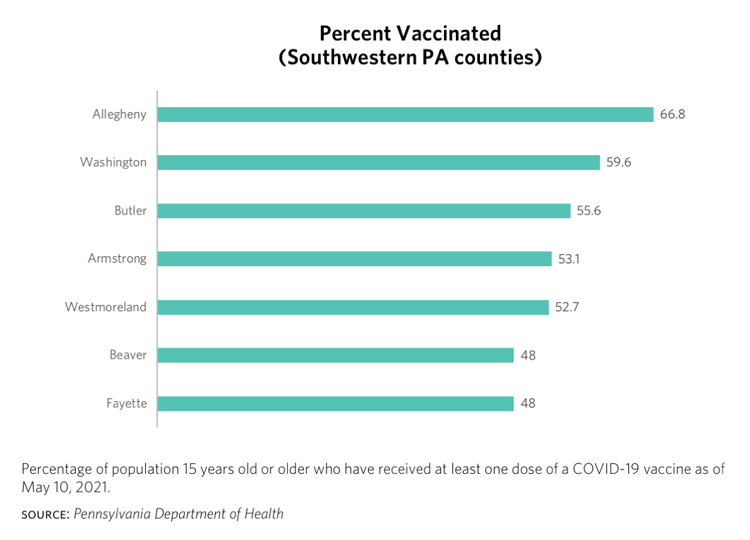 Cases decline
New cases reported daily in the region continue to be higher than the numbers reported one year ago. But, after peaking in the wake of the New Year holiday, cases have slowly declined. It is a trend seen across most of America.
COVID caseloads in southwestern Pennsylvania compare favorably to those reported in other U.S. metro regions. That has largely been the case throughout the pandemic. And April was no exception, according to COVID data collected by Johns Hopkins University.
Allegheny County, the principal county in the region, had 7,799 cases per 100,000 people at the end of April. That was 24 percent lower than the national average of 9,657 cases per 100,000 people. Only the counties that encompass Seattle and Austin had lower rates of COVID cases than Allegheny among the 16 metro regions tracked by Pittsburgh Today. Davidson County, Tenn., home to Nashville, had the highest rate, reporting 12,714 cases per 100,000 people.
In southwestern Pennsylvania, Westmoreland, Fayette and Armstrong counties had the highest number of new coronavirus cases per capita on April 21.
Eager for normalcy
Southwestern Pennsylvania residents are eager to return to pre-pandemic activities and many have begun doing so, monthly surveys published by the Allegheny Conference suggest.
Some 52 percent said they're now comfortable returning to their workplace and another 12 percent said they'll be comfortable doing so by the end of this month. And 52 percent report that they've already begun dining indoors in restaurants with only 19 percent saying they'll wait until all COVID restrictions are lifted before doing so.
Even activities that people were extremely hesitant about doing last year are gaining popularity. Last July, for example, only 10 percent of people in the region were willing to attend large events, such as concerts and ball games. Last month, 42 percent said they're ready to embrace such activities again.
"I think the summer will show the possibilities of having more restrictions lifted, more people vaccinated and a high appetite to go to concerts, events and to travel," said Vera Krekanova, chief strategy and research officer at the Allegheny Conference.