Anatomy of a Rescue
Maxwell King, head of The Heinz Endowments, died and came back to life—thanks to a little help from his friends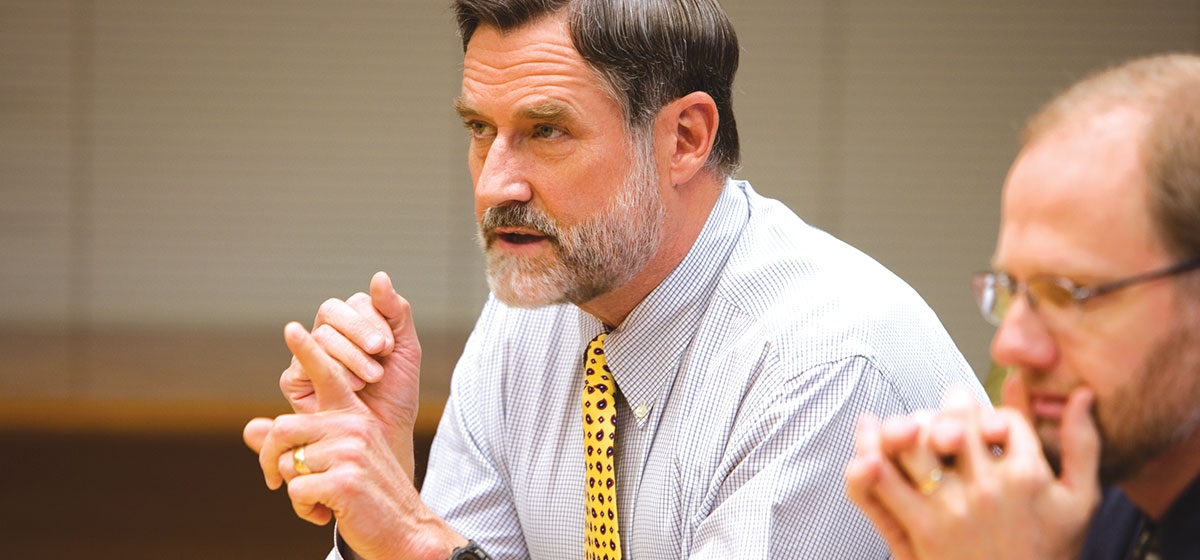 February 19, 2007
On the first morning of November, I walked down the long slope from my house in Squirrel Hill to the Carnegie Museum of Art in Oakland for a meeting of foundation leaders to do what people in my position do so many times each week: Assess the merits of a proposal to fund a worthy public project. This one had to do with turning an architecturally significant home into a public museum and finding the money to pay for it.

As I trudged over Flagstaff Hill, with Phipps Conservatory on one side and the Carnegie Mellon University campus on the other, I remember thinking about that civic project and the packed day beyond. And I enjoyed, as I always do, the beauty of Pittsburgh's green parkland and handsome architecture. The chilly air and the thin autumn sun breaking through the clouds distracted me from too much occupation with that week's busy schedule.
In a little more than an hour, I would be dead — struck down by sudden cardiac arrest that left me with no heartbeat, no pulse and no breathing. And, a few minutes after that, I was alive again, brought back by the heroic efforts of half a dozen people who jumped in with cardio-pulmonary resuscitation and an automated-external defibrillator (AED) to save me. It was a remarkable rescue that left me among the 3 to 5 percent of people who survive cardiac arrest with no heart or brain damage.
Several months after what doctors refer to as the "cardiac event," I'm still shaken, full of enormous gratitude for all who helped me, and still working to extract the personal lessons from the life-saving experience. One of these is my new appreciation for the value of growing old gracefully.
I remember arriving at the museum meeting that day, but nothing more about the meeting itself. This may be because of the sedatives I was given later. I have re-constructed some of what happened through conversations with those who were there. I had been asked by civic leader Elsie Hillman and the museum's director, Richard Armstrong, to say something at the end of the meeting about the exciting promise of the Frank House, the architectural gem on Woodland Road in Pittsburgh's East End that we had gathered to discuss. This house, the product of a historic collaboration between the great 20th century architects and designers Walter Gropius and Marcel Breuer, is a potential urban Fallingwater that has excited local and national preservationists. During my remarks I collapsed to the carpeted floor.
Several people ran for help. Rachel Delphia and Lucy Stewart Hykes, both assistant curators, hurried in. Neither knew that the other had been trained in CPR, but when they saw me lying rigid, struggling with ragged, episodic breathing, they quickly shared information about their training.
Later, both told me they were hoping someone else would step forward and take charge. But then I stopped breathing, went limp and closed my eyes — the crashing phase leading to clinical death. They began CPR, one doing chest compressions and the other providing mouth-to-mouth breathing. Doctors said their quick action was why I never suffered the oxygen deprivation that causes heart and brain damage.
Richard had run down the hall to get the AED, but no one in the room had been trained for it. However, museum board member Alex C. Speyer III had been educated as an engineer and had the confidence to grab the device and use it. Amazingly, most AEDs, including the one used on me, have voice prompts that walk you through. Open the box. Take out the pads. Place them, after removing clothing, on the victim's chest. Wait for the machine's diagnosis and, when the AED prompt announces "shock advised," get everyone away from the patient and hit the red button.
An arc of electricity shot from one pad through my chest, through my heart, to the other pad. The heart is the one organ in the body that includes electrically charged muscle, and it is the electrical impulses from this tissue that produce the heartbeat. When the heart stops, electrical activity begins to die down. After about six to eight minutes, it drops to the point that the heart can't be brought back. So it's critical that the AED be immediately available for use within a few minutes. In my case, thanks to Richard and Alex, the shock came in about
2 1/2 minutes. One shock (sometimes it can take several) got my heart pumping blood again.
But I wasn't out of danger. More expert aid came from Shelli Geyer and Manual Cienfuegos, two museum security officers well trained in emergency response and CPR. Shelli gave me mouth-to-mouth breathing (I had not immediately started breathing) while Manuel cleared the room and made sure the rescue squad was on the way. Within a few minutes, I started to breathe on my own.
Meanwhile, Elsie called UPMC President and CEO Jeffrey Romoff, and he made sure the staff at Presbyterian Hospital was forewarned. His assistant, Lila Decker, and Presby cardiologist William Follansbee both beat me to the emergency room. My wife, Peggy, who also had been called, was there ahead of me as well. A team swung into action as I arrived.
I'm well aware that most people don't have Elsie Hillman making calls for them, or Lila Decker waiting in the emergency room. But I also know from my research that the treatment I got followed all the normal routines for emergency heart patients at the hospital, and that those who manage UPMC pride themselves on making this world-class care available to all.
The doctors quickly inserted a catheter through an artery into my heart (UPMC manages to get better than 90 percent of its heart patients catheterized within 90 minutes of the "event"), assuming they would have to place stents in my arteries to open a blockage. But I hadn't had a heart attack. Somewhat to Follansbee's surprise, they found no coronary disease and no blockage. My heart had gone into fibrillation and then stopped because of an electrical arrhythmia. The heart doctors later explained to me there are "plumbing" issues and "electrical" issues. Mine had been entirely electrical, probably genetic, similar to when otherwise healthy basketball players drop dead on the court (a compelling argument for keeping AEDs in all gyms). Follansbee ordered that I be put into a state of "deep-cooling" to protect my organs from damage, an advanced medical protocol followed in most heart cases at Presby. This medical version of hibernation came by way of intravenous cooling fluid and sedatives so I would rest, not shiver.
So, for the first two days, I was knocked out with no understanding of my condition, still labeled critical. No such peace was available to Peggy, who endured two days not knowing if the future might bring widowhood, or something just as bad, caring for a severely disabled husband whose limitations would mean a marginal quality of life. She was, as always, strong and calm, but the stress caused her to break out in painful hives.
When I regained consciousness Nov. 3, my two sons — Ned and Will — and Will's wife, Reni, were at my bedside, having flown in from New England. At first, I thought I was in a dream. Then, as I became aware of the hospital room and the monitors, I assumed I had been in an auto accident. My speech was slurred. I was foggy and confused. When my family repeatedly told me what had happened and that everything would be all right, I thought they might just be trying to calm me and that, if the slurred speech and mental confusion were permanent, I was damn far away from all right.
But, gradually, I came out of my sedative-induced fog and my speech came into focus. By the time the team of neurologists arrived to assess my condition, I was swapping jokes with my sons. The medical team members quizzed me for an hour, and Peggy later told me of her enormous relief when the head of the team told her outside my room: "We have no work to do here."
For each of the next 10 days, Follansbee painstakingly reviewed my case for clues to make sure no risk was overlooked. Follansbee, from a family with a long history in this region (Follansbee, W.Va.), brought a reassuring combination of detective skills, intellectual rigor and military precision. Much testing led him to believe the problem might be connected to some genetic anomaly that might recur. Otherwise, he said, I'm in excellent health, and there would be no order for lifestyle changes. He referred to me as a "tough old bird" and said I might not have survived if I had not kept myself in good shape. I exercise daily, don't smoke or drink, eat a fairly heart-healthy diet, and pay a lot of attention to the latest health research.
One worry is that my sons, both in their 30s, face a 50-50 chance of the problem if my case has a genetic cause. Both are seeing cardiologists for the first time. I hope that before they get much older technology will be able to predict and treat their vulnerability.
In fact, the medical technology used on me was, for the most part, unavailable until recent years. The Museum of Art's AED device, invented more than 50 years ago, has been in widespread use only in the last couple of decades. It got there through the efforts of the Laurel Foundation's vice president, Donna Panazzi, who has worked relentlessly to fund and manage PULSE, a program that places AEDs in offices and public spaces and provides CPR and AED training. Without those efforts, I would be dead.
At the end of my testing at Presby, I was a candidate for an implantable cardioverter defibrillator, an ICD, which now resides just under the skin on the right side of my chest. A long, thin wire, or lead, runs from the device through a vein directly into my heart, monitoring for any sign of an irregular heartbeat.
Now I can return to a completely normal life. I have resumed workouts as well as hiking and biking. Soon, I'll go back to rowing my single scull out of Three Rivers Rowing Club on the Allegheny River at Washington's Landing. And I have been back to work at The Heinz Endowments downtown since Nov. 20, just a few weeks after the Nov. 1 event. Most importantly, I can do all these activities without constantly worrying about the risk of another cardiac arrest. The extraordinary piece of hardware in my chest can shock my heart back into action if it should stop again. But it also provides more sophisticated help: sensing the arrhythmia that precedes cardiac arrest and taking over the management of the electrical heartbeat before the heart quits. And it keeps a record of my cardiac activity that doctors can review during checkups. The statistics on the benefits of defibrillators are remarkable: Although about 5 percent of all patients who suffer sudden cardiac arrest survive the event, those odds shoot up to about 75 percent with the use of an external defibrillator and to better than 95 percent with an internal defibrillator. People ask me if I mind having this piece of metal in my body and my reaction is: Are you kidding? Who wouldn't want that kind of improvement in the odds of survival? I love having it.
The important thing — and this is the first of the lessons I've gleaned from my experience — is that public awareness of the benefits of AEDs and CPR must be dramatically increased. That is the value of the work of The Laurel Foundation's PULSE program and why Peggy and I have decided to make a major financial contribution to it in the names of the people who helped me that day at the Museum of Art. And I've told Donna Panazzi I'm available for public speaking to help increase AEDs in Pittsburgh's public spaces.
Another lesson has been the great value of living in a place that offers world-class medical care. The UPMC system has become one of the top hospital facilities in the country. And the cardiac care system at Presby, under Follansbee's leadership, along with the cardio nursing led by Kate Hannan, are among the best. Peggy and I have also committed to make a contribution to an endowed chair in Follansbee's name at the University of Pittsburgh Medical School, in association with UPMC Presbyterian. This will also be in the names of those who helped me at the museum.
It is often said that Pittsburgh is really a big small town, and it is this intimate, small-town sense of community — stronger than in any of the seven other communities in which Peggy and I have lived and worked — that makes it such an appealing place in which to make a home. The outpouring of concern and support that Peggy and I received from hundreds of people in this region made an enormous difference to us. No place we've ever lived before would have provided such help and strength. Many people have asked us if we now have anxiety or fear. But, truthfully, we feel this overwhelming sense of gratitude, rather than anxiety.
There is one other feeling I've had in strong measure: the sort of generalized sense of well-being and contentment that comes from living precisely in the moment. I know from my reading that this heightened ability to live in the moment frequently comes to persons who have had a brush with death. And that, most often, it is lost with the passage of time. I'm hoping I can hold onto it. In fact, I mean to make it my job to hold onto it. It feels wonderful, and I'm going to make every effort to keep my awareness of this and of its value to someone — like me at 62 — who is entering old age. It seems to me that a clear focus on the present, on all the immediate joys of living, is the key to the challenge of growing old gracefully.
Old age is like any phase of life: You've got to work at it and focus on it in order to do it well. And it is just as important to do old age well as it is any of the other phases. In fact, there are few things more clearly admirable than the ability to grow old gracefully. We know older couples — like the late Bill and Ingrid Rea of Shadyside and the Ligonier Valley; or Elsie and Henry Hillman of Pittsburgh, still titans in the fields of American politics and business — who stand as models of graceful aging.
The key to this, I am learning, is to be mindful of all that is going on around us and to develop the skill of appreciation. As we grow older, we tend to worry more and more about the future and to obsess over details. Paradoxically, we also tend to dwell in the past, to reserve our greatest appreciation for "how much better things used to be." Those people who sustain grace and good humor have seemed able to keep their focus on the present and the values of everyday life: the beauty of the city and its wonderful architecture on a clear, sunny day; the pleasures of a good meal with good friends; a long walk in a city neighborhood or through the fields and woods in the country; the satisfaction of shared work; the love of family.
For someone like me, a worrier who is always managing details and planning for the future, this ability to focus on the present is a precious gift that I do not mean to squander. I want more than anything to sustain it. And I think I've learned my lesson. This is the future: I survived.