To Bail or Not to Bail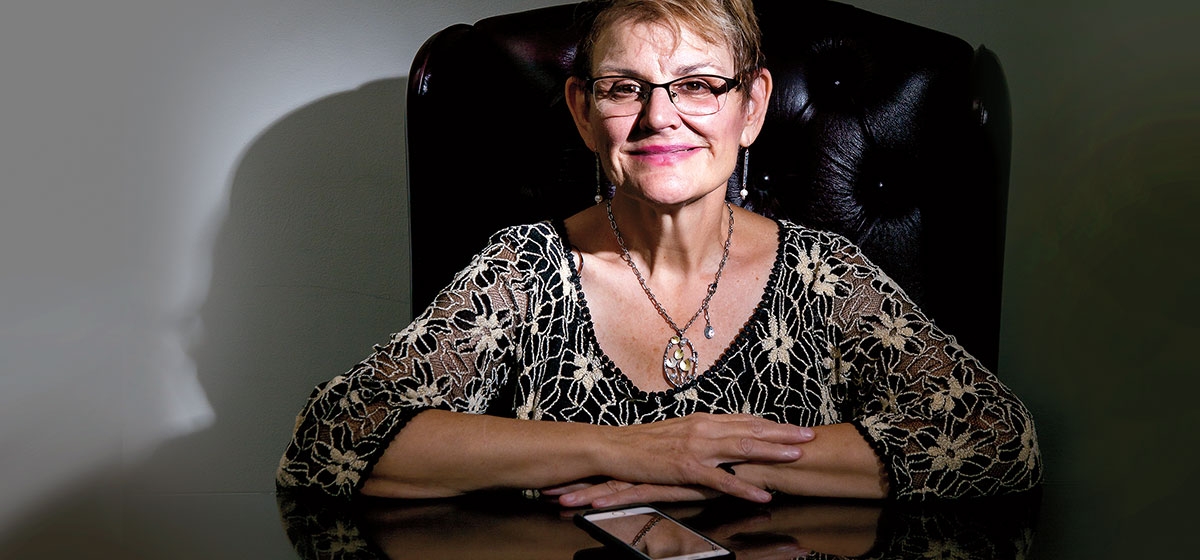 May 13, 2019
The president of the Pennsylvania Bail Bond Association is not straight out of central casting. His wife and young daughters write children's books, and he's sipped a lot of tea at imaginary princess parties. Matter of fact, he looks more like an underwear model than a tough guy who meets criminals in the dead of the night.

"Yeah, we get a bad rep from the movies," says Mitch Mitchell. "We really aren't like those characters in 'Jackie Brown' or 'Midnight Run.' "
Soft-spoken Diane Tressa delivers her Pittsburgh twang with the measure of a person who bears bad news to desperate people every day. It takes a minute to reconcile because her 30 years of experience in the rough bail business doesn't seem to align with her folksy presence. Her Facebook page posts maxims like "Each day is a fresh start" and ambrosial memes similar to those posted by ladies all over the world. But she makes court visits at all hours of the night to help people at their ugliest moments.
If Tressa's manner is a little like your sweet middle-aged aunt from the South Hills, don't be fooled. She's a tough-as-nails business owner who offers, among other services, an oh-so-millennial-friendly, custom-made app to help automate the quagmire of getting to court dates (because missing one earns a spot back in the slammer). And in Mitchell's case, don't think the former college athlete's excessive politeness means he'll be fooled. Both run serious businesses backed by millions of dollars in insurance to operate in a highly competitive, stressful world that most of us hope never to see.
Mitch, 37, calls Diane "a sweet lady" and Diane, 58, refers to Mitch as "very smart." Collectively, they have been offering desperate people a shot at freedom 24 hours a day, every day for 52 years.
But their place in the Escher-esque landscape of the region's judicial system is under threat, with the growing national movement to abolish bail. They can't digitally promote their business since Google and Facebook recently classified companies like theirs as "predators," banning bail advertising. But they keep at it because they genuinely believe what they do is a critical service.
The gist of bail
In the simplest terms, bail bondsmen are total strangers telling a judge you are trustworthy enough to follow the rules after you've just been arrested for breaking some. When a person is arrested they are assigned bail, an amount of money that they must "post" to get out of jail with a promise to return to future court dates. Because the court isn't a retail outlet, a bail bondsman acts as an insurance agent and brokers the money between the person and the system. But money isn't literally exchanged. They write promissory notes akin to IOUs.
Bail bond business owners are backed by surety, a unique form of insurance in which the surety company's financial resources back the bail bondsman's commitment to enter into a contract (bail bond) with a person accused of a crime. They take the risk with the courts that you will show up again, once free. Bail bondsmen, or bail agents as they are interchangeably called, make their money from the fee you pay to access their surety—typically, 5 percent of the total bond. Regardless of the outcome of a criminal case, guilty or not guilty, the premium paid is nonrefundable. If a bail bond is written for someone who then disappears, the bail bondsman is on the hook for the full amount. So they are very careful choosing their clients.
At any given time both Tressa and Mitchell might have upwards of 100 clients, at various stages in their court proceedings. They keep track of dozens of appointments with different people at different locations. And the stakes are high. The whole point of letting someone out on bail is because they have promised to show up again later. Miss a hearing, and things can snowball. Arrest warrants and lost funds follow. Tressa insists her clients download her custom-made app as a reminder of appointments, and it comes with a panic button they can push in case of an emergency. "Things do happen that are legitimate," she says. "People get into car accidents or misread their summons. The courts still communicate on paper, so they might read an '8' as a '6' or something. I try to keep an open mind."
Mitch was a practicing lawyer prior to his career change and teaches Continuing Legal Education through the Fayette County Bar Association. He's always thinking of ways to improve the situation for clients. About missing appointments he adds, "Talk about reform. How many people manage their lives using snail mail? Courts should be electronically communicating important dates to avoid mishaps."
Although they are so closely in touch with their clients, bail agents don't meet the accused until after they've been released, and they arrive to sign piles of paperwork tithing them to the bond. Tressa says people are so rattled they often want to come straight to her office from jail. "I tell them to go home, take a shower and get some sleep, then see me." She knows they'll be communicating a lot from that point on and wants to be sure they are of clear mind when working out the details of the next months, sometimes years of their lives. With cases lasting from 11 months to three years or more, bail agents become part of the life of a person charged with a crime. Some repeat offenders know their agents so well they send birthday cards and forge family friendships over the years. But it's a hard life.
It's a living
Increasing restrictions on advertising and getting entangled in the complex dynamics of families in crisis can be a downer. No wonder there are fewer than 10 bail bond businesses in Southwestern Pennsylvania.
Mitchell's work is intensely personal. His dad was a magistrate, so he grew up hearing about the law and sometimes sat in court during arraignments. In his rural Fayette County area, there were few bail agents. After law school he chose to open Mitch's Bail Bonds in his hometown of Brownsville. This means he frequently answers calls from jail from people he went to high school with, or relatives of people he knows. Awkward? "No, I feel like because I know them, I am the best person they could call. I know that this isn't who they are," he says. "I make them feel a little more at ease in a terrible situation."
Both agents cite the presumption of innocence at the core of their attitude. They view their clients as accused of a crime and believe they are not guilty until proven so.
The bail bonds business is super-competitive. People in need of bail are desperate for help as quickly as possible. For that reason, agents are always on. Tressa's service is as reliable as Domino's. She will meet clients within 30 minutes of a call if she decides to write the bond. When her cousin got her into this business decades ago, she was in the middle of finishing a degree in computer science at Robert Morris University, so she would often go back to class after an afternoon call.
Both have staffs who are committed to being on call. If Mitchell gets a request "at an unfortunate hour," he tries his best to slip out and back while his daughters (10 and 7) sleep. Sometimes that call comes on their way to soccer practice. In that case he enlists an employee to take it.
For the harsh reality of the criminal justice system, there's a lot of nuance and gut feeling in writing bail bonds. When Tressa gets a distress call from the recently jailed, she's careful about whom she works with to secure the release money. "I try always to work with a relative. Girlfriends are here today, gone tomorrow, but family is more reliable for a bond." People passing through town aren't as appealing; people with roots are less likely to skip out on the bond.
Contrary to popular lore, bail bonds are unlikely to be secured with property. When Mitchell is presented with items for collateral, he tells clients to work with a pawn shop, get the money, and then come back. Someone once offered Tressa their house. "Came into my office with mortgage papers to sign over. I wouldn't take it." She worked out a payment plan, as does Mitchell when necessary.
There is a whole bonds ecosystem that pushes people along the continuum of getting out of jail and staying out of trouble. The agents know ancillary businesses that help in that continuum and share them with clients: Drug and alcohol organizations, child-care outfits, taxis and even job sites.
A jailed person might say anything to prove he's not a risk of skipping bail. So agents rely upon a sixth sense as much as criminal databases and their handy state-provided inmate locator. Thieves are the riskiest. They're savvy persuaders and smooth operators, often making them good at purloining and bad for agents. "If I get 50 calls, am I going to miss a liar? Yes," Mitchell says. Ideally, and most often, the first thing an agent does is look up the person's name in a special database to review the charges and whether there are concurrent charges in other counties and a history of being in contempt of court.
Meeting people at their worst can get you down, Tressa says. "I was driving past a yoga studio the other day and there was a sign that said, 'don't hate, meditate' and I laughed, because that's not bad advice. Sometimes I just have to shut off my phone and spend time with my dogs."
On the clock
Because people in jail have lives and want release ASAP, an agent has a hyper focus on speed, and it's draining. Sometimes more than Mitchell would like. "When that phone rings, I know someone is in trouble. Maybe it's the middle of the night and if they can't get out of jail, they'll miss work in the morning. What if this causes them to lose their job? Then their family cannot pay their bills, and so on. It's never just one thing. The responsibility sometimes gets to be too much. It's like you know you are doing good and helping people, but sometimes I wonder, if I didn't answer the phone, would I find a night's peace?"
He has a hard and fast rule to turn it off when he walks in the door. "At home I have a wonderful wife and two little girls. I do not want to bring my work home with me. It can be hard sometimes, especially with people who are arrested repeatedly. Very frustrating."
Tressa's workspace is akin to an accountant's, with spreadsheets and calendar court date reminders. She's like the manager of a wily bunch of rogue employees as she keeps track of who might be sick or in a car accident or even whose babysitter canceled to prevent them from showing up for trial. Like your friendly neighborhood accountant, she has some regular customers. "Sometimes people call and say, 'Hi Diane, it's me again.' " With the average case lasting 18 months, she really gets to know the families of the accused.
Rethinking bail
For agents, the boiling national dialogue around bail is an ever-present threat but also one that they understand is important for justice. Reform advocates argue that jailing people merely because they cannot pay bail is discriminatory, expensive, and severely disrupts the lives of poor people, without providing much, if any, public safety benefit. In August, California ruled it unconstitutional.
Duquesne University School of Law professor Jalila Jefferson-Bullock uses the term "debtors' prison" as do many national bail reform advocates. But she emphasizes that bail agents are not the issue. "The root of the problem is that our system prefers incarceration. We think that locking people up is the answer. As a country, we need to shift the way we think about that." During her time as a public defender in municipal court in New Orleans, she regularly saw innocent people plead guilty to crimes they did not commit. "If a person charged with a misdemeanor cannot post bail, they sit in jail for 21 days until trial. If they plead guilty, they are released that day with a fine and community service."
"The root of the problem is that our system prefers incarceration. We think that locking people up
is the answer. As a country,
we need to shift the way
we think about that."
—Jalila Jefferson-Bullock,
Duquesne University School of Law
She thinks bail reform legislators should include the input of people on the front lines—agents. "They see every day who shows up and who does not. This is real-time data as opposed to lawyers poring over books to make decisions." Besides, federal and serious crimes such as murder and first-degree rape will always require bail, so there would still be work for the agents.
Mitchell works hard to address the shortcomings of bail in his role as president of the Bail Bonds Association, a group he founded 10 years ago. He and his competitors were frustrated at the lack of industry regulation. Inconsistencies affect his work. For example, in rural jails, people can be released in as little as an hour from the time they post bail. In Allegheny County's swollen system, a person could wait anywhere from three to 24 hours to get out. The sheer volume is inconducive to letting people leave as they post. Through the Association, Mitchell coordinates with district attorneys to educate and inform bail agents and lawyers.
Mitchell recalls being sickened by the murder of University of Pittsburgh student Alina Sheykhet. The alleged killer had a protection from abuse order against him, and the tragedy could have been avoided with simple communication between police and the courts. "There are small changes that could be made to change the system. That person should never have been free to roam around. The victim should have known he was out." Bail agents are particularly interested in victims' rights too. He always refers people to VINELink, a mobile app to anonymously check on an offender's custody status. And he's worked with Washington County legislators on domestic violence issues to ensure judges fashion appropriate bail. He feels he also plays an important role in alleviating overcrowded jails. "Having someone like me provide these services as a respected community member is critical. I assess my risks, of course, but I am here to help, despite the weird hours and stress."
He also takes pride in what he can do once the bail transaction is complete. Sometimes people just need a piece of good advice or a referral, and Mitchell knows which employers in his Mon Valley area will take a chance on people who might be down on their luck. He's also waded into riskier waters, occasionally advising families to not post bail for loved ones who might get scared straight through the hard lesson of detoxing in jail. He feels like a concierge of sorts and views his profession as a calling. "I love to get cards in the mail thanking me for getting people clean or helping their family get into counseling."
For Tressa, the hours take their toll, but she has no idea what she would do for a living if not this. "These people need me. How can I not be here for them?"