The Urban Bear
With their habitat shrinking, Pennsylvania bears are getting closer and closer to people
Photo by Deborah Weissberg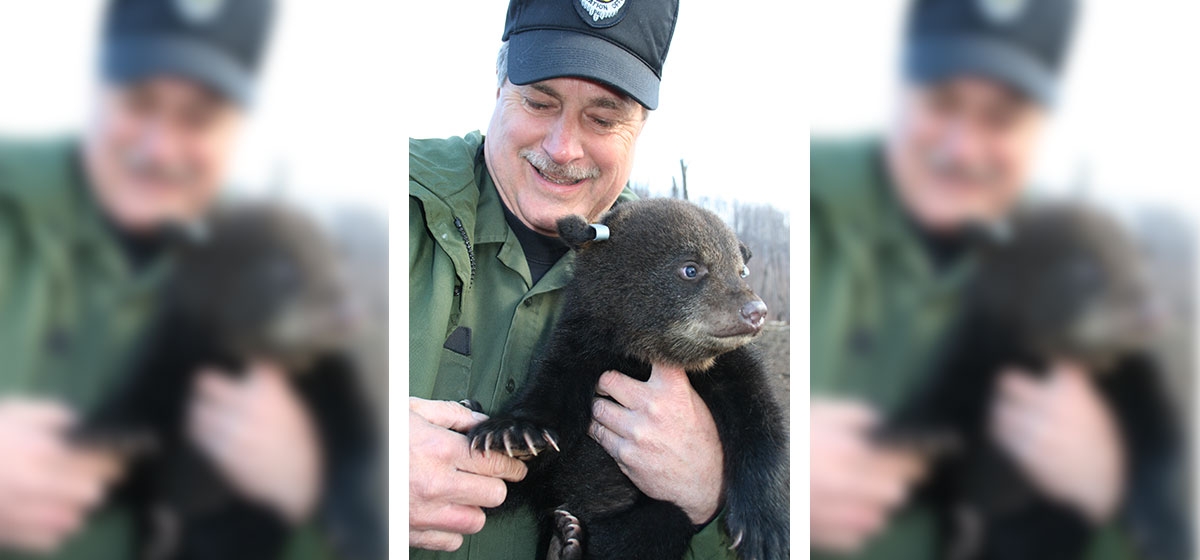 February 25, 2012
State bear biologist Mark Ternent pulls an oversized syringe from an arsenal of gear at the back of his truck, loads it with a strong sedative, and affixes it to a dart with hot-pink fletching.


With spring three days away and the mountains around Johnstown energized with emerging life, Ternent and his Pennsylvania Game Commission team hike an old logging trail toward their quarry: a 220-pound American black bear (Ursus americanus) denning in the woods.
In her prime at age 6 and nursing three cubs, she is one of 55 bears in the state they are keeping a close eye on in order to understand an unprecedented phenomenon of bruins moving closer to cities and suburbs.
Following complaints by homeowners about pilfered garbage cans, this robust sow was trapped and moved to the mountain two years ago. Ternent fitted her with a radio collar that will constantly "text" him her whereabouts through the end of this year, unless she is killed by a hunter during the four-day season in November.
On this late winter day, the bear will be thoroughly examined by commission veterinarian Walt Cottrell, and so will her cubs, which will stay with her for 18 months, as they learn to climb trees and to forage.
Given Pennsylvania's location in the Appalachian range and the black bear's omnivorous palate, there is a smorgasbord of available food, from newborn fawns to berries. "The variety and abundance of forage helps explain why Pennsylvania bears tend to reach breeding size at a younger age than bears in other states, and why many have larger litters," says Ternent. "Two cubs is typical everywhere else, but here it isn't unusual to see litters of three or four."
Pennsylvania's bruin population has more than quadrupled in the past 25 years to a statewide total of about 18,000, but its natural habitat is diminishing, and bears are being spotted where they once were seldom seen.
In November, a hunter killed a bear in Fawn Township—a first for Allegheny County and probably inevitable, says Ternent. "Bears have been sighted almost every year in Allegheny County in recent years, so we anticipated that one would eventually be harvested there."
The previous month, a Fox Chapel man cleaning his backyard hot tub near Fairview Road came face-to-face with a 200-pound sow and her two cubs. "He surprised the bear and the bear surprised him," says borough Police Chief David M. Laux. "The bear postured a little—she grunted and huffed—but she had an escape route, so she took off pretty quickly."
A 350-pound male bear who tried to crash an Italian heritage day festival in Uniontown last summer wasn't as lucky. Drawn by the scent of food, the boar (the correct name for a male bear) resisted police efforts to chase him back to the woods and tried to take refuge in a street tree. As a noisy crowd swelled nearby, the bear was shot and killed by the local police chief.
Ear tags indicate the bear had been captured in a residential part of West Deer Township in Allegheny County and moved to a Fayette County mountain a year earlier, says Game Commission wildlife conservation officer Tom Fazi. "The bear may have been accustomed to people, if he was living on the fringes. He wasn't a nuisance or anything, but he apparently got into a predicament he couldn't get himself out of."
Anticipating that such encounters will continue to increase, Ternent and his counterparts in West Virginia and New Jersey are in the final year of a three-year urban bear study that will help them manage growing populations.
"We want to identify bear corridors so game agencies can adjust hunting regulations, if need be, and focus on public education efforts," says study coordinator Andrew Tri, a wildlife biologist and Ph.D. student at West Virginia University in Morgantown. "Hunting is our best way of regulating bear numbers, but helping people cultivate non-attractant behavior has become a big priority, too."
While GPS enables Ternent to monitor the Pennsylvania study bears electronically year-round, in late winter and early spring, he and his colleagues must visit each one to check their health and their collars. The $5,000 devices operate like cell phones and need new batteries every year.
Cubs get a physical, as well as ear tags that will identify their birthplace and age if they eventually are killed. Mothers are examined for heart problems and mange.
It is a dangerous task. Although hibernating bears are in a torpid state, in which heart rate, urination, and other body functions are markedly slow, they can arouse quickly.
Minimizing stress to a mother and her brood and preventing an attack on the Ternent team requires stealth and careful planning.
"Someone goes in a few days early and cuts a path, so when we approach we're not making a lot of noise," says Cottrell. "They've also alerted us to escape routes a frightened bear is likely to take, so we can have those covered."
Everyone is armed with a tranquilizer pistol.
The Johnstown-area female gets up on her haunches when she hears human footsteps, forcing Ternent to fire a dart into her right shoulder from a distance of 15 feet. "I could see she was nervous and I was afraid she'd take off, although I knew she was reluctant to leave her litter," he says. "Getting any closer and invading her space would have only made her feel more threatened."
Once the sow is "out," an oxygen cannula is inserted into her nostrils and a pulse oximeter is clipped to her tongue so oxygen saturation levels in her blood can be monitored. The cubs—at just 3 months old and seven pounds each—squall as they are wrenched from her mammary glands. Their shrill cries reverberate through the mountain, and they shiver in the absence of their mother's bulky warmth. Soon, though, they settle into the arms of wildlife conservation officers—the first and perhaps only people whose touch they ever will know.
"Of course, that's as it should be, since humans are their predator," says Ternent, who rubs the cubs with leaf litter and dirt in an effort to mitigate human scent before returning them to their den.
The sow-cub bond is an intense one that keeps cubs nursing for 18 months, even though they begin eating solid food when they are 6 months old. But when it is finally time for yearlings to go off on their own, the mother severs ties harshly, Ternent says. "This occurs when she is ready to breed again, usually around July in the cubs' second year."
"When she comes into estrus and a male bear appears, she'll drive her yearlings away by growling and chasing. It can be very aggressive."
Although female yearlings will stay relatively close to their natal homes, males can range great distances—more than 300 miles—to ensure against inbreeding and to avoid dominant males, Ternent says. "Young teens leaving home for the first time are hesitant about being around other bears, especially older bears that have staked out their turf. Bears are not particularly territorial, but you'll seldom find more than two or three per square mile."
The problem, though, is that they are losing traditional habitat. Pennsylvania's abundant forestland—about 17 million acres—has become fragmented by sprawl and other development, giving more bears fewer places to go, Tri says.
"Bears are opportunistic. They'll go where the food is. If living on a mountain near a town keeps them well-fed, that's where they'll live."
And it also may be where they are meeting untimely deaths, he says. "We went into the study with the assumption that urban bears are less vulnerable, because developed areas are refuges from hunting. But we're finding mortality is even higher, as a result of collisions with vehicles or law enforcement having to euthanize."
Trapping and translocation of nuisance bears is the approach taken so far, but as numbers increase, they may cease to be effective, he says. "Out West in the Tahoe Basin it isn't working, so they're resorting to chasing bears with dogs and rubber bullets."
Anecdotal evidence suggests the urban bear phenomenon can impact the hunting experience, too.
In 2009, an 875-pound bear killed with a bow in state gamelands in the Pocono Mountains turned out to have been a sort of town pet in Bushkill Falls, where he was accustomed to begging at restaurant doors for ice cream and other treats.
The hunter's pride in his world-class trophy quickly turned to shame, although Penn State University forester and hunter Gary San Julian said sportsmen typically aren't to blame for incidents such as this. "A hunter doesn't know if a bear approaching in the woods has been domesticated," he said. "People who hand-feed wild game aren't doing the animal a favor."
All of which makes educating the public crucial, says Ternent. "Feeding bears is against the law, but hard to enforce. It's common sense that if you know a bear is about and raiding your bird feeder, take the feeder down for a few days. Put bungees around your garbage cans."
And understand that wild game is best admired from afar, he says, citing yet another tragedy in Merli-Sarnoski State Park in Lackawanna County last year.
"Visitors were feeding a bear to the point it was coming right up to picnic tables and eating out of peoples' hands. They thought it was cute, but other park-goers weren't so amused and complained to the rangers. They tried to get the bear to stop, but it had become so habituated, they had to put it down," Ternent says.
"So a perfectly healthy young animal that didn't have to die was killed because people were behaving irresponsibly."