The Smart House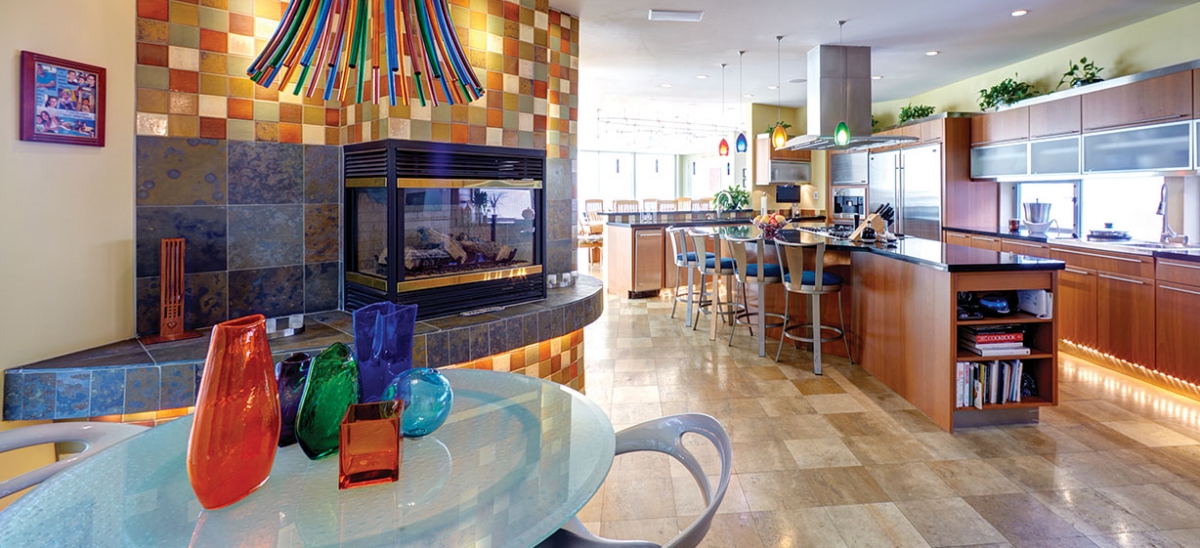 February 21, 2013
When Peter Karlovich and Steve Herforth were searching for a site on which to build their new home, they could not have known that a decade later much of Pittsburgh would know it as the Smart House. Completed in 2003, the modern residence sits on the edge of Mt. Washington, but on a quiet street that boasts the same spectacular city vistas as Grandview Avenue without the holiday crowds and tourists.
---
---
The location was almost accidental.
"We had two criteria—privacy and a view," says Herforth. "We thought a valley or a stream. We never expected Mt. Washington."
The couple had been visiting a friend nearby, and as they walked back to their car, they happened upon an empty lot. The view was stunning—a sweeping panorama of rivers and bridges and Downtown buildings that sparkle on a sunny day. The land was owned by a developer who had planned to build more townhouses on it. Two days later he agreed to sell.
After interviewing several architects, the men chose Paul Smith and Jean Cardone of Research Art Architecture in Oakmont to design their home. Working closely with them, the project began to grow and grow.
"We never expected or intended it to be this size," says Karlovich. "When we started, the house was supposed to be half the size, and as things got on, it was 'This would be nice to have.' We like to entertain, so it was, 'Why don't we put a dance floor in?' Steve and the architect looked at me like I was crazy. 'We have a space, let's put in some sound equipment.' Then it was, 'Why don't we put in an exercise room, and a steam room, and you might as well have a sauna.' "
Things progressed from there. A bar was built by the dance floor and DJ booth, and then a small kitchen with full-size appliances was added behind the bar as a convenience for entertaining. A wine cellar was a must. Underneath the garage is a storage area, 20 feet by 30 feet, that's used as a staging area by caterers.
"We got to a point where we said, 'How big is this house?' Paul said, 'It's 12,000 square feet—that's bigger than you wanted.' We said nothing," Karlovich recalls with a laugh.
Yet from the street, little of the size and none of the content is apparent. That's because the house is built on a hill, with most of it below street level. A spare courtyard faced by a concrete wall welcomes guests, keeping the residence a surprise that unveils itself in wondrous ways.
The U-shape structure is divided into two wings—public and private. The private contains a den, home offices for the businessmen, the exercise room, guest bedrooms and utility areas. The public has the ground-level recreation area, complete with a pool table, a large living room, dining room and kitchen on the main level and the master bedroom on the top level, complete with an outdoor terrace.
Designers Jon Withrow and Bill Kolano of Kolano Design chose furnishings that were contemporary and colorful—a complement to the warm wood tones of the curly maple and cherry furniture and built-ins crafted by Herforth's brother, Patrick Herforth.
Light streams throughout the home because most of the inner side of the structure is composed of glass walls. Light also filters from the top down through a glass-and- steel stairway that bisects the residence. The house wraps around the outdoor terrace, which contains a stunning infinity pool that gazes over the city. Patios, a hot tub, several fire pits and gardens below can accommodate large parties or intimate evenings, much like the house itself.
And that, in fact, is why so many people know the Smart House. When the residence was first completed, it was on the house tour for the Mt. Washington Community Development Corp. (Karlovich is now on its board). More than 1,000 people came through that day, and someone asked if they rented the house for benefits.
"We never thought about it, but we support the CLO and other performing arts groups, so we said we would be happy to donate it. Once you're in that circle, there are other nonprofits and they asked if they could use it," says Karlovich, who cites a long list of organizations that have held benefits in the home. "We had no idea it would become the attraction that it did."
So how did the Smart House get its name?
The couple thought they might like a computerized lighting system when they contacted MGM Automation in Mt. Lebanon. What they got was a system of eight touch pads that control everything from a 44-speaker sound system to motorized blinds, security, temperature, skylights, six gas fireplaces, video and cameras, the doorbell and yes, 50 computerized light keypads. Add glass walls that become opaque when they are touched and assorted other high-tech gadgetry, and it's easy to see how visitors have been wowed by the home.
" 'So, when did you decide to move to Pittsburgh?' That's the comment that cracks us up the most," says Herforth. "Many people think we came from California. But this is our home; our families are here. We wanted to show Pittsburgh you can build something like this here."
The Smart House is on the market for $4.2 million through Coldwell Banker Real Estate Services.