The Maple
Where's the beef? in Ambridge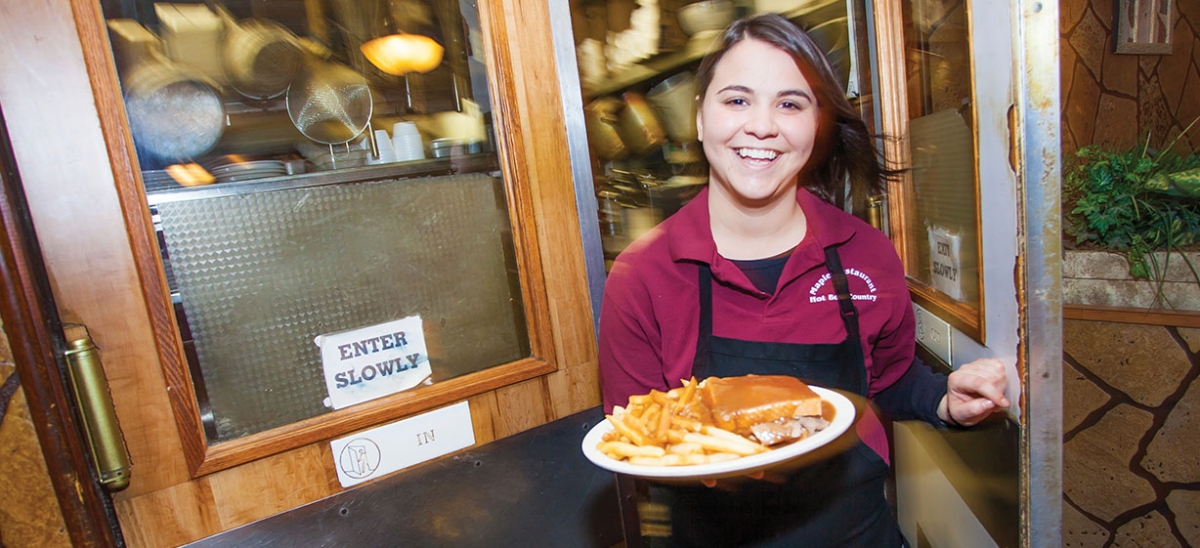 February 21, 2013
Long before Jim Pappas founded the Maple Restaurant in Ambridge, he and a partner ran an eatery that was open 24 hours a day, 7 days a week. One year they decided to close for Christmas and spend a few hours with their young families, but no one could find the key to the front door. So they nailed it shut and left.
And since 1963, when Jim and his wife, Joyce, opened their own place a few blocks away, folks in this Ohio River town have been beating a path to the door of the Maple for the "World Famous Hot Beef Sandwich." There are many other dishes on the menu, but this is really a shrine to an American classic.
Jim's son Tom now runs the place with his wife, Charlotte, and their son, Fred. After Edinboro College, Tom spent four years in the Air Force, then briefly flirted with teaching science before embracing his calling. The Maple has been his classroom ever since, where he offers daily lessons on culinary tradition, teaching more art than science now with every hot beef sandwich.
Between slices of soft, tender white bread, a thinly sliced stack of the leanest roast beef imaginable teases from the edges, inviting you to lift the top slice for an intimate glimpse of the pleasure that awaits. Served on a high-rimmed oval plate, with a mound of mashed potatoes, it floats on a wave of homemade gravy—comfort food heaven for $7.99.
Tom prepares one ton of "eye of round" beef every month, daily slow-roasting a fresh batch to concentrate the flavors and keep the meat juicy. Avoiding shortcuts that can spoil a classic, the meat rests overnight before it is sliced for the following day's diners.
One employee spends all day every day peeling and washing potatoes. Mention potatoes to your server and she will quickly say, "We have french fries, home fries and mashed, and they're real." The mashed potatoes come with those occasional little lumps, true signs of the real thing.
Tom had a license plate for a while that read "MR-GRAVY," and while the vanity plate is gone, he still makes 30 gallons of the stuff every day. Some call it "liquid gold," but Tom simply calls it "secret gravy," the formula passed to each generation, never written down. It is available by the quart for take-home.
While the Maple menu offers just about anything you might feel like eating, there is no doubt about the house specialty. The Maple Reuben is made with beef and the Maple Hamburger is topped with a stack of sliced beef. Each includes fries and a side dish for around $9.
The Maple Roast Beef Salad includes french fries, Swiss cheese and egg mixed with greens for the same price. A "Big Mike" is beef on rye with melted Swiss, and a "Big Charlie" is beef, American cheese, bacon, barbecue sauce and fried onions on a hoagie roll. But Tom swears that the hand-breaded fish has a big following, too.
Milkshakes—vanilla, chocolate and strawberry—are done the old-fashioned way, with a glob of real ice cream in the bottom of the glass and another one-half serving in the steel container they make it in. And there is pie for dessert.
All the usual soft drinks are available, but there is no liquor license. Ask Tom how he keeps packing the place without one in a shot-and-a-beer town like Ambridge, and he will tell you that after 26 years he got rid of their license in 1993.
"It got to the point where we were selling more cole slaw than liquor," he says. "And besides, nobody ever gets arrested for driving under the influence of gravy."