The Lost Cyclist
A 'round the world trek ends in mystery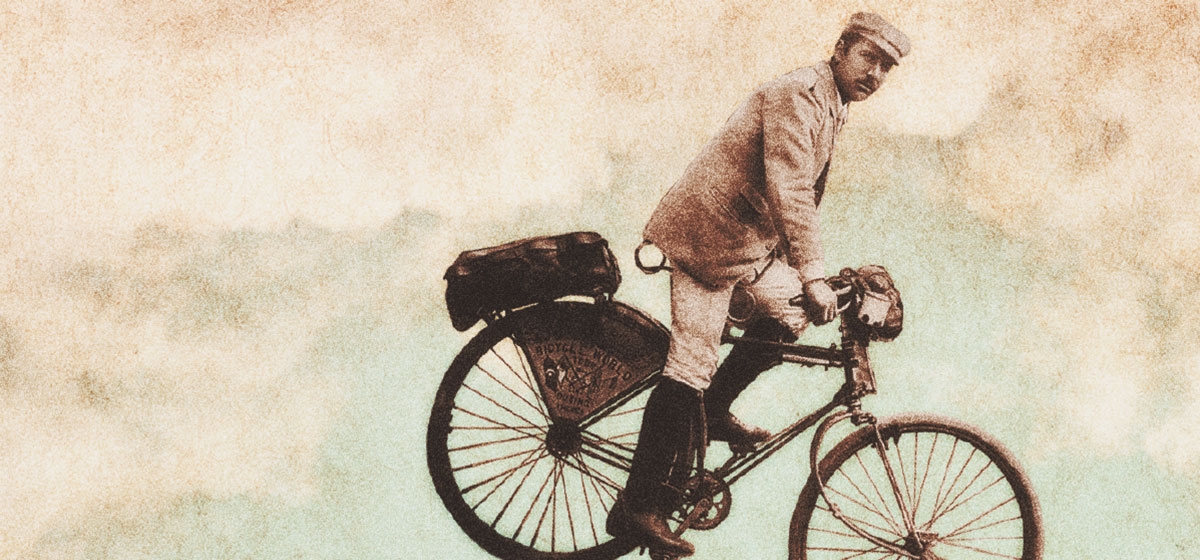 May 20, 2013
On June 15, Pittsburgh will celebrate the completion of the Great Allegheny Passage, the 330-mile trail that stretches over the rugged Alleghenies to Cumberland, Md., where it links with the historic Chesapeake & Ohio Canal towpath and continues to Washington, D.C.

Those who pedal the scenic, car-free route are following, at least in spirit, the trail of Frank Lenz (1867–1894), who set off on a novel "round the world" journey 121 years ago, never to return. On May 15, Friends of the Riverfront unveiled a sign that will be placed along the trail. It sketches the short but adventurous life of this largely forgotten pioneer, who helped spark the Great Bicycle Boom and establish the two-wheeler's enduring utility and appeal.
Born in Philadelphia to German–born émigrés Anna and Adam Reinhart, Lenz moved to Pittsburgh as a boy with his widowed mother. She soon married William Lenz, a machinist at Westinghouse. Over the years, young Frank would develop a rocky relationship with his stepfather, who was an abusive alcoholic, according to family lore.
A bright student, Lenz earned a degree in accounting and penmanship from Duff's Business School. After landing a job with a brass manufactory in the Strip District, he invested $100 (his monthly salary) in a typical bicycle of the day, with a huge front wheel and a tiny trailer, a purely recreational vehicle that appealed primarily to young athletic males like himself.
Lenz had sandy blond hair, blue eyes and a ready smile, and with his taut 5′ 7″ frame snugly wrapped in a woolen uniform, he cut a dashing figure perched on his majestic bicycle. After joining the Allegheny Cyclers, Pittsburgh's largest bicycle club with some 30 members, he quickly established himself as the city's premier—and most popular—wheelman.
Every year, Lenz rode thousands of miles over the region's hilly dirt roads. He also distinguished himself as a racer, though the sport favored the long-legged. Invariably, he would prevail on the oval tracks, mounting a furious final sprint. In the fall of 1888 he finished an impressive third in a grueling 100-mile road race from Erie to Buffalo.
Lenz focused on cycle touring after discovering his second love: photography. He began to travel with a bulky leather case strapped to his back, containing a boxy wooden camera and glass plates. He devised several ingenious methods to record images of himself on his wheel.
Lenz idolized Thomas Stevens, who completed an unprecedented "round the world" ride on a high wheel bicycle in 1887. Lenz resolved that he, too, would cycle in exotic lands, far from his unhappy home. To attract a sponsor, he enriched his portfolio in the summer of 1890 by cycling to St. Louis along the National Road with his best buddy, Charles Petticord. The following summer the pair rode to New Orleans.
Finally, Outing magazine agreed to send Lenz on a global tour, provided he ride a newfangled "safety" (the prototype of the present-day bicycle), which was rapidly overtaking the "ordinary" and opening up the elitist world of cycling to older men and women. On May 15, 1892, a beaming Lenz waved goodbye to the cheering throng of well-wishers assembled at the steps of Pittsburgh's now-demolished Central Post Office. He mounted his Victor, equipped with unproven inflatable tires, and pedaled off toward the nation's capital to collect his passport.
Two years into his epic adventure, after pedaling some 15,000 miles across North America and Asia, Lenz entered Turkey, against the advice of the missionaries who had hosted him along the way. He was bound for Constantinople (now Istanbul), his gateway to Europe, the final leg of his odyssey.
He never made it. According to William Sachtleben, a fellow "globe girdling" cyclist who investigated the matter, a Kurdish chief and his gang ambushed Lenz shortly after he left their village. But since neither Lenz's remains nor his bicycle were ever found, his tragic fate remains a mystery.