The Ill-fated Lovebirds
VA Part 13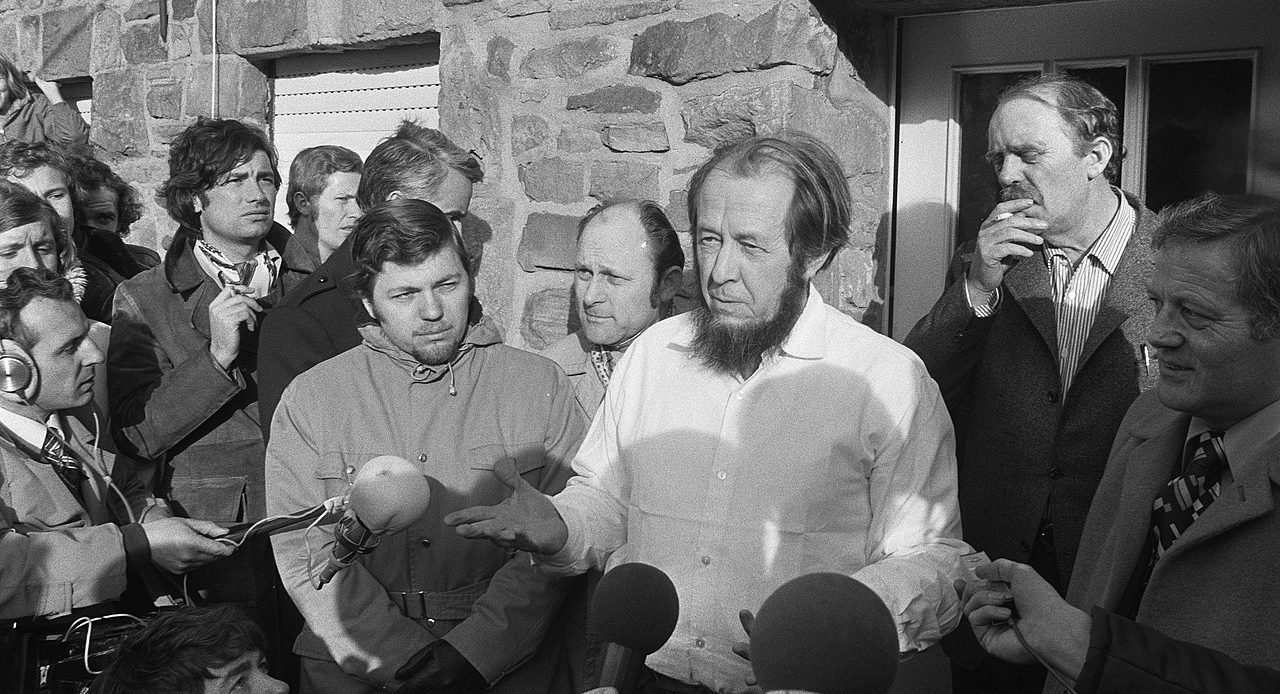 September 11, 2023
Aleksandr Solzhenitsyn's chauffeur-driven Cadillac had stopped at VA for directions. and I'd offered him a peanut butter and jelly sandwich, to the immense amusement of Rich Bolotin – and of Solzhenitsyn himself.


Previously in this series: Enter: The Man of Mystery
Solzhenitsyn's party was headed to Island Pond to look at a house that was for sale over there. Actually, I learned later, the place was a small hotel that had gone out of business – the Clyde River ran right underneath the building.
The KGB had attempted to assassinate Solzhenitsyn in the USSR before he was expelled, and now the great man was at Stanford University, where he was safe but unhappy. People were constantly bothering him when he was trying to work, and that temperate part of California could hardly have been less like his beloved Russian homeland.
So Solzhenitsyn asked around – where, he inquired, could I go and still be safely in the U.S. but in a remote place that has "a proper winter?" The answer, of course, was "Vermont," and so Solzhenitsyn had gone house-hunting. After I left VA Solzhenitsyn finally found a house he liked in the village of Cavendish, Vermont, where he lived happily for many years.
Love is hard
The reason I'd been to Island Pond had to do with my job at VA. When Angie – one of the Residents at VA – turned seventeen that summer Rich Bolotin had gotten a line on a job for her at a small inn located near Island Pond that was looking for a part-time housekeeper. Getting actual work experience for the kids was a key part of VA's philosophy, but jobs were hard to find, especially for the girls.
I'd ridden the Vespa over to Island Pond to scout the inn out, taking a long, winding dirt road, but when I arrived in mid-afternoon nobody was around. I could see that the place was more like a large bed & breakfast than like a proper inn, but that's about all I could see.
A few days later Rich made an appointment for Meg to go over and look around. She reported that the "inn" had five overnight rooms and was run by the owner's wife, who cooked and supervised the small staff. Their son, Arnie, who was nineteen, took care of the yardwork and was a kind of handyman for the place, while the husband held down an outside job.
The inn agreed to hire Angie on a probationary basis. She would begin by working Saturdays and Sundays – the busiest days – and her job would be to change the beds, clean the bathrooms, and vacuum the rooms and hallways, the same kind of work she did at VA.
Meg had, from the beginning, been hesitant about Angie's job. Angie was notoriously "boy-crazy" and Meg was worried that, once outside VA's close supervision, bad things could happen.
We should have listened to Meg. After Angie had been working for only two weekends, a cop car pulled into the VA parking lot and out got a cop and Angie. The lady who managed the inn had come home to find Angie in bed with her son, Arnie. Outraged, she'd fired Angie on the spot.
But Angie hadn't gone quietly. She'd screamed at the lady that she and Arnie were in love and were going to get married and she even implied that she was already pregnant. At that point the lady called the cops.
The possibility that Angie might be pregnant was seriously alarming – if it was true the juvy hall bureaucrats would yank Angie out of VA and send her back to the juvenile detention facility in Rutland.
Fortunately, albeit to Angie's disgust, she wasn't pregnant. We thought we'd dodged a bullet, but we were wrong.
One afternoon as the kids were finishing school, Angie complained to the girls that she had bad cramps and was going up to her room. Over the next few hours, while the kids had free play, proctored homework and then prepared dinner, Terry never bothered to check on Angie.
Turned out Angie hadn't gone to her room at all – she had sneaked into the woods behind VA, walked half a mile north and then climbed into Arnie's waiting car.
It was extremely rare for a kid to run away from VA – not only was it vastly better than juvy hall, it was better than their own homes. And Angie's case was especially worrisome because of the possibility that she might be with Arnie.
We were all a wreck. If we called the cops they would inform the juvy authorities. If we didn't call the cops we might not find Angie until it was too late.
But then we got lucky. Eddie fessed up that Angie had told him she was planning to elope with Arnie, though Eddie claimed he never believed it for a minute. He also reported that Angie had mentioned a hunting cabin Arnie's family owned, and Eddie thought that might be where Angie and Arnie were heading.
We had no idea where the cabin might be and Arnie's parents weren't cooperating. But then, to everyone's surprise, it turned out to be Terry's Finest Hour. She'd felt awful about not having checked on Angie, and now she sprang into action. She drove up to the Derby Barracks of the Vermont State Police, where her ex-boyfriend, Vaughn, was stationed.
No one knows what Terry said to Vaughn. My guess: she promised to accept that she'd been dumped and not bother Vaughn any more if he would help us out. In any event, the next thing we knew Vaughn had had a stern conversation with Arnie's parents, who gave him directions to the hunting cabin, up near Averill. Vaughn drove up there and put the fear of God into Arnie, warning him that if he ever so much as thought about Angie again he'd be hauled off to jail.
Then Vaughn brought Angie home and, thankfully, never said a word to the juvy authorities.
Next up: VA, Part 14