The Fate of a Prison
Will Western Penitentiary be saved or face destruction?
Photo by Charles Rosenblum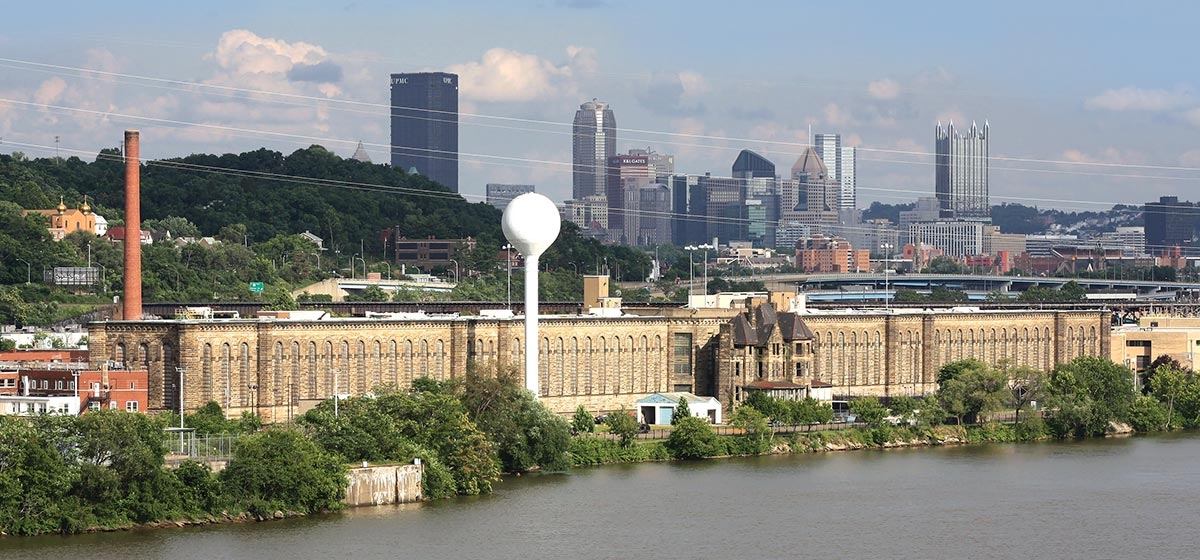 August 20, 2017
For a sprawling building in an ambitious Romanesque style on a conspicuous riverfront site, Western Penitentiary has spent most of its life in architectural obscurity. After an auspicious start, it fell quickly from prominence. Now, it may soon fall to the wrecking ball.


Begun in 1879 in Woods Run along the Ohio River and partially open in 1882, it took over the property of the abandoned Western House of Refuge for juvenile delinquents. It also replaced an earlier prison in Allegheny City's West Park, whose residents were alarmed by the close proximity. Warden Edward Wright promised to abandon the practice of solitary confinement and institute improvements in incarceration practices. The new Western Penitentiary, sometimes called Riverside Prison, boasted electric lights, running water, heating and ventilation, as well as one toilet per cell, purporting to be the first use of such features in a prison.
Architect Edward M. Butz gave Western Penitentiary architectural pretentions to suit its novel amenities. The five-story structure housed 1,280 cells stacked five tiers high in two wings over a length of 1,080 feet. The wings were faced with long rows of vertical Romanesque windows. The façade was divided by five pavilions, with pitched and mansard roofs at center, midpoints and ends.
At the center of the complex, the warden's house featured a picturesque agglomeration of gables and dormers at a slightly more residential scale than the rest of the building. It was really too small for the overall composition, but it had its own Queen Anne charm that persists to this day as a remarkable ruin.
An early period photo makes the complex seem tasteful and almost celebratory rather than punitive. It is similar to exposition buildings from the era's French and American World's Fairs and similarly dramatic. (Some have suggested Butz designed Allegheny City's Exposition Building of 1875, but the attribution is uncertain.)
Located across from the industrial Brunot Island, Butz's building was actually not often seen from its best architectural angle. More significantly, it was soon figuratively overshadowed by a much more popular piece of Romanesque Revival architecture. Henry Hobson Richardson's Allegheny County Court House and Jail, completed in 1888, were nationally published and almost universally admired, gaining fresh advocates in the 20th century, such as art historian Henry Russell Hitchcock, who viewed them as pedigreed ancestors of Modern architecture.
Western Penitentiary, meanwhile, only earned notoriety. Henry Clay Frick's would-be assassin Alexander Berkman failed also in his attempt to tunnel to freedom in 1900. The building sustained flooding before it was completely finished. It also became a hotbed of tuberculosis. By 1910, its poor condition prompted suggestions that it be replaced.
Did Butz find himself fuming at the success of Richardson, the Boston-based interloper? Probably not. He was a prolific architect, but also a pragmatic one. Born in Allegheny City in 1850, he entered into the profession as an apprentice at age 18. He frequently partnered with engineers and never shied from technical jobs.
He co-founded and for several years managed the Columbia Iron and Steel Company with its Pittsburgh office and Uniontown Mill. One of his most widely published achievements was collaboration on design and marketing of a home furnace.
Still, his portfolio of building designs is lengthy. In Allegheny City it includes Reineman's Hotel, the C.C. Wattley & Co. Furnishing Store, and the First Bank Building, and in Pittsburgh, the Seventh United Presbyterian Church in Lawrenceville and the Seventh Avenue Hotel, Downtown. The difficulty is that among his many recorded Allegheny City and Pittsburgh works, very few survive. A house on Lowrie Street in Troy Hill for the Reineman family is a handsome period work of gracious proportions and Second Empire details, while a similar work on Allegheny Street is altered almost beyond recognition.
The real gem is 948-950 Beech Street, across from the later Calvary United Methodist Church. Butz built this double house in 1880 as his own residence. Though he sold it shortly after, the eccentric and richly ornamented building seems very much like a calling card. It has the mansard roof of certain high-end Victorian architecture, but the Dutch-influenced gables and oddly placed pinnacles amid the free mixture of eclectic ornament are the architect's own. Even in an era of odd mixtures and unconventional architecture, this house is particularly singular.
Other Butz buildings require travel outside of Pittsburgh. His Clarion County Courthouse is a sober four-story brick building with a clock tower, while his Fayette County Court House in Uniontown is a slightly scaled down tribute to Richardson's Pittsburgh buildings, right down to the carefully reproduced Bridge of Sighs. There were no apparent hard feelings toward the Boston architect, though Butz still couldn't quite achieve Richardson's harmonious and proportioned composition.
Butz might have been more disappointed with the fate of the roofs on Western Penitentiary, which were removed without comment following yet another riot and fire in 1953.
The prison closed temporarily in 2005, only to reopen in 2007. But as of June 2017, it has closed for the last time. The property has been transferred to the county real estate department for redevelopment. County Executive Rich Fitzgerald has announced no plan, so the building's fate is uncertain.
No recent riverside architecture in Pittsburgh even comes close to the evocative drama of Butz's old Romanesque pile. Even in its altered and dilapidated state, it deserves a revitalization and return to prominence.